If you turn to Amazon.com as the place to shop when you want to get something cheap, you might want to think again. A new report suggests those low prices could really just be in your head.
(Photo credit: KAREN BLEIER/AFP/Getty Images)
The Price Perception Index,  as referenced by Boomerang Commerce's report, captures customer psychology of price perception by providing a tangible statistic of how a company's products (referred to as Stock Keeping Units, or SKUs) are priced.
"This is no easy task when the industry leader (Amazon) changes prices across its wide product line many times per hour, amounting to millions of individual price changes per day," the report added.
Translation? The Daily Mail reported that the online company is really just "fooling" customers into thinking they're getting a good price on one item as it marks up the price of another object.
Boomerang gave one example in which it says Amazon lowered the price of a Samsung TV in the months leading up to the holidays. This chart shows the difference in price of the same TV from June through November: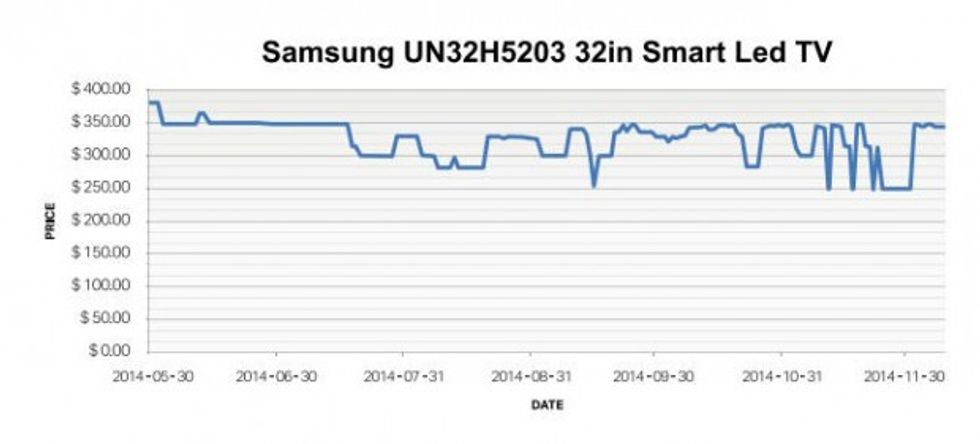 Image source: Boomerang Commerce
"By testing the TV at various price points," the report analyzed, "Amazon would have been able to determine the optimum low price that it could use during the peak shopping period."
But the change in the prices of other items wasn't nearly as drastic. This illustration show's one example: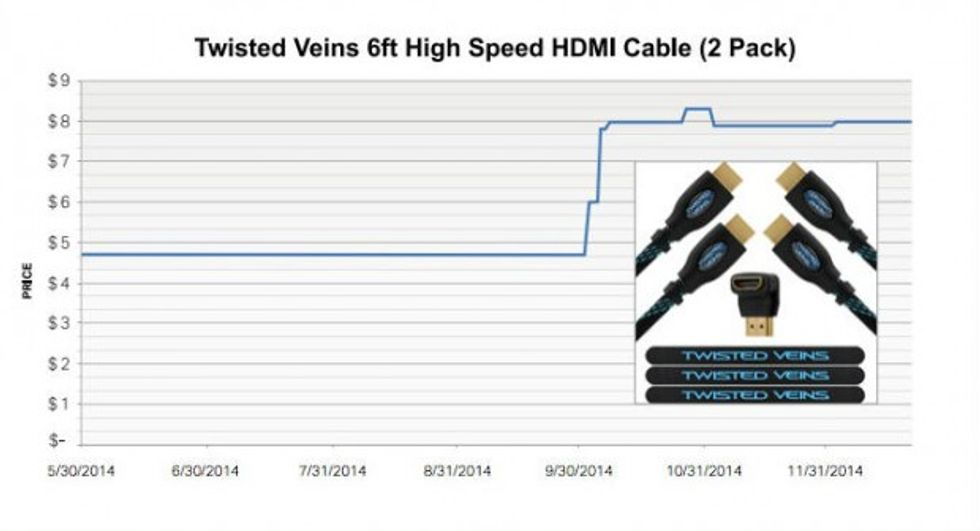 Image source: Boomerang Commerce
"[W]e did not notice such aggressive pricing was intentionally not applied to accessory or 'attachment' categories, such as branded HDMI cables, which are required to connect the TV to a home theater system," Boomerang noted.
It further suggested that Amazon's consistently low prices on the highest viewed and best-selling items drive the perception among consumers that they're getting the best price when, in reality, it's all in the customer's head.
"Since the elements involved in the sale of consumer goods and services revolve around this singular concept of price, price perception has to be addressed in a more agile, strategic, and time-sensitive fashion," the report stated.
Amazon.com spokesman Scott Stanzel responded to Boomerang's report, writing in an email to TheBlaze Wednesday:
"We believe the news coverage of the flawed paper by Boomerang is inaccurate and terribly misleading. Our customers come to Amazon to find the lowest prices across our vast selection. We do the hard work for them by scouring prices – both offline and online – in order to make sure we meet or beat the lowest prices out there.
We are obsessed with maintaining customer trust that Amazon will have the lowest prices possible. We have a cost structure that allows us to adjust our pricing quickly and our customers benefit from that low cost design."
Editor's note: This story has been updated. 
(H/T: Daily Mail)
–
Follow Jon Street (@JonStreet) on Twitter