The Israeli Embassy in Ireland on Wednesday deleted a tweet of an image of the "Mona Lisa" covered in a Muslim headscarf and holding a missile with the caption, "Israel now, Paris next."
"Don't say we didn't warn...." the embassy's tweet read.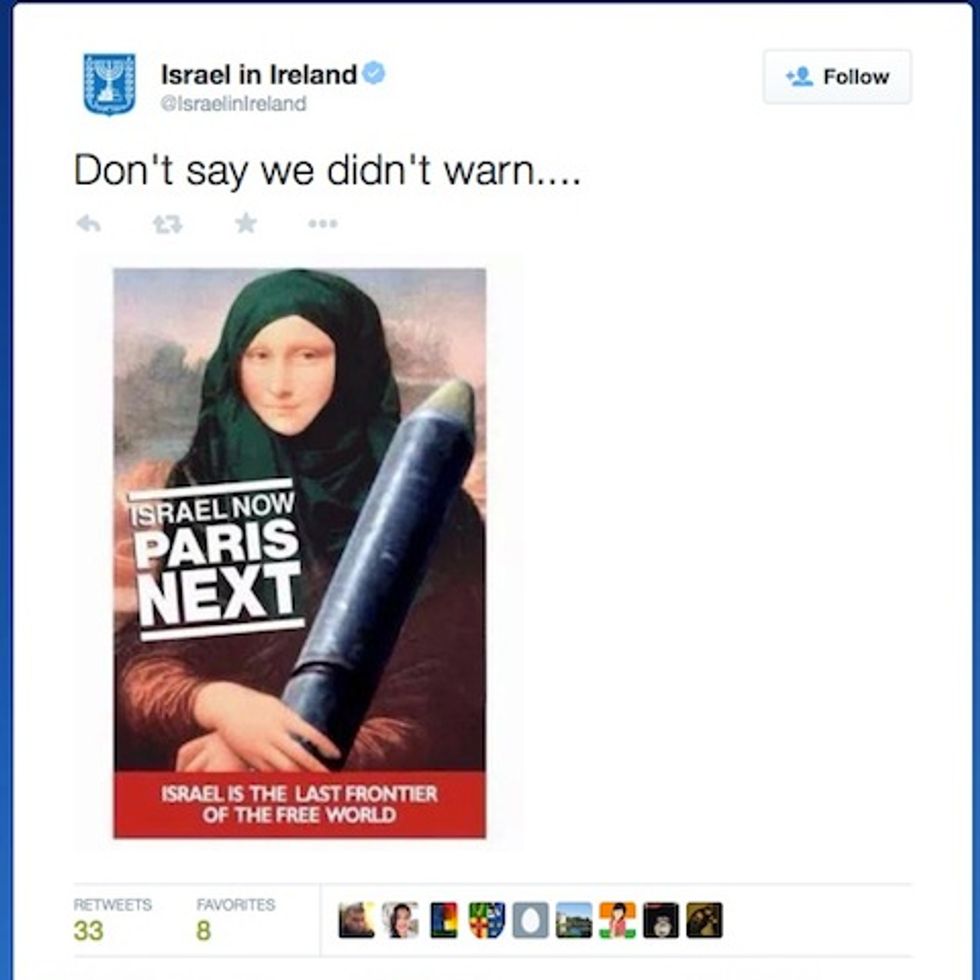 The tweet was posted Monday and remained up for two days before being removed. Before that, it received some outraged responses on Twitter.
@yunglibertarian You are smart enough to see the bigotry by one and only.... And coming from a verified account not some third party!!!

— I Am Spartacus (@AadiBaig10) January 14, 2015
"@IsraelinIreland: Don't say we didn't warn.... pic.twitter.com/JVnuh0BlsY" LOL are these people serious?!

— American مسلم ☪ (@Muslims_USA)

January 14, 2015
@Muslims_USA @IsraelinIreland They seriously posted that image in public?

— Chris Erion (@oc_f1fan) January 14, 2015
An embassy representative told TheBlaze in an email that they posted the image in the wake of last week's terror attacks in France "to symbolize the meaning of the Islamist terrorist attack on European and democratic values. However, because of abusive, vile and anti-semitic comments in response to it, we have decided to take the image down."
The embassy posted similar images in July, including the "Mona Lisa" covered in a hijab and Michelangelo's David wearing an Arab headscarf and a skirt made of explosives. It later removed those as well after complaints on social media.
Monday's tweet was in sync with a message articulated by Israeli officials since the Paris attacks: that they are part of the same jihadist threat that Israel faces from Hamas and Hezbollah.
"Here's the truth: Radical Islam is an enemy to us all," Israeli Prime Minister Benjamin Netanyahu said at a memorial for the four Jews killed by their terrorist captor at a Paris kosher market. "This enemy has many names – Islamic State, Hamas, Boko Haram, Al Qaeda, al-Nusra, al-Shabaab, Hezbollah - but they're all branches of the same poisonous tree."
This post has been updated with comment from the Israeli Embassy in Ireland.
(H/T: Jerusalem Post)