An Alabama middle school sent a letter home to parents late last week notifying them of a new safety procedure aimed at keeping students safe should a would-be evildoer enter campus.
W.F. Burns Middle School — located in the small city of Valley, Alabama — wrote that as part of "enhancing our procedure for intruders" they would like to arm each student with a canned food item to possibly strike the suspect with.
"The procedure will be the same as we have done in the past with the addition of arming our students with a canned food item," the letter sent home to parents read.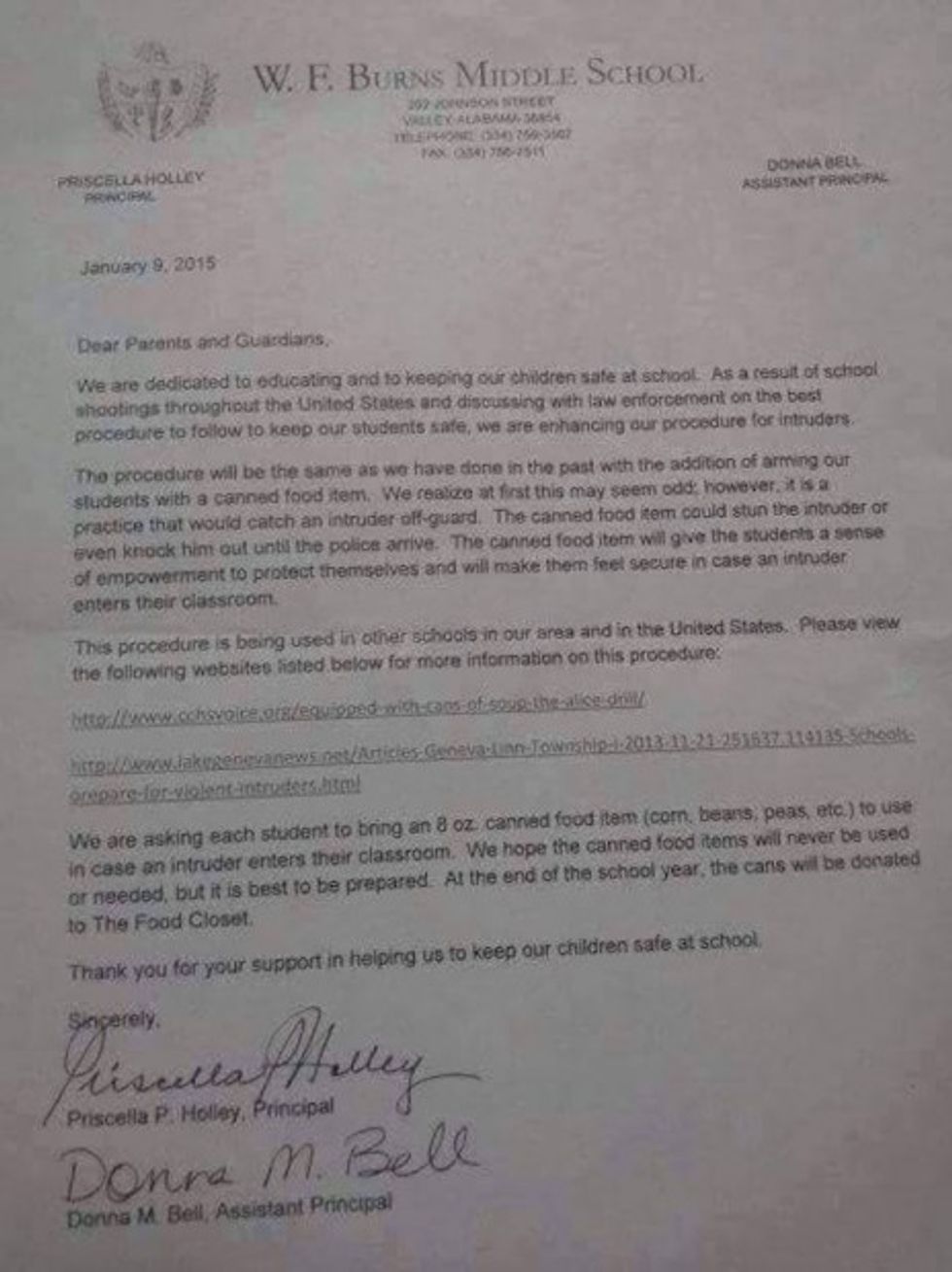 Educators in Alabama are recommending students arm themselves with a canned food item in case an intruder enters campus. (Image source: WHNT-TV)
"We realize this may seem odd; however, it is a practice that would catch an intruder off-guard," the letter continued. "The canned food item could stun the intruder or even knock him out until the police arrive."
Principal Priscella Holley and assistant principal Donna Bell added in the letter that "the canned food item would give the students a sense of empowerment to protect themselves."
[sharequote align="center"]"...the canned food item would give the students a sense of empowerment to protect themselves."[/sharequote]
"We hope the canned food item will never be used or needed, but it is best to be prepared," it concluded.
According to school officials, the canned food component of the new precautions is just one part of an emergency program called ALICE, which stands for Alert, Lockdown, Inform, Counter and Evacuate, WHNT-TV reported.
Nonetheless, individuals commenting on local news stories posted to Facebook appeared overwhelmingly against the idea of arming students with canned food.
"WOW. The level of stupidity in this is astronomically high," one individual wrote.
"This is probably the most dangerous and stupid thing I've ever heard an educator say," wrote another individual.
"Really stupid," echoed yet another.
—
Follow Oliver Darcy (@oliverdarcy) on Twitter