British Prime Minister David Cameron directed some blunt words toward media outlets that are refusing to show the cover of Charlie Hebdo's latest issue.
"I think we are at risk because there are a group of people who believe in this fanatical death cult of Islamist extremism," Cameron said, speaking on the radio, according to the Guardian.
[sharequote align="center"]"You can't appease them; they hate our democracy, our freedom..."[/sharequote]
"You can't appease them; they hate our democracy, our freedom, our freedom of expression, our way of life," he continued. "It would be wrong to think there are a set of behaviours we could adopt to make us safer."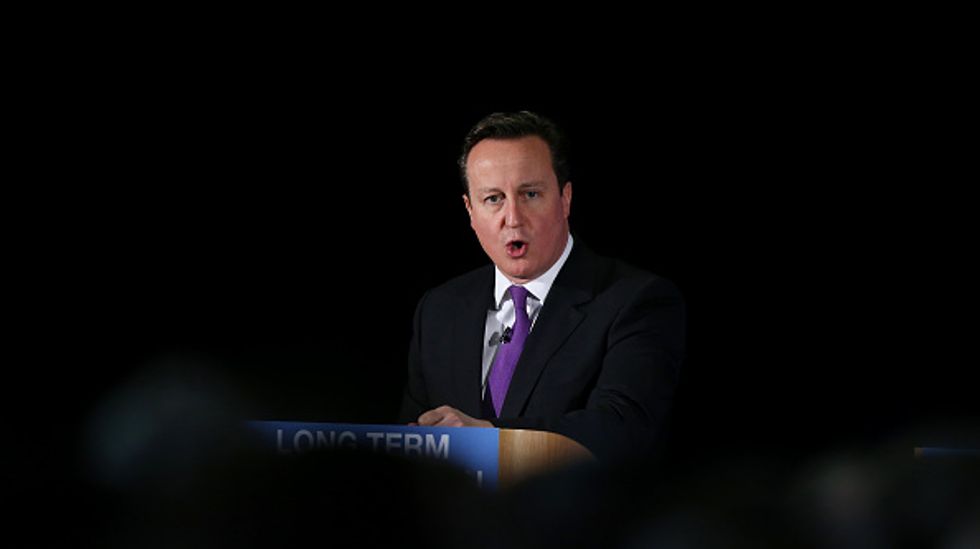 Prime Minister David Cameron delivers a speech to business leaders on their long term economic plan at a conference in the Old Granada TV Studios on January 8, 2015 in Manchester, England. (WPA Pool/Getty Images)
"I don't think that is right. We believe in freedom. It's a very important part of our country," Cameron concluded. "It is not for politicians to tell magazines or television stations or radio stations what they should or shouldn't publish. It is up to us to defend your right to publish what you believe is right within the confines of the law. Sometimes that will mean offending people."
Charlie Hebdo published its first issue since last week's deadly terror attack, but many news publications declined to show it, citing security reasons.
The Associated Press employed several tactics to avoid revealing the cover's controversial depiction of the Prophet Muhammad and a Sky News host cut off a Charlie Hebdo writer when she attempted to show it on-air.
"I am a Christian. I obviously do not like seeing the religious things I hold dear mocked in an unpleasant way. But, in a free country, if people want to attack my religion and my beliefs, you accept that because it's part of living in a free country," Cameron said.
(H/T: Mediaite)
—
Follow Oliver Darcy (@oliverdarcy) on Twitter