When customers enter Rosa's Fresh Pizza shop in Philadelphia, Pennsylvania, they can't miss the hundreds of Post-It notes and letters plastered all over the walls — evidence of customers' good deeds.
See, patrons at Rosa's Fresh Pizza are invited to buy $1 slices of pie for the poor, which are, in turn, given out to those in need free of charge.
It's a program that shop owner Mason Wartman started last year after a customer came in and asked if he could buy a slice to help feed a homeless person. Naturally, Wartman said yes — but it's what he did next that truly helped set an inspiring pattern in motion.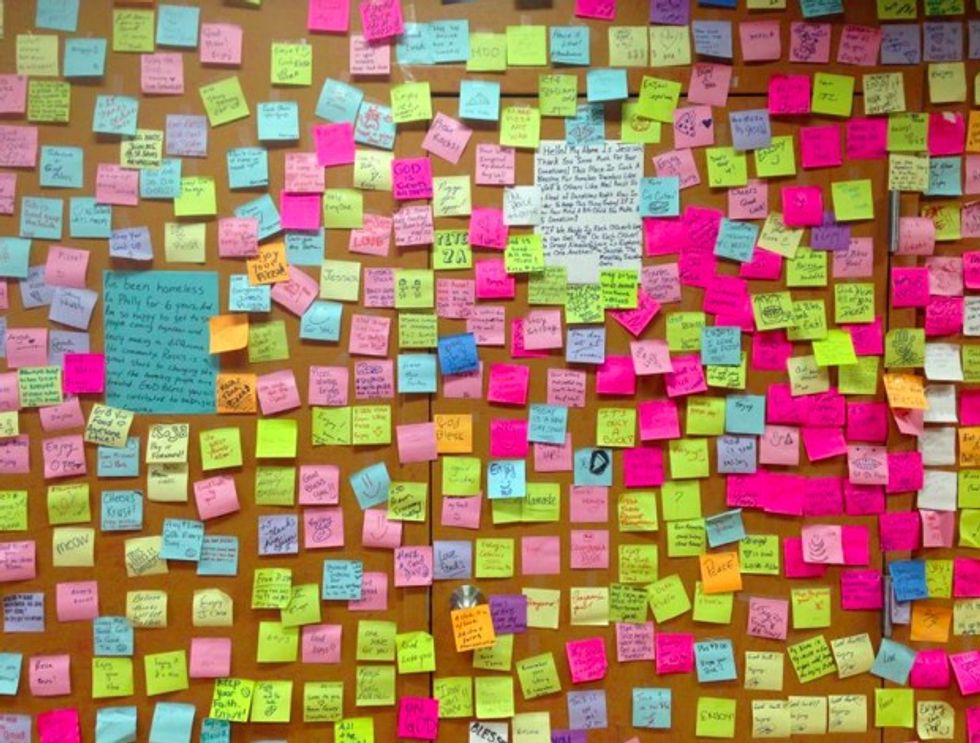 Image via Facebook/Rosa's Fresh Pizza
He decided to put up a Post-It note to show that the slice had been purchased, inspiring others to do the same. Nine months later, more than 8,400 slices have been bought for those in need, with 30 to 40 homeless people heading to Rosa's Fresh Pizza each day for a meal, according to NPR's The Salt blog.
The messages on the walls come from both the generous individuals who give money to help the poor and from those who are using the program to get back on their feet.
One starving family who benefited from the pizza program wrote a letter last summer expressing intense gratitude.
"This program is unbelievable. My words cannot explain how grateful my children and I are," it read. "We were starving and I was trying to find a way to feed them. God bless you for blessing us."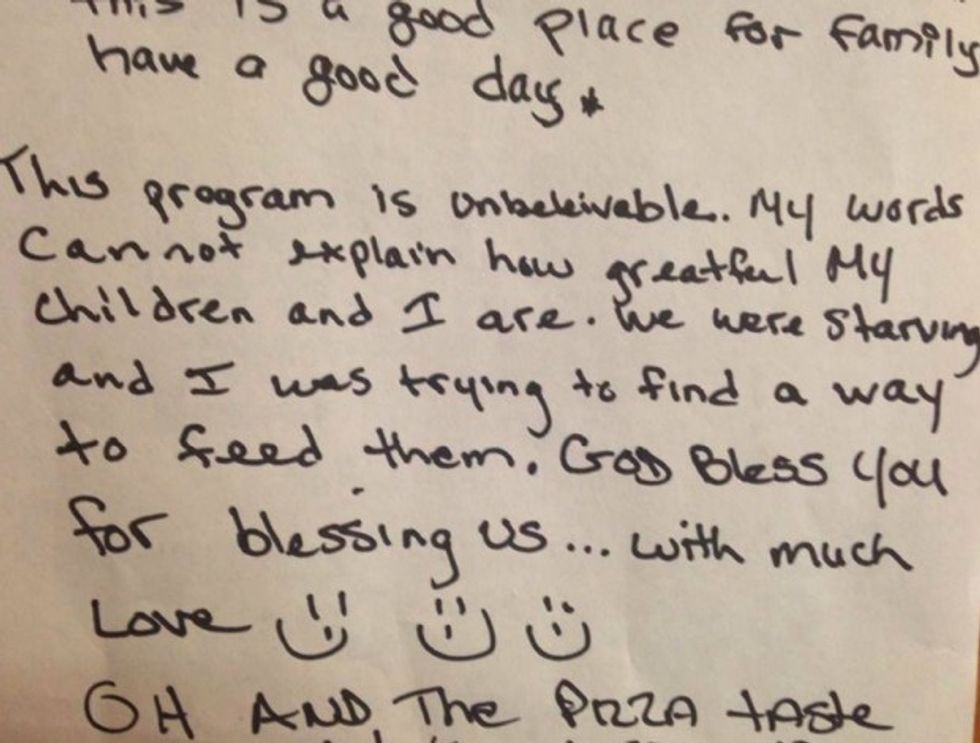 Image via Facebook/Rosa's Fresh Pizza
Another note from a person who has been homeless for the past six years read, "I deeply appreciate everything Mason has done for me and when I get back on my feet I will gladly return the favors Rosa's has done for me. Thank you."
Wartman said that those who come in and participate on all fronts are truly kind people.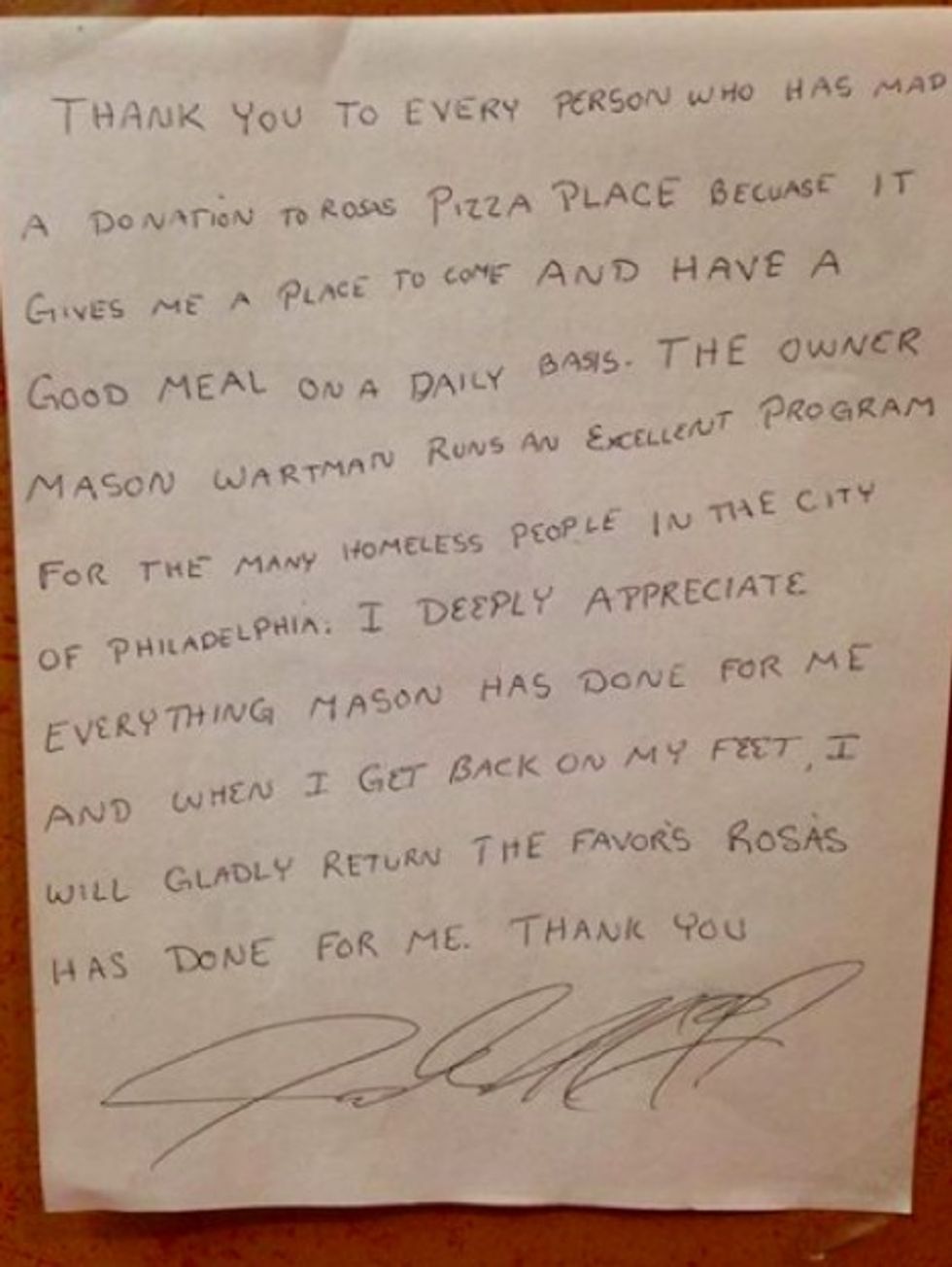 Image via Facebook/Rosa's Fresh Pizza
"They're just really nice people, you know? Sometimes homeless people buy them for other homeless people," he told NPR. "This is a super-easy way, a super-efficient way and a super-transparent way to help the homeless."
There has been no shortage of attention given to Wartman's efforts, with Ellen DeGeneres featuring him on her show this week and giving him a $10,000 check from Shutterfly to help fund his program.
Read more about the story here.