Tired of running the dishwasher only to open it and find your dishes are still dirty? You could be loading it all wrong.
Raul Pérez-Mohedano, a researcher at the University of Birmingham in the United Kingdom, looked at how overloading dishwashers can have an effect and suggested ways to arrange your chinaware according to the type of stain it has. According to the Daily Mail, Mohedano worked with representatives of dishwasher manufacturers Whirlpool and Proctor and Gamble to arrive at his conclusions, which were published in the Chemical Engineering Journal.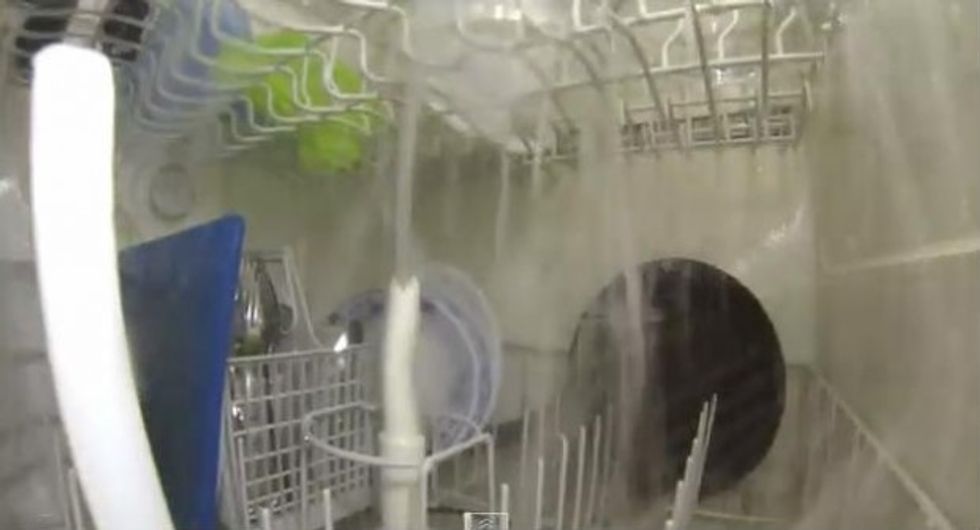 A GoPro camera shows the view from inside a dishwasher. (Image source: YouTube)
"Depending of the soil type to remove, the best procedure to follow varies. For example, cleaning of protein based soils, such as egg yolk, requires of an initial swelling/hydration stage which is typically driven by high alkaline conditions at the beginning of the wash-cycle," Mohedano said, according to the Daily Mail. "Other types of soils based on carbohydrates, like tomato paste, require less chemistry and more mechanical action."
Of course, by placing too many dishes inside you could be preventing water and soap from reaching all surfaces.
"Areas with a direct impact from the water jets are very locali[z]ed and these are only able to cover a very small area of all the crockery surface present," Mohedano said.
That's why he suggests loading dishes in a circular pattern around the cutlery drawer — but that's now how most user manuals recommend loading your dirty dishes.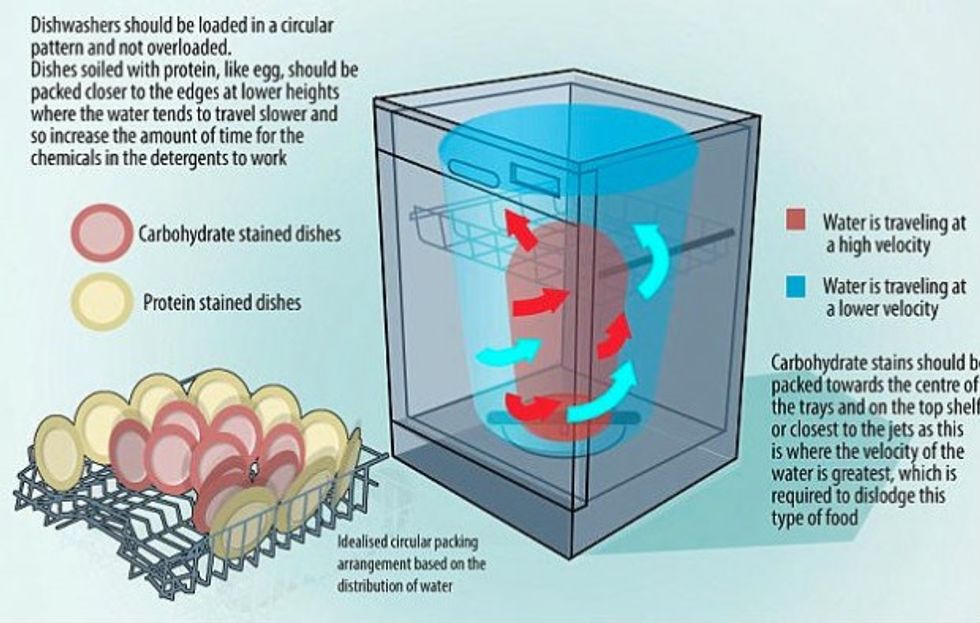 This Daily Mail graphic suggests the proper way to load your dishwasher for maximum cleaning efficiency. (Image source: Daily Mail)
"Current commercial dishwashers also show a problem of symmetry – while the ejection of water is produced in a circular movement, the distribution of the crockery follows a rectangular pattern."
For that reason, Mohedano said a redesign of the way water is distributed inside dishwashers is necessary. And to that point, he acknowledged there are ideas already out there just waiting to be commercialized.
Until then, this video from a GoPro camera inside of a dishwasher can help you understand just what might be going on inside your kitchen appliance.
(H/T: Daily Mail)
–
Follow Jon Street (@JonStreet) on Twitter