Pope Francis defended religious freedom Thursday in light of the deadly terror attack this month on French satirical newspaper Charlie Hebdo, but said that there are limits when it comes to insulting faith and religion.
The pontiff called freedom of expression a basic human right and implored people to speak their minds for the common good of society while aboard the papal plane on his way to the Philippines, the Associated Press reported.
"I think both freedom of religion and freedom of expression are both fundamental human rights," he said, according to Reuters. "Everyone has not only the freedom and the right but the obligation to say what he thinks for the common good … we have the right to have this freedom openly without offending."
Pope Francis listens to a speech during a special audience he held for members of the FOCSIV Italian Catholic volunteers, at the Vatican, Thursday, Dec. 4, 2014. (AP Photo/Andrew Medichini) 
Pope Francis used an example surrounding Alberto Gasparri, the man who organizes his trips, to explain that strong reactions can be expected when people choose to pointedly offend others.
"If my good friend Dr. Gasparri says a curse word against my mother, he can expect a punch. It's normal. It's normal," he said. "You cannot provoke. You cannot insult the faith of others. You cannot make fun of the faith of others."
Pope Francis said that many people speak ill faith and "make a game out of the religions of others." It is this, he said, that is problematic.
"They are provocateurs. And what happens to them is what would happen to Dr. Gasparri if he says a curse word against my mother," the pontiff said. "There is a limit."
Speaking of the Catholic Church's own history in terms of the Crusades, among other wars, Pope Francis affirmed his belief that killing in the name of religion is absolutely unacceptable, Reuters reported.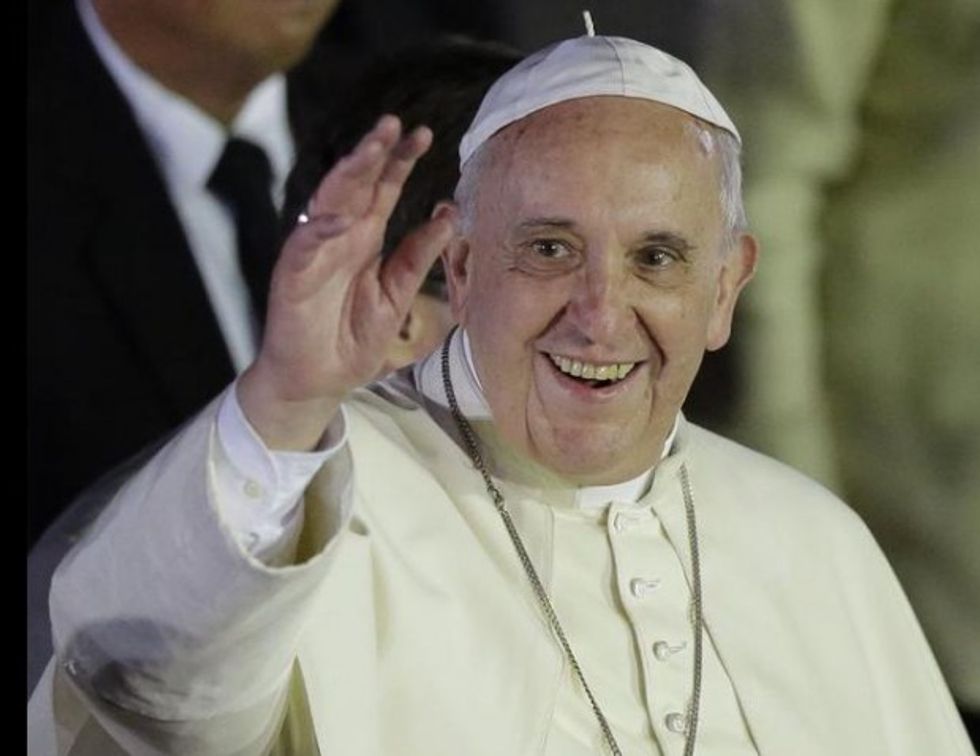 Pope Francis waves to well-wishers upon arrival from Sri Lanka, Thursday, Jan. 15, 2015 at suburban Pasay city, south of Manila, Philippines. Ecstatic crowds greeted the pontiff as he arrived Thursday in the Philippines, Asia's most populous Catholic nation, for the first papal visit in 20 years. (AP Photo/Bullit Marquez)
"Let's consider our own history. How many wars of religion have we had?" he said. "Even we were sinners but you can't kill in the name of God. That is an aberration."
Despite the seriousness of the subject matter, the pontiff took the time to quip when asked whether he fears an attack from Islamic extremists. Claiming he's in "God's hands," Pope Francis joked that he has asked God to protect him from experiencing a painful death.
"If anything should happen to me, I have told the Lord, I ask you only to give me the grace that it doesn't hurt because I am not courageous when confronted with pain," he said. "I am very timid."
The Associated Press contributed to this report.