President Barack Obama said the U.S. Muslim population is better integrated into society than Muslim populations in European countries.
"Our Muslim populations, they feel themselves to be Americans, and there is this incredible process of immigration and assimilation that is part of our tradition that is probably our greatest strength," Obama said Friday during a joint press conference with British Prime Minister David Cameron.
Obama said that's not to say the U.S. isn't "subject to the kinds of tragedies that we saw at the Boston Marathon," but that the U.S. is still much safer on the whole.
"That [assimilation], I think, has been helpful. There are parts of Europe in which that's not the case and that's probably the greatest danger that Europe faces," Obama said.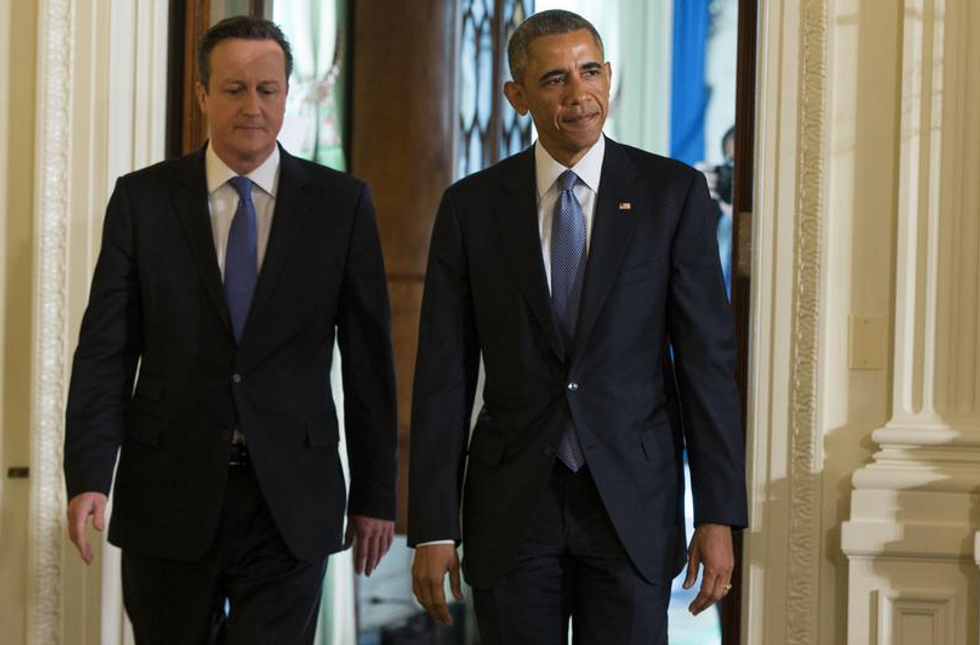 President Barack Obama and British Prime Minister David Cameron arrive for a joint news conference in the East Room of the White House in Washington, Friday, Jan. 16, 2015. The president and prime minister agreed Friday to a joint effort to fight domestic terrorism after last week's deadly attacks in France. (AP Photo/Evan Vucci)
Cameron visited the White House a week after a wave of terror attacks in France, beginning with the massacre on the Paris offices of Charlie Hebdo and culminating with a holdup in a kosher grocery store. Seventeen people were killed in all; Al Qaeda's Yemen branch has claimed responsibility for the bloodshed.
"It's important for Europe not to simply respond with a hammer and law enforcement and military approaches to these problems," Obama said. "But there also has to be a recognition that the stronger the ties of a North African or a Frenchman of North African descent to French liberties, that's going to be important over time in solving this problem and that's a recognition of that across Europe."
The Obama administration has come under criticism over the last week for not labeling the attacks in France "radical Islam," but rather using the broader term "violent extremism."
Obama said "violent extremism" several times during the joint press conference Friday, but Cameron said it's important not to lose sight of the core threat even as Britain supports a "multiracial, multiethnic society."
"Here's the determining point: You can have, tragically, people who have had all the advantages of integration, all the economic opportunities that our countries have offered, who still get seduced by this poisonous, radical death cult of a narrative," Cameron said. "We've seen people who have every opportunity and every advantage in life in terms of integration. Let's never lose sight of the real enemy here, which is the poisonous narrative that's perverting Islam. That is what we have to focus on."