Polk County Sheriff Grady Judd responded defiantly to a reporter on Friday when he was asked if he "regrets" saying that his officers were prepared for a "gunfight" with a group of dangerous murder suspects.
"I think everybody understands the gravity of what happened and the urgency and the response that you took," the reporter began. "Some of the comments you made last night about shooting the suspects, possibly, and the comments today about 'ready for a gunfight' — was that in the heat of the moment? Do you have any regret about that?"
The sheriff immediately took a stern tone in responding to the question.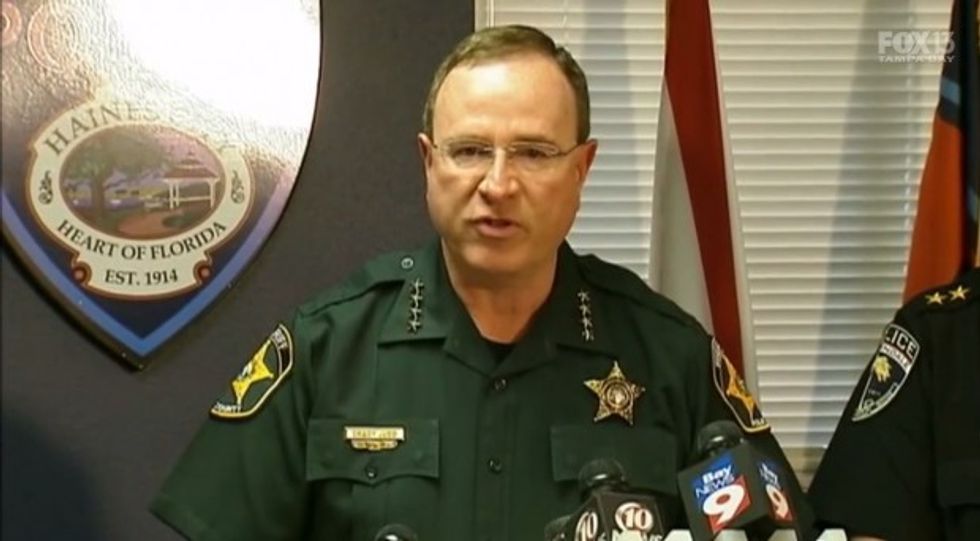 Screengrab via Fox 13/YouTube
"I not only have no regret, I'm pretty excited about telling you that — that's exactly what would've happened," Judd shot back. "Make no mistake about it, there's nothing about politically correct in a gun fight. There's nothing about politically correct when you are keeping people alive and well and safe. And the people of this community and these law enforcement officers come first."
"I meant every word of it then, and I mean every word of it now," he added. "If you surrender peacefully, that's the way we prefer it. You start pointing guns at us, you can not only plan on, but you can guarantee that we are going to shoot you."
The four suspects in question are accused of robbing a pawn shop, firing at police officers and brutally murdering two women during a crime spree in Haines City, Florida. Police ended up cornering and engaging with the dangerous suspects, taking all of them into custody.
The two female victims, mother and daughter, were "viciously murdered" in a manner "much too graphic to describe," according to Judd.
ABC News has more on the case below: