He's patrolling one beat and feeling another.
In a video posted to YouTube by the Dover, Delaware, police department on Friday, a police officer can be seen behind the wheel of his squad car pulling some decidedly non-standard moves: dancing and lip-syncing to Taylor Swift's "Shake It Off."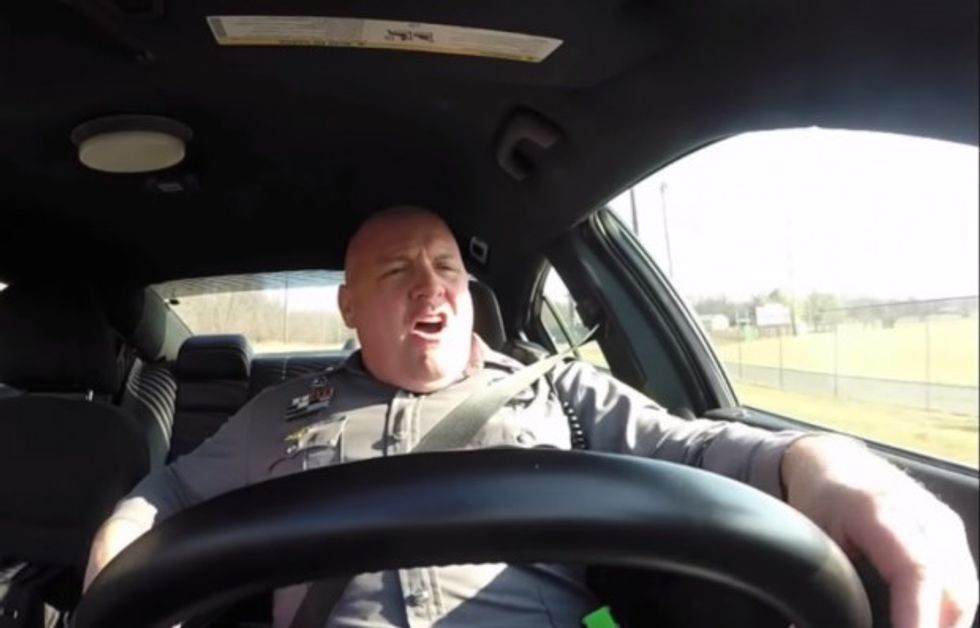 Image via YouTube
The video attracted the attention of Reddit commenters, who noted the uncanny resemblance between the officer and a certain "Breaking Bad" character and expressed solidarity with the jamming cop.
"I hate that as a fully grown adult male I am not supposed to like these songs," one commenter wrote. "Yet I do."
"Forget 10 and 2 this guy is going for the diva driving hand positions," another commenter chimed in, while a third dubbed it, "bloody hilarious."
Another couldn't help but joke, "So THIS is why they don't want to wear body cams."
Watch the video below:
Was the video actually "found footage" or a staged production?
Given that it bears the stamp of the Dover PD Public Affairs office, it's likely staged — but many people don't seem to care.
"I don't care if its real or not," one Reddit commenter wrote. "I want to believe."
To that sentiment, another commenter responded:
It literally says 'A Dover Police Department Public Affairs Production' and was uploaded by the official Dover Police YouTube channel. Saying you 'doubt' it's real is like saying you 'doubt' Star Wars happened a long time ago in a galaxy far, far away because Han Solo looks suspiciously like Harrison Ford.
The video had already been viewed more than 250,000 times as of Saturday morning, and the top YouTube comment might best sum up the internet's attitude towards the footage:
this made me smile today.  great moves.  :)  thanks for sharing.
—
Follow Zach Noble (@thezachnoble) on Twitter