Story by the Associated Press; curated by Dave Urbanski
SEATTLE (AP) — Russell Wilson hit Jermaine Kearse for a 35-yard touchdown 3:19 into overtime to lift the Seattle Seahawks to an improbable 28-22 victory over Green Bay in the NFC championship game.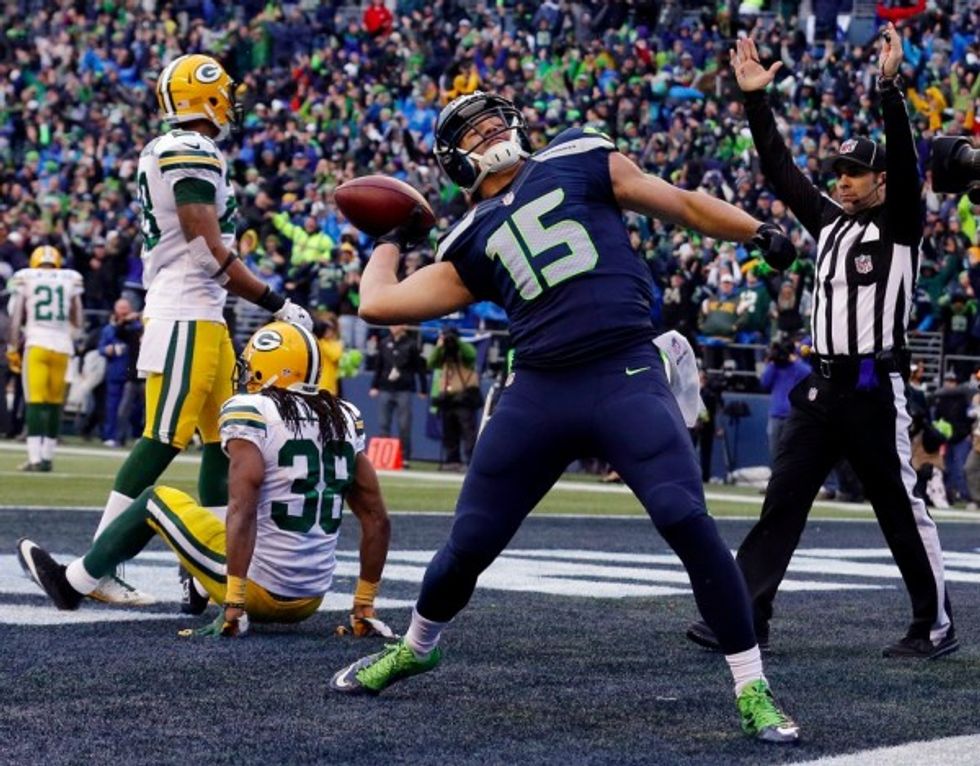 Seattle Seahawks' Jermaine Kearse celebrates after catching the game-winning touchdown during overtime of the NFC Championship game against the Green Bay Packers Sunday, Jan. 18, 2015, in Seattle. The Seahawks won 28-22 to advance to Super Bowl XLIX. (Image source: AP/Jeff Chiu)
The Seahawks became the first defending champion to make the Super Bowl in 10 years, and will play the winner of the AFC title game between Indianapolis and New England.
Outplayed much of Sunday and plagued by five turnovers, the Seahawks (14-4) trailed 16-7 with 2:09 remaining. That's when Wilson ran 1 yard for a TD.
Seattle recovered a bobbled onside kick at the 50, and Marshawn Lynch sped and powered his way to a 24-yard TD run. Wilson's desperate 2-point conversion pass was hauled in by Luke Willson to make it 22-19.
But Aaron Rodgers led the Packers (13-5) to Mason Crosby's fifth field goal, from 48 yards with 14 seconds to go.
Then Wilson and Kearse struck.
Here's a look at that game-winning play:
—
Follow Dave Urbanski (@DaveVUrbanski) on Twitter