Fibonacci's sequence is a little bit of 13th century mathematics magic that can also be used to show how an equation can create art.  The sequence is a simple one that finds the next number in a sequence by adding up the two numbers just before it.
For example:
0, 1, 1, 2, 3, 5, 8, 13, 21, 34, 55, 89, 144, 233 and so on.
These numbers, used in sequence to define the width of boxes, will create a perfect spiral. According to a story in the San Francisco Globe, the sequence also shows up in several places in nature.
The patten of sunflower seeds exhibit a spiral mirroring that of a Fibonacci sequence.
Photo credit: Shutterstock
One man who used the mathematical sequence to form spiral sculptures is John Edmar of Stanford University in Palo Alto, CA.
Edmar told the Globe, "I employ precise mathematics in the design and fabrication of my work," adding, "I do this neither out of a desire to exhibit precision per se, nor to exalt the latest technology, but because the questions I'm trying to formulate and answer about spatial relationships can only be addressed with geometrically exacting constructions."
He summed it up with, "Mathematical precision is an essential ally in my goal of achieving clarity."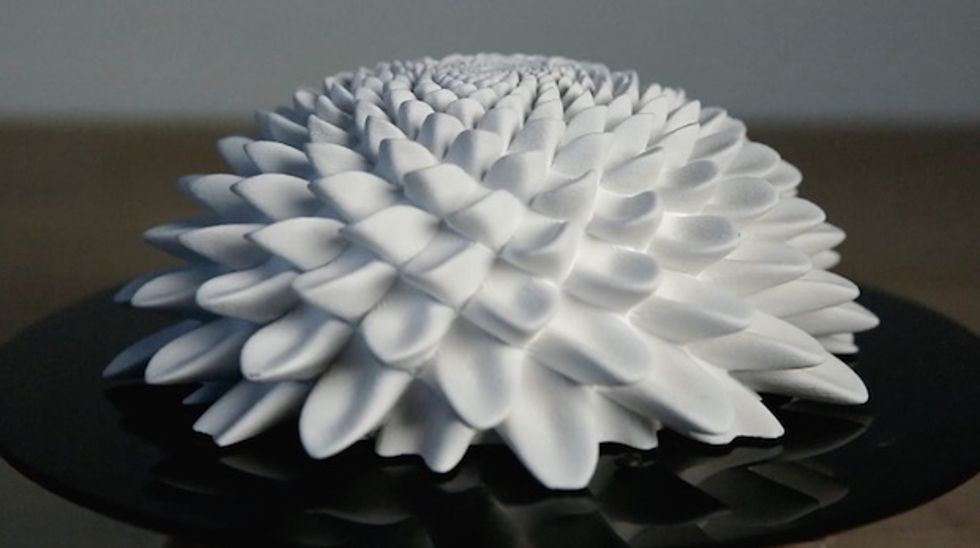 Image: Screen capture Vimeo
Edmar's calculations created sculptures that were realized using a 3D printer. He put them on a turntable in front of a strobe light and recorded the optical illusions. We found the resulting video to be mesmerizing.
Watch.
Glenn Beck also took note of these fascinating images and posted the video on his Facebook page.
H/T - SF Globe
__
Follow Mike Opelka (@Stuntbrain) on Twitter.