Weeks after the American Civil Liberties Union teamed up with atheists to file a lawsuit against a privately owned nativity scene that is placed on public property in Brookville, Indiana, every December, the county has unveiled a plan that officials hope will stop the legal challenge in its tracks.
A new ordinance regulates the use of the Franklin County Courthouse square, where the nativity has been placed for decades, allowing for rallies, exhibits and demonstrations on the lawn without precluding these occurrences based on citizens' viewpoints, the Palladium-Item reported.
A permit process will be created to help streamline the process and to ensure equal access to all residents in an effort to stem the legal challenge.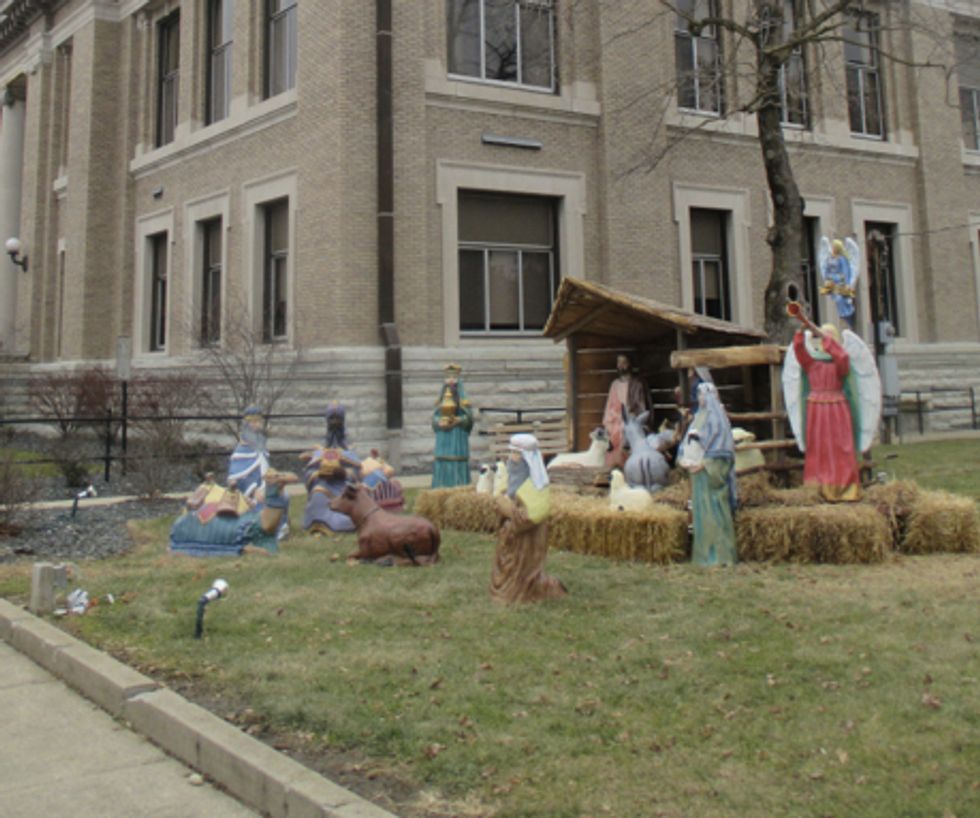 Image source: Freedom From Religion Foundation
"We're glad to assist the Franklin County Board of Commissioners to formalize their past practice of allowing displays and events on the county courthouse grounds," Peter Breen, special counsel for Thomas More Society, the legal firm representing the county, said in a press release. "This new ordinance provides maximum constitutional protections for the citizens of Franklin County to use their courthouse lawn."
Breen added that the ordinance diminishes the allegations brought by both the ACLU of Indiana and the Freedom From Religion Foundation, a church-state group.
Adopted by the Franklin County Board of Commissioners, the ordinance calls the courthouse yard "the 'people's lawn'" and makes it available for the public for "everything from festivals to family picnics, displays to demonstrations."
"The Franklin County Board of Commissioners adopts these policies and procedures for non-governmental use of the courthouse grounds to ensure and protect the interests and the constitutional rights of the Franklin County government, the courthouse, the citizens of Franklin County, and the public," it reads.
As TheBlaze previously reported, the Freedom From Religion Foundation filed a federal lawsuit seeking the Christmas symbol's permanent removal by court order last month after politicians once again ignored atheists' threats against the nativity display for the fourth year in a row.
"The display represents an endorsement of religion and has the principal effect of advancing religion, and it therefore runs afoul of the Establishment Clause of the First Amendment to the United States Constitution," the complaint reads. "The display, which is owned by Brookville, has been erected for some 50 years."
Two unnamed local residents in Franklin County are plaintiffs in the lawsuit, with the ACLU of Indiana working with the Freedom From Religion Foundation to seek its forced removal, according to a press release.
It is currently unclear if the ordinance will definitively halt the lawsuit. Read more about the case here.