Freshman Sen. Joni Ernst (R-Iowa) countered President Barack Obama's State of the Union address late Tuesday by saying Republicans would focus on a positive agenda of job creation and other ways to help American families.
Ernst started by noting her background as a "mother, solider, and a newly elected senator," and said her GOP colleagues want to focus on ways to make sure Washington focuses on the priorities of everyday Americans.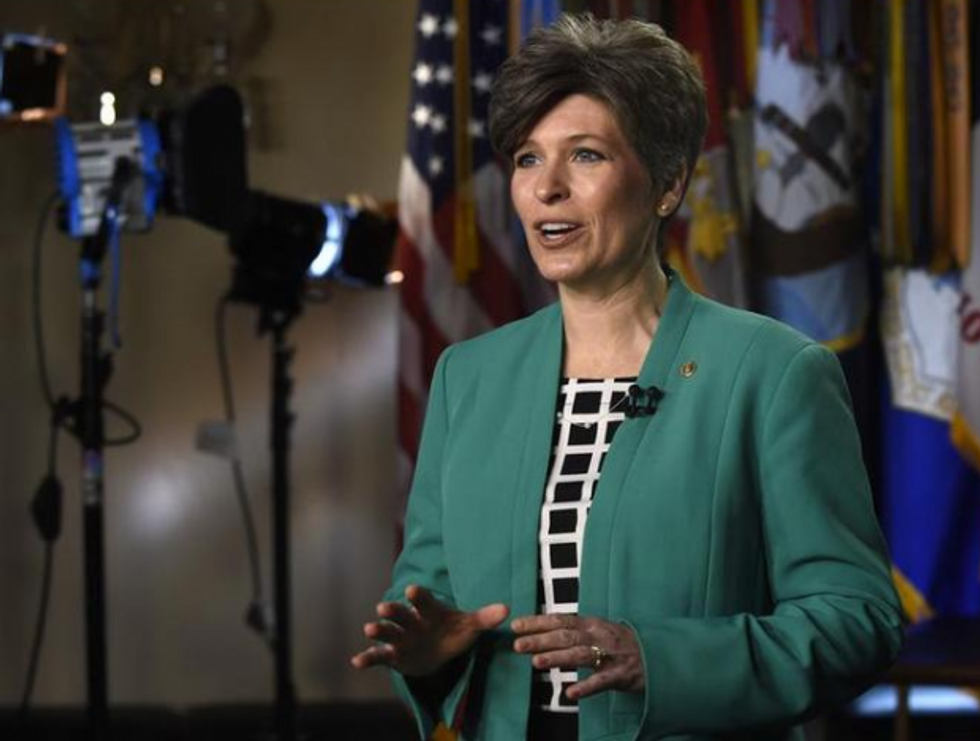 Sen. Joni Ernst (R-Iowa) used her State of the Union rebuttal speech to introduce America to its 'new Republican Congress.'
Image: AP Photo/Susan Walsh
Ernst cast her speech as a non-rebuttal to Obama's State of the Union address, and instead used it as a chance to introduce Americans to "the new Republican Congress you just elected."
"Rather than respond to a speech, I'd like to talk about your priorities," she said.
"The new Republican Congress… understands how difficult these past six years have been," Ernst said shortly after Obama finished his remarks. "For many of us, the sting of the economy and the frustration with Washington's dysfunction weren't things we had to read about. We felt them every day."
Ernst did eventually touch on some of the more controversial issues, saying Republicans will "work to correct executive overreach." That quick line that could refer to any number of issues, such as Obamacare and immigration.
She also noted the pain families are going through as their health care plans get canceled, a reference to Obamacare.
"We see the hurt caused by canceled healthcare plans and higher monthly insurance bills," she said. "Americans have been hurting, but when we demanded solutions, too often Washington responded with the same stale mindset that led to failed policies like Obamacare. It's a mindset that gave us political talking points, not serious solutions."
Additionally, Ernst said the Keystone pipeline, something the Senate is trying to approve through legislation, was a job-creating project that Obama has inexplicably blocked so far.
"President Obama has been delaying this bipartisan infrastructure project for years, even though many members of his party, unions, and a strong majority of Americans support it," she said. "The president's own State Department has said Keystone's construction could support thousands of jobs and pump billions into our economy, and do it with minimal environmental impact."
Despite these partisan fights, Ernst suggested that Republicans and Democrats can work together on things like trade and tax reform. Both parties have trotted out those ideas as possibilities, but even the tax reform plan seems to be slipping away, as Obama proposed higher taxes on the wealthy, an idea the GOP sees as a non-starter.
Ernst also said the GOP wants to keep pressing the fight against terrorists, such as those who staged attacks in France earlier this month.
"Our hearts go out to all the innocent victims of terrorism and their loved ones," she said. "We can only imagine the depth of their grief. The forces of violence and oppression don't care about the innocent. We need a comprehensive plan to defeat them."