Fox News host Shepard Smith noticed something interesting about his placeholder from President Barack Obama's lunch with members of the media on Tuesday ahead of the 2015 State of the Union address.
"I sat next to Brian Williams, and we all had these place cards, and his said 'Brian Williams, NBC News.' And across from me was David Muir – the new guy on ABC — it said 'David Muir, ABC News.' And I looked at mine, and it doesn't say anything about news. It just says 'Fox.' And I looked at Bret Baier's, and it said, 'Bret Baier, Fox.' And all the rest of them said news," Smith said.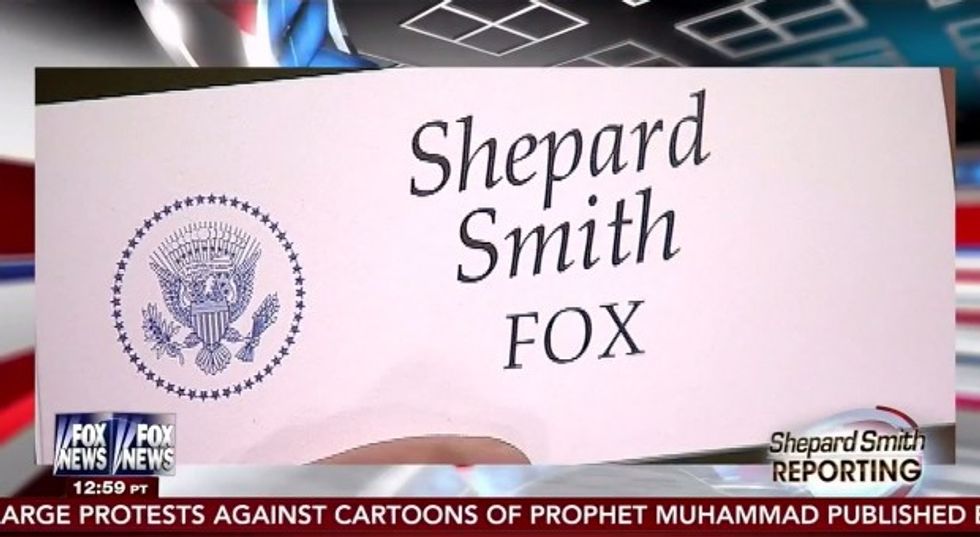 (Fox News)
"I mean I don't care, lunch was great. But I guess there's a message received. I think Bret and I are good to go with the news part," he added.
While the Obama White House has had its fair share of disputes with Fox News, though that doesn't mean the omission of "news" was 100 percent intentional or intended to insult the news network.
Watch below and decide for yourself:
(H/T: DC)