After making four veto threats in his State of the Union address, President Barack Obama on Wednesday told Congress, "Work with me. Don't just say no. You can't just say no."
Obama made Boise State University his first stop on a road trip to sell his proposals that he first talked about in a primetime address to a joint session of Congress.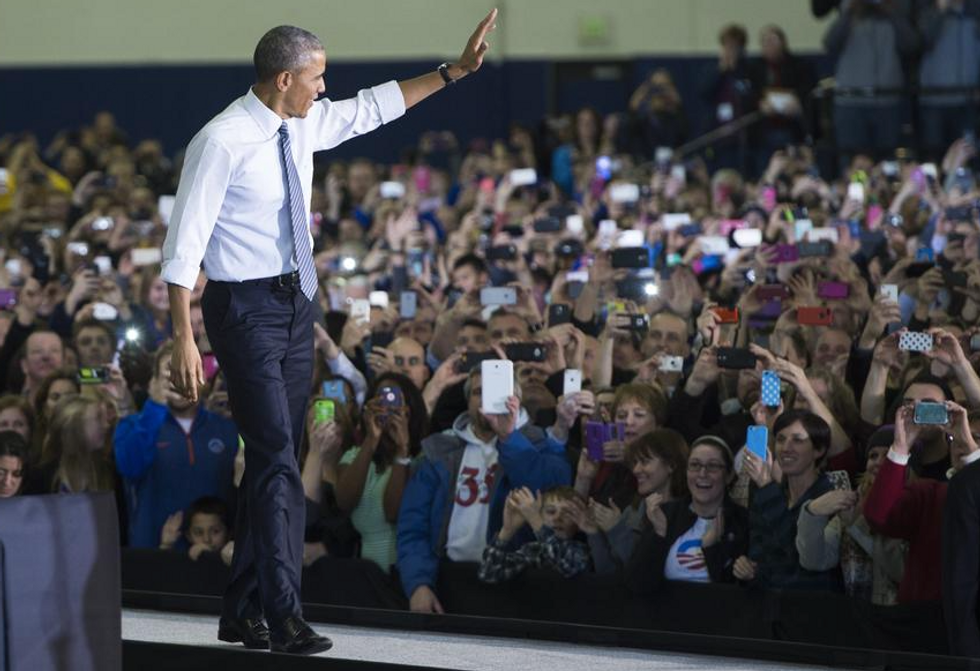 US President Barack Obama arrives to speak about the economy at Boise State University in Boise, Idaho, January 21, 2015. Obama is traveling on a 2-day, 2 state trip to Idaho and Kansas following his State of the Union address. (AFP PHOTO / SAUL LOEB)
"Some of the commentators last night said that's a nice speech but none of this can pass this Congress," Obama told the Idaho crowd. "But my job is to put forward what I think is best for America."
"The job of Congress is to put forward alternative ideas, but they've got to be specific, they can't just be no," the president continued. "I'm happy to start a conversation, tell me how we're going to get to the things that need to be done. Tell me how we get to yes. I want to get to yes."
This year, the White House has issued veto threats on the bills in Congress to build the Keystone XL pipeline, for a 40 hour work week regarding Obamacare, and on a bill to ban abortions after 20 weeks of pregnancy.
During the State of the Union address Tuesday, Obama said he would veto legislation that undermined the Affordable Care Act, the Dodd-Frank financial reform bill and his immigration executive actions to block deportations.
"We can't put the security of families at risk by taking away their health insurance, or unraveling the new rules on Wall Street, or refighting past battles on immigration when we've got to fix a broken system and if a bill comes to my desk that tries to do any of these things, I will veto it," Obama said. "It will have earned my veto."
Later in the State of the Union, when talking about proposed new sanctions on Iran, Obama repeated a prior warning to Congress: "I will veto any new sanctions bill that threatens to undo this progress. The American people expect us only to go to war as a last resort, and I intend to stay true to that wisdom."
In the Idaho speech, Obama explained his tax reform plan that would mix tax hikes on high earners and additional tax credits for low income earners.
"I know there are Republicans who disagree with my approach. I could see that from their body language yesterday," he said.
But he said that infrastructure and education have to be paid for.
"The private sector, which is the heartbeat of our economy, it doesn't build roads, it doesn't create ports, it doesn't lay down all of the Internet line, or the broadband lines that are required to reach remote communities," Obama said. "We have to make some investments and we have to figure out how to pay for them."