House Democrats are once again pushing Republican leaders to hold a vote on legislation to modernize the Voting Rights Act of 1965, which Democrats fear was made inoperable by a 2013 Supreme Court ruling.
Democrats led by House Minority Leader Nancy Pelosi (D-Calif.) on Wednesday launched a Democratic Outreach & Engagement Task Force, which is aimed at getting people to register to vote. One of the main objectives of the task force is to find a way to fix the Voting Rights Act, which can only happen in the next two years if Republicans agree.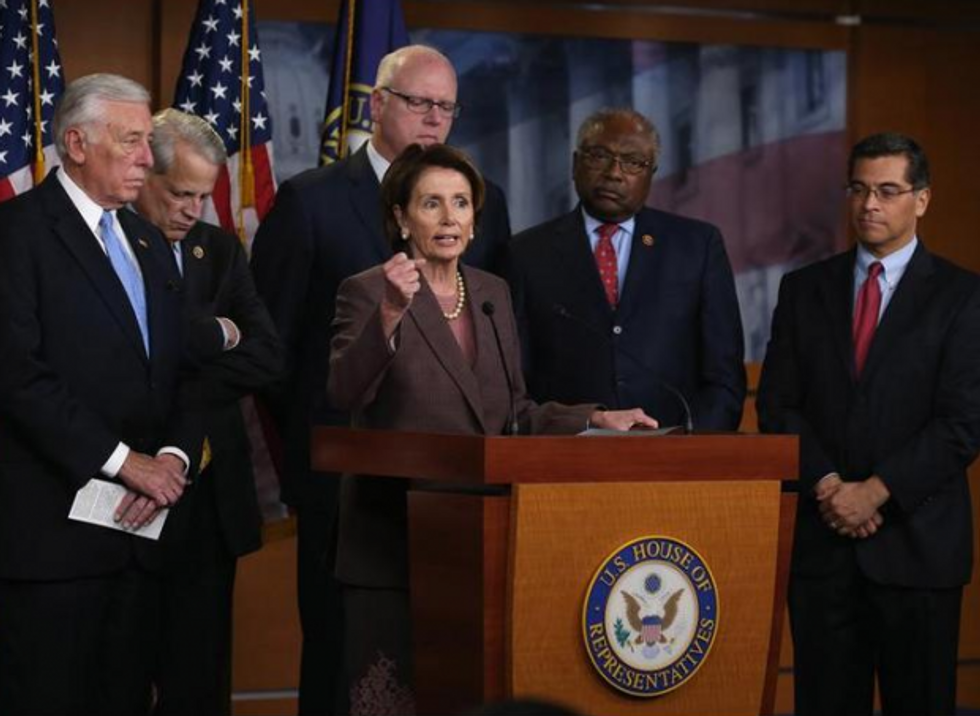 House Minority Leader Nancy Pelosi (D-Calif.), center, and Rep. James Clyburn (D-S.C.), to her immediate left, are among the Democrats pushing Republicans to update the Voting Rights Act.
Image: Mark Wilson/Getty Images
Assistant Minority Leader James Clyburn (D-S.C.) told reporters he will soon bring up the issue with GOP leaders to see what can be done this year.
"I'm going to be talking with the speaker and the leader, and hopefully we can get the to agree to bring the bill to the floor," he said.
In 2013, the Supreme Court ruled that a piece of the Voting Rights Act was outdated — key language that determines which states and counties around the United States had a history of racism and must have their voting laws approved by the federal government. The court said those decades-old rules don't reflect progress made in these states and counties, and said Congress needs to set up new criteria.
Democrats have said that until this problem is fixed, this piece of the law has been nullified, which could allow many southern states to make changes to their voting laws that hurt minorities without any federal oversight.
Rep. Jim Sensenbrenner (R-Wis.) took up the task on the Republican side, and was one of the authors of a bipartisan bill to update the law. Among other things, it would have let judges order federal pre-clearance of voting rules in areas with laws that could discriminate against minorities, and call for automatic pre-clearance if, for example, a state has committed five voting violations over a 15-year period.
That bill never went far in the last Congress, and Clyburn said Democrats will try again to push it forward in the new Congress.
"Mr. Sensenbrenner has told me he has not given up on this," Clyburn said. "He plans to come back within two weeks, I think he said two weeks, with the same piece of legislation to try to get it going."
But there are no guarantees. Just last week, House Judiciary Committee Chairman Bob Goodlatte (R-Va.) said he had no current plans to update the law. Goodlatte reportedly said he believes the surviving parts of the Voting Rights Act afford adequate protection for voting rights.
"To this point, we have not seen a process forward that is necessary to protect people because we think the Voting Rights Act is providing substantial protection in this area right now," he said.