Homeland Security Secretary Jeh Johnson said Wednesday that illegal immigrants will soon be able to apply for legal protection under President Barack Obama's executive action on immigration.
"One of the executive actions President Obama announced on November 20 was a new program for certain undocumented people who have lived in this country for years to come out of the shadows, be accountable, and become taxpayers," Johnson wrote in an op-ed in La Opinión. "We are developing this program now and will be accepting applications in the near future."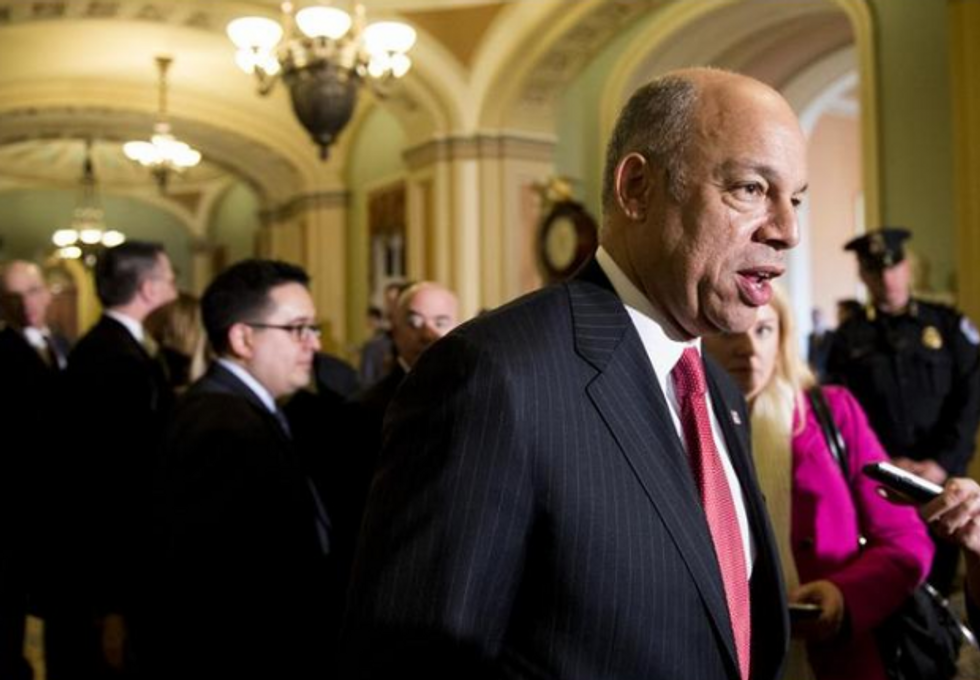 Homeland Security Secretary Jeh Johnson said Wednesday that DHS would soon be implementing President Obama's immigration action. The government has estimated previously that a mid-February start is likely.
Image: Bill Clark/CQ-Roll Call,Inc.
Obama's plan could give up to 5 million illegal immigrants a chance to gain legal protection and even work in the United States. But DHS has said repeatedly since Obama's announcement that it is not up and running yet.
In November, U.S. Citizenship and Immigration Services said it would need about three months to implement Obama's plan to expand the Deferred Action for Childhood Arrivals program, known as DACA. That expansion will let people who have lived in the United States since 2010 to apply for deferred deportation status, and let them work.
That three-month estimate would mean people could start applying for this expanded program in mid-February. Other parts of his plan were expected to take somewhat longer.
In light of this timeline, Congress passed a DHS funding bill that only lasts through February 27, and Republicans are trying to defund Obama's action in the process of passing legislation to provide longer-term funding for the department. The House has already passed the defunding language, but it's still unclear how the Senate will deal with it.
Johnson used most of his op-ed to warn people that expanding protections for illegal immigrants does not mean there has been any change in the government's policy toward illegal immigration that happens going forward.
"It is still the case that our borders are not open to illegal migration," he wrote. "In fact, we are taking additional measures to prevent illegal migration, now and in the future."
Specifically, he noted that Obama's new policy only affects people who have lived in the country for five years, who have committed no serious crimes, and who have children who are citizens or lawful residents.
"This new program is not available for someone who came less than five years ago or comes here illegally in the future," he wrote. "Further, those who assist family members or others in entering the country illegally risk being removed from the program."
Obama has also moved to ease trade and travel rules with respect to Cuba, but here again, Johnson warned that this doesn't mean the U.S. will start accepting Cuban refugees. Under current policy relating to Cuba, the U.S. returns any Cuban immigrants caught at sea, but allows Cubans to stay and seek residency if they make it to the United States.
Johnson said the U.S. has more Coast Guard boats patrolling the coast, and said as a result, Cubans are more likely to be caught at sea.