An airman who hadn't seen his girlfriend in eight months employed the help of several volunteers on his flight from Hawaii to Miami to propose to her, according to a video published to YouTube.
Aaron Vergara wrote on the video published Jan. 1 that he asked eight individuals to walk off the plane and hand his girlfriend a rose. Each rose represented a month the two had been away from each other.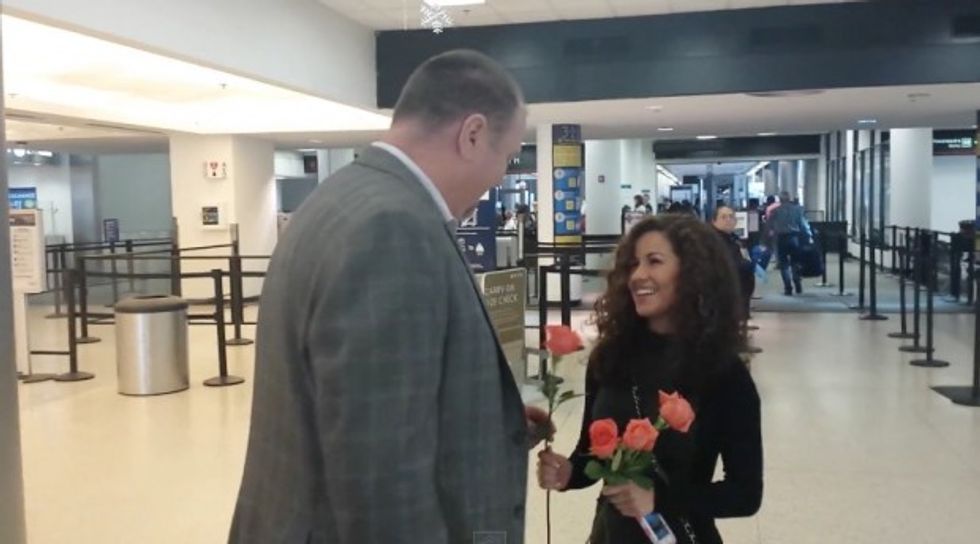 Image source: YouTube
After the volunteers handed off their rose, Vergara appeared with one final flower and got down on one knee.
"I have traveled halfway around the world — I haven't found a girl like you," he said. "I can't live without you. You complete me."
"Will you marry me?" he asked.
Smiling ear-to-ear, Vergara's girlfriend accepted the proposal and the two embraced for a kiss.
"She said yes!" the airman exclaimed.
It wasn't immediately clear when the proposal took place, but the footage was published to YouTube earlier this month and started circulating on the Internet Tuesday.
—
Follow Oliver Darcy (@oliverdarcy) on Twitter