Senate Minority Leader Harry Reid (D-Nev.) said Thursday that his doctors think he won't have any lasting problems with vision out of his right eye after he undergoes surgery next week.
"I met with one of the doctors yesterday, and he felt extremely confident that I would be fine," Reid told reporters in his first press conference since his New Year's Day exercise accident.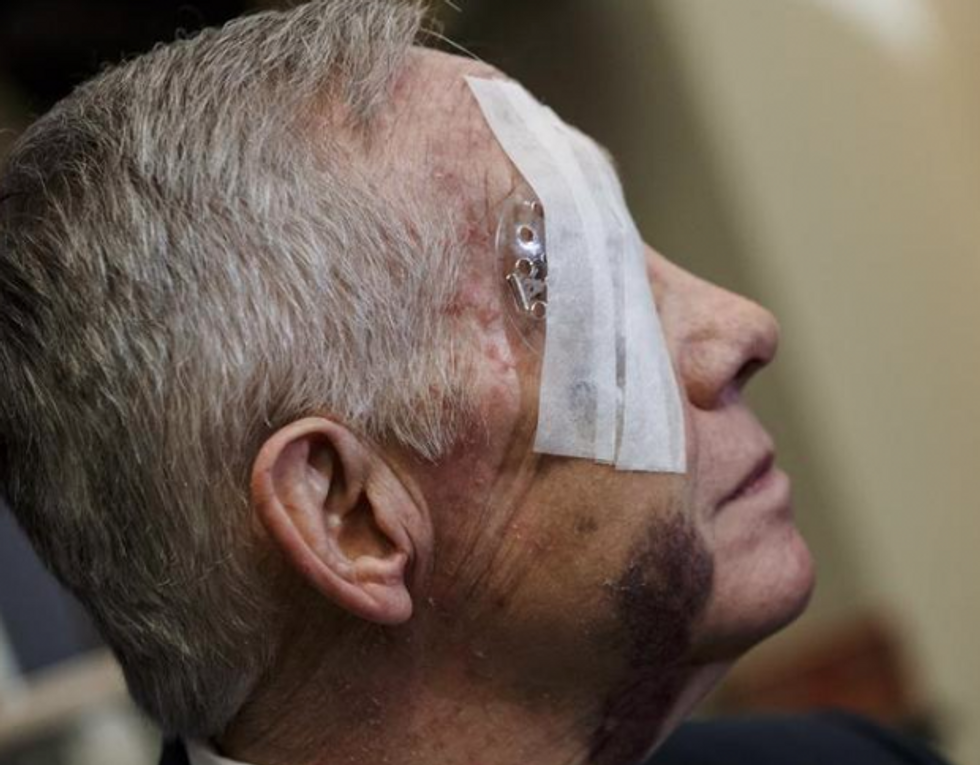 Senate Minority Leader Harry Reid (D-Nev.) will have surgery Monday, and said he expects his right eye will fully recover.
Image: AP Photo/J. Scott Applewhite
Reid broke three ribs and bones in his face after an exercise band broke while he was exercise, which forced him to fall. Reid has said there is blood in his eye from the accident that doctors will try to remove.
"There's blood in front and back part of eye, and after they do reconstruction of that bone there, they're going to drain blood off the front part of the eye, the back part of the eye, and they're confident that I'll be really quiet good after that," Reid said.
Reid said he expects to be able to return to work a week after his Monday surgery. He declined to answer a question about whether he might sue the maker of the rubber exercise band that snapped and caused him to fall.
"If I were, I wouldn't be broadcasting here," he said.
The Democratic leader said his accident has not made him pause at all in preparation for his 2016 re-election campaign. He also brushed off a question about the nine amendment votes Republicans have allowed this year, after Reid allowed just 15 amendment votes in all of 2014.
"The success of a Congress is not determined on how many amendments people vote on," he said. "The success of this Congress will be determined on what happens to the middle class."
On the work of the Senate, Reid said he would oppose President Barack Obama's request for a "fast track" bill that would allow for easier passage of trade agreements.
"I have always been suspect in my entire career in Congress of these trade agreements," he said. "I don't support fast track. Why? Because I have not been shown that these trade agreements have helped the middle class."
Reid said Congress should quickly pass a clean funding bill for the Department of Homeland Security, without any language defunding Obama's executive action on immigration. The House passed a bill with defunding language, but it's been unclear for a week now exactly how Senate GOP leaders will handle it.
Reid also had a comment about the scandal involving the New England Patriots, for using footballs that weren't inflated to the NFL's standards. The NFL lets teams provide balls for each game, and Reid said the NFL needs to take more control over this part of the game.
"I can't believe the National Football League with the billions of dollars they make couldn't at least determine how much air should be in a football, and why that should be left up to the teams," he said.