New England Patriots quarterback Tom Brady denied Thursday allegations that his team cheated in Sunday's AFC championship game by deflating the footballs to make them easier to handle.
"I would never do anything outside the rules of play," Brady said at an afternoon press conference.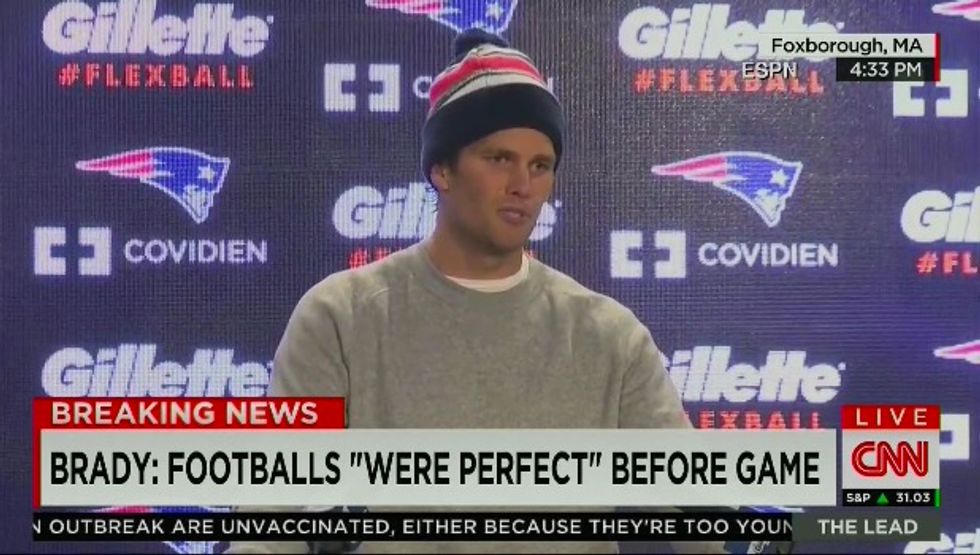 Image source: Screen grab via CNN
The star quarterback, who will face off with Seattle Seahawks quarterback Russell Wilson in the 2015 Super Bowl, said he prefers the football fully inflated at 12.5 lbs. of pressure.
Brady says he would not willfully break the rules. "I respect the league"

— TheBlazeNOW (@TheBlazeNOW) January 22, 2015
Brady added that he did not think anyone knew the footballs were deflated.
"I feel like we won the game fair and square," he said.
The star quarterback contended that he had no idea the balls were deflated because it's not part of his process to squeeze them during inspection.
"I am sorry we have to be having a press conference like this ... I wish I could give you more answers," Brady added.
At one point, Brady suggested the media had blown the controversy out of context.
"This isn't ISIS," he said. "No one is dying."
The NFL is continuing to investigate the incident to determine exactly what happened. Brady said he has yet to be interviewed by officials.
The New England Patriots defeated the Indianapolis Colts Sunday by a score of 45-7.
This story has been updated.
—
Follow Oliver Darcy (@oliverdarcy) on Twitter