Alaska is the state with the most iPhone app traffic, while New Mexico is the state with the least.
That's according to a study out Thursday by the online advertising firm Chitika. The study categorized each state's iPhone app traffic as "very low," "low," "high," or "very high." See where your state fell: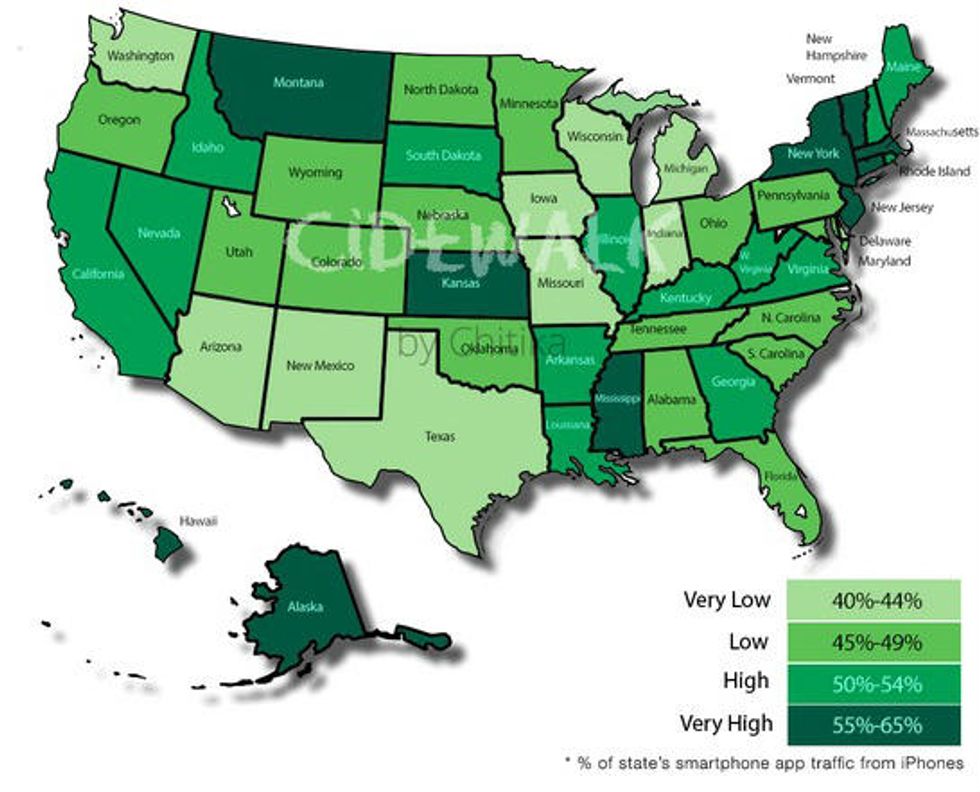 Image source: Chitika
In addition to statewide use, the study found that those who access apps through iPhones tend to be college-educated and live in areas with higher population densities, according to CNN. 
Alaska, Montana, and Vermont were the states with the highest number of iPhone app traffic.
The study pegged California — the home of Apple HQ — at No. 11 with 53 percent using iPhone to access apps.
Here are the five states with the highest and lowest amounts of iPhone app traffic:
Most:
Alaska: 65.5 percent

Montana: 60.1 percent

Vermont: 59.4 percent

Hawaii: 58.7 percent

Mississippi: 58.7 percent
Least: 
Washington: 43.6 percent

Wisconsin: 43.1 percent

Delaware: 42.2 percent

Iowa: 42.1 percent

New Mexico: 40.5 percent
(H/T: CNN)
–
Follow Jon Street (@JonStreet) on Twitter