A majority of Americans (53 percent) believe that God awards success and good health to faithful athletes — and one-fourth (26 percent) believe that the Lord even "plays a role" in picking the winning teams when it comes to competitive sporting events.
These results come from a survey that was recently conducted by the Public Religion Research Institute, which found that these proportions were slightly higher among self-professed sports fans (56 percent and 27 percent respectively) than the general population.
While more than half of Americans believe that "God rewards athletes who have faith with good health and success," 45 percent disagree with this sentiment, according to the results. As for the Lord playing a role in selecting winning teams, 71 percent reject such a prospect.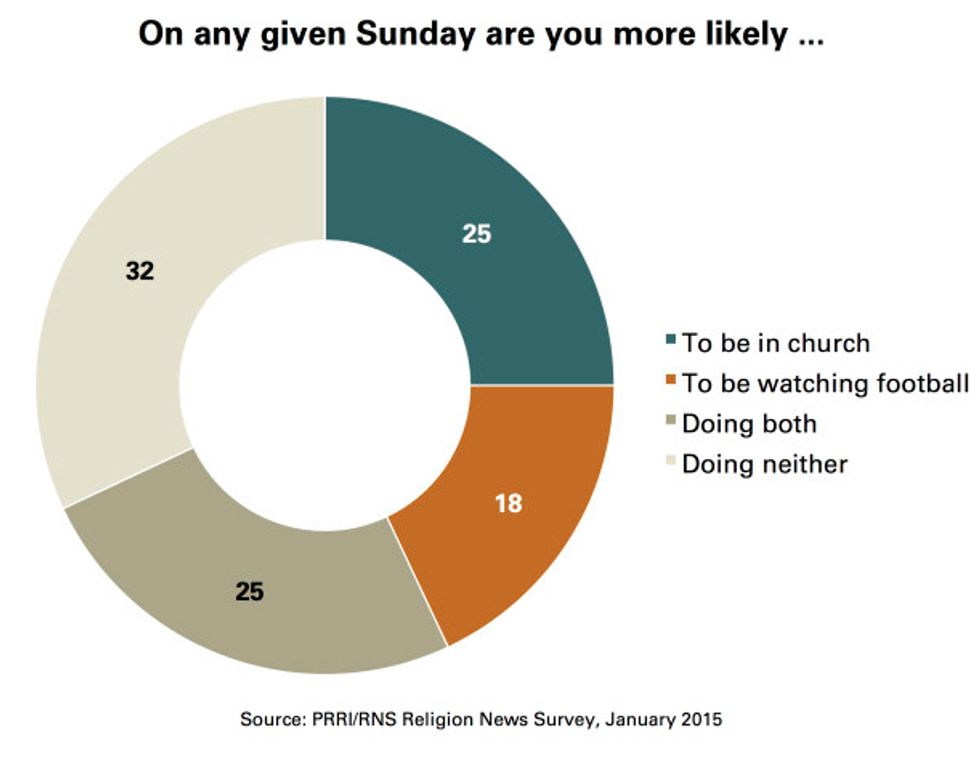 Public Religion Research Institute/RNS News Survey
The poll, which was conducted in collaboration with Religion News Service, also asked Americans whether they are more likely to be in church of to be watching football on any given Sunday.
While 25 percent opted for church, 18 percent said they'd be more likely to be watching football; additionally, 25 percent selected both options, with 32 percent stating that they'd be doing neither, according to Public Religion Research Institute.
As TheBlaze previously reported, LifeWay Research recently asked a slightly different question, giving respondents a choice between watching football and attending church on Sundays.
In that poll, only 15 percent of respondents said that they would "skip a weekly worship service" to watch their favorite football team on television. In contrast, 83 percent — and 68 percent strongly so — indicated that they would not be interested in skipping church to watch their beloved team play.
The latest research from the Public Religion Research Institute comes just days before the New England Patriots and Seattle Seahawks are slated to play Super Bowl XLIX on February 1 in Arizona.
Read the complete results here.
What do you think? Does God play a role in picking the winning team? Take the poll:
--
Front page image via Shutterstock.com