Israel's ambassador to the U.S. says Prime Minister Benjamin Netanyahu's planned address to Congress in early March is not a sign of disrespect to President Barack Obama, and is instead a chance to speak out against Iran and other threats to the world "while there is still time."
"The prime minister's visit here is not intended to show any disrespect for President Obama," Ambassador Ron Dermer said in a speech in Florida on Sunday.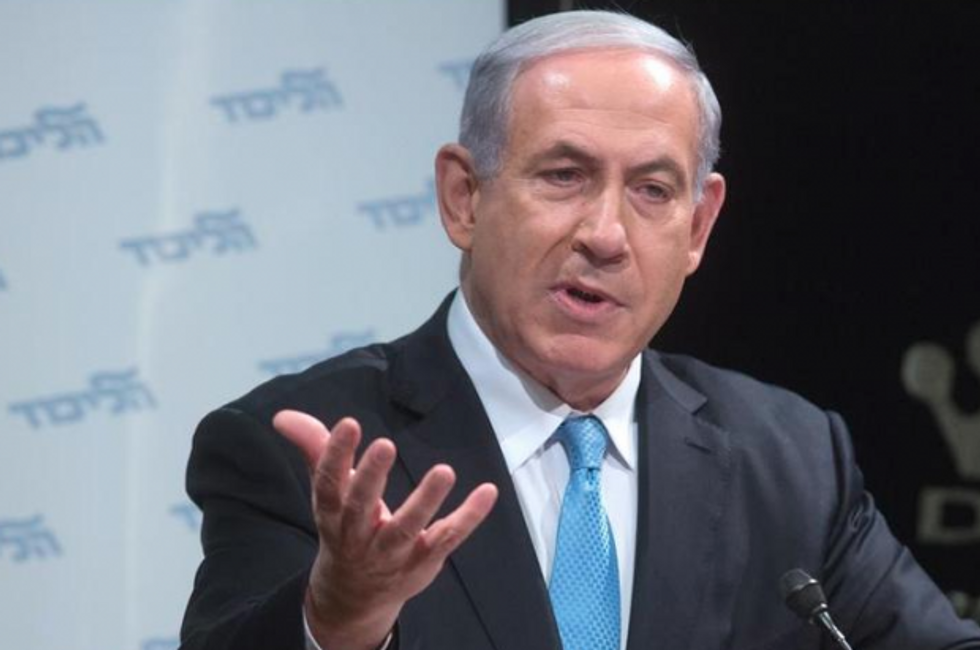 Israeli Prime Minister Benjamin Netanyahu's visit to Washington DC is seen by many as a slap in the face to President Barack Obama, but Israel insists this is not the case. Image: MENAHEM KAHANA/AFP/Getty Images
"Rather, the Prime Minister's visit to Washington is intended for one purpose, and one purpose only," he added. "To speak up while there is still time to speak up. To speak up when there is still time to make a difference."
.@AmbDermer: PM visit is intended for 1 purpose:to speak up while there's still time to speak up, when still time to make a difference #Iran

— Embassy of Israel (@IsraelinUSA) January 26, 2015
Netanyahu was invited to address Congress by House Speaker John Boehner (R-Ohio), who angered many Democrats for not consulting with Obama or other Democrats on the invitation. The administration has since said it would not meet with Netanyahu anyway, since it's too close to Israel's elections, and the U.S. does not want to be seen as trying to influence the outcome.
Still, the invitation has revived talk of a longstanding feud between Obama and Netanyahu over issues such as Iran. Obama continues to cling to the hope that the U.S. can broker a nuclear agreement with Iran, while critics of that plan such as Netanyahu and many Republicans and Democrats in Congress say Iran is just stalling for time.
Dermer used his Florida speech Sunday to warn that Iran is a major threat to the world's security, and Israel is a target of Iran, which makes it "the canary in the coal mine."
"Iran is the world's most dangerous regime," he said. "It has already devoured four Arab capitals – Baghdad, Damascus, Beirut and Saana in Yemen – and it is hungry for more. Iran is the greatest sponsor of terrorism in the world, perpetrating or ordering attacks in 25 countries on five continents in the last four years alone."
Differing views on terrorist threats such as al-Qaeda and the Islamic State are also feeding the storyline that Netanyahu and many in Congress see Obama as out of touch on the real threat these groups pose. When Boehner announced he had invited Netanyahu to speak, he indicated he took that step in anticipation of Obama not calling out radical Islamic terror threats, and implied that Netanyahu is more able than Obama to lead that discussion in the U.S.
"There is a serious threat that exists in the world, and the president last night kind of papered over it," Boehner told reporters Wednesday. "The fact is is that there needs to be a more serious conversation in America about how serious the threat is from radial Islamic jihadists and the threat posed by Iran."
Some in Israel have criticized Netanyahu for accepting Boehner's invitation, which they say could further undermine his relationship with Obama and hurt Israel's national security. But Dermer stressed that Netanyahu's effort here is to step up warnings about the threat posed by Iran, and stressed that the Prime Minister values his relationship with Obama.
"Israel deeply appreciates the strong support we have received from President Obama in many areas – the enhanced security cooperation, heightened intelligence sharing, generous military assistance and iron dome funding, and opposition to anti-Israel initiatives at the United Nations," he said.
.@AmbDermer:Deeply appreciate strong support from Pres Obama:security coop, military&iron dome funding, &opposing anti-Israel UN initiatives

— Embassy of Israel (@IsraelinUSA) January 26, 2015
"The Prime Minister's visit is also not intended to wade into your political debate," he added. "Israel deeply appreciates the strong bipartisan support we enjoy in the American Congress — where Democrats and Republicans come together to support Israel — just as Israel appreciates the wide and deep support that it enjoys among the American people."
Dermer said Netanyahu is going to the United States for the same reason he went to France for that country's unity march after terrorists killed 17 people. But some are likely to see his comments on France as another possible dig at Obama, since Obama didn't go and was widely criticized for that decision.
"To me, his trip there was a no-brainer," Dermer said of Netanyahu's visit to Paris. "After all, Israel constantly asks France to stand with us in our battle against terrorism. It's only natural that Israel should stand with France in its battle against terrorism."
Dermer himself has come under criticism for speaking in favor of Netanyahu, which some say violates Israel's civil service laws.