Though absent from the ceremony marking the 70th anniversary of the liberation of Auschwitz, President Barack Obama said in a statement Tuesday that this month's Paris attacks are a "painful reminder of our obligation to condemn and combat rising anti-Semitism in all its forms."
"Honoring the victims and survivors begins with our renewed recognition of the value and dignity of each person," the statement said. "It demands from us the courage to protect the persecuted and speak out against bigotry and hatred. The recent terrorist attacks in Paris serve as a painful reminder of our obligation to condemn and combat rising anti-Semitism in all its forms, including the denial or trivialization of the Holocaust."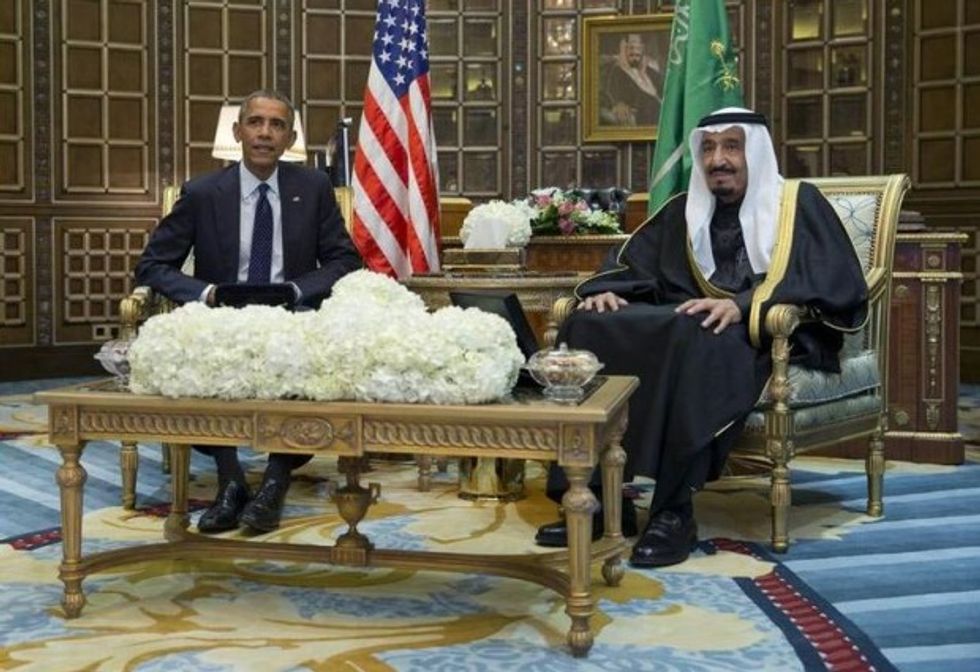 President Barack Obama and new Saudi Arabian King Salman bin Abdul Aziz are photographed as they participate in a bilateral meeting in Riyadh, Saudi Arabia, Tuesday, Jan. 27, 2015. The president has come to expresses condolences on the death of the late Saudi Arabian King Abdullah bin Abdulaziz al-Saud. (AP Photo/Carolyn Kaster)
Neither Obama nor Vice President Joe Biden attended Tuesday's ceremony in Poland on what is also International Holocaust Remembrance Day. Obama was in Saudi Arabia, while Biden was at the funeral for former Democratic Sen. Wendall Ford in Kentucky.
French President Francois Hollande and British Prime Minister David Cameron were among the world leaders present; Russian President Vladimir Putin did not go.
Vice President Dick Cheney attended the 60th anniversary of the liberation of Auschwitz in January 2005; the White House did not respond to inquiries from TheBlaze as to why neither Obama nor Biden went.
Obama sent a delegation led by Treasury Secretary Jack Lew and including U.S. Ambassador to Poland Stephen D. Mull; Crystal Nix-Hines, U.S. permanent representative to the United Nations Educational, Scientific and Cultural Organization; David Saperstein, ambassador-at-large for International Religious Freedom; Charles A. Kupchan, senior director for European Affairs with the National Security Council; Nicholas Dean, special envoy for Holocaust Issues; and Aviva Sufian, special envoy for U.S. Holocaust Survivor Services at the Department of Health and Human Services.
The delegation also included American Jewish Committee Executive Director David Harris and Holocaust survivors Israel Arbeiter and Irene Weiss.
"We commemorate all of the victims of the Holocaust, pledging never to forget, and recalling the cautionary words of the author and survivor of Auschwitz Primo Levi, 'It happened, therefore it can happen again. . . . It can happen anywhere,'" Obama said. "Today we come together and commit, to the millions of murdered souls and all survivors, that it must never happen again."
Biden in a statement echoed Obama's comments about Paris.
"We mark this milestone at a moment when too many hearts in too many places are still full of the hatred that seeks to eliminate innocent life on the basis of religion, ethnicity, or identity," Biden said. "Recent violent attacks against Jews in France and elsewhere in Europe make unmistakably clear that the scourge of anti-Semitism persists and must be confronted."