Neither President Barack Obama nor Vice President Joe Biden are scheduled to attend the 70th anniversary of the liberation of Auschwitz next week. Treasury Secretary Jack Lew will instead lead a presidential delegation.
Vice President Dick Cheney attended the 60th anniversary event on Jan. 28, 2005.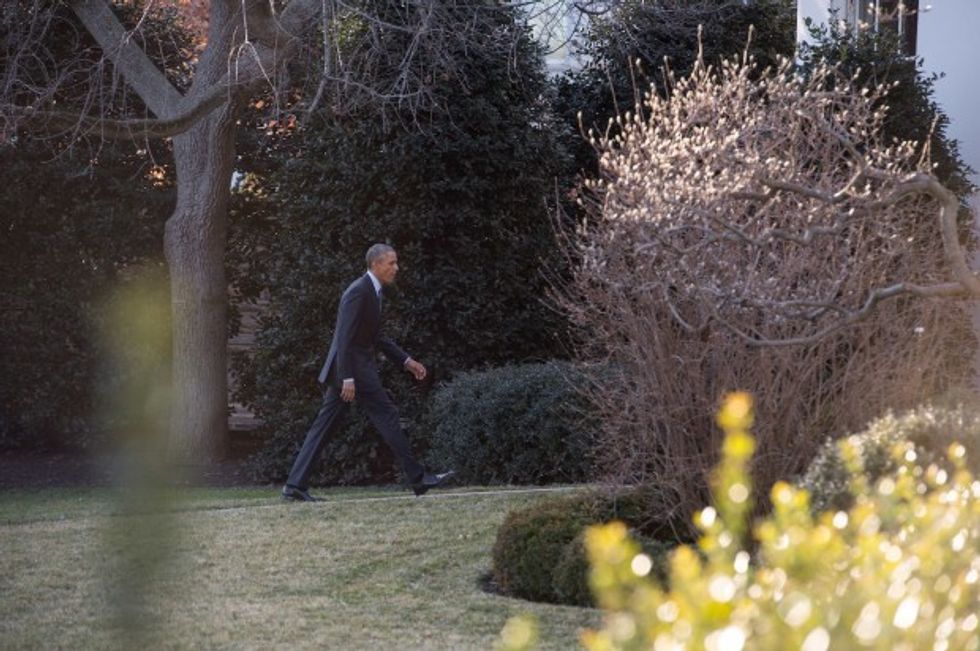 U.S. President Barack Obama walks to the Oval Office upon his return to the White House in Washington on January 22, 2015 from a two-day trip to Idaho and Kansas. (AFP HOTO/NICHOLAS KAMM)
Lew will lead a delegation of nine nine people, including administration officials and survivors for the Jan. 27 event in Poland. Obama will be returning Tuesday from his trip to India. Biden's schedule is not yet available.
The White House did not return request for comment Friday evening as to why neither the president nor the vice president are attending.
The New York Times reported earlier this week that among those attending would be French President François Hollande, Austrian President Heinz Fischer, Belgium King Philippe of Belgium, King Willem-Alexander of the Netherlands and Crown Prince Frederik of Denmark.
Reports of Obama missing this event come after he didn't attend other high-profile events, such as the rally in Parisin the wake of the Charlie Hebdo terror attack. More recently, Obama has been scrutinized for declining to meet with Israeli Prime Minister Benjamin Netanyahu when he arrives in Washington in March.
Other members of the Obama administration who will attend the event are Stephen D. Mull, U.S. Ambassador to Poland; Crystal Nix-Hines, U.S. Permanent Representative to the United Nations Educational, Scientific and Cultural Organization; David Saperstein, Ambassador-at-Large for International Religious Freedom; Charles A. Kupchan, senior director for European Affairs with the National Security Council; Nicholas Dean, special envoy for Holocaust Issues; Aviva Sufian, special envoy for U.S. Holocaust Survivor Services at the Department of Health and Human Services.
The delegation also includes non-administration members. They are David Harris, executive director of the American Jewish Committee; and Auschwitz-Birkenau survivors Israel Arbeiter and Irene Weiss.
(H/T: Washington Free Beacon)
—