Tuesday marked one week since the State of the Union, and President Barack Obama is already backing off one of his proposals.
Among the legislative pitches in his broad tax reform plan included taxing certain college savings plans, known as "529s" named their section in the tax code. The administration said the plan was aimed at simplifying the tax code by ditching certain deductions.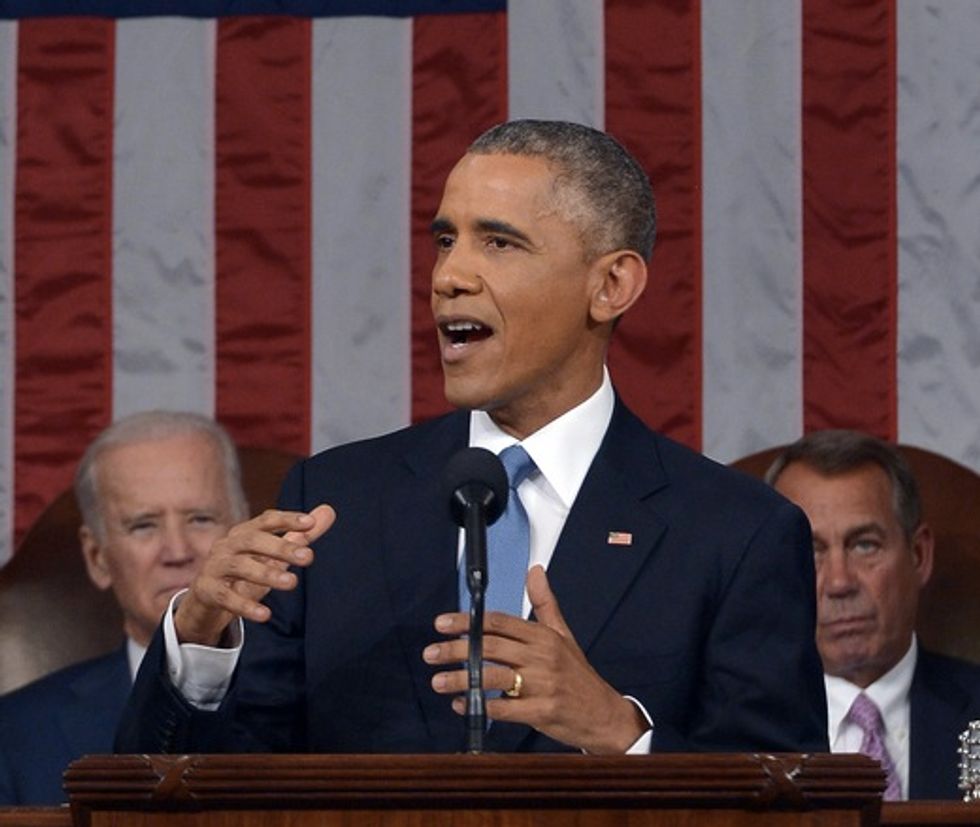 President Barack Obama delivers the State of the Union address on January 20, 2015 in the House Chamber of the U.S. Capitol in Washington, D.C. On the left is Vice President Joe Biden; on the right is House Speaker John Boehner. (Getty Images)
A White House official told TheBlaze the "529 provision is a very small component" of Obama's larger tax reform plan.
"Given it has become such a distraction, we're not going to ask Congress to pass the 529 provision so that they can instead focus on delivering a larger package of education tax relief that has bipartisan support, as well as the president's broader package of tax relief for childcare and working families, paid for by eliminating the trust fund loophole and making sure the wealthy pay their fair share," the White House official said.
After Obama made this part of his tax reform package, Republicans quickly criticized the plan, and even Democrats were reluctant to get on board. House Minority Leader Nancy Pelosi (D-Calif.) and Rep. Chris Van Hollen (D-Md.), the ranking member of the House Budget Committee, pressed the White House to drop the idea, the Associated Press reported.
House Speaker John Boehner (R-Ohio) also demanded the administration drop the plan.
"Five twenty-nine plans help middle class families save for college," Boehner said earlier Tuesday, before the White House announcement. "But now the president wants to tax those plans. It's another example of this outdated, top-down approach when our focus ought to be on providing opportunity for all Americans. So for the sake of middle class families, the president ought to withdraw this tax increase from his budget when he submits it soon."
The plan would have cut tax benefits for future contributions to 529 college saving plans, but existing 529 accounts would have been grandfathered in and would not face the same penalty.
The administration wanted to use the estimated $50 billion in revenue from taxing the 529 saving  to make the $2,500 education tax credit for families permanent. The credit is set to expire in 2017.
Separately, Obama also proposed making the first two years of community college free during the speech, a proposal that Obama and White House officials have talked far more about before and after the State of the Union.