If you can't beat 'em, join 'em.
Saudi Arabia's state-run oil company, Saudi Aramco, pumped $7 billion into a fund to explore hydraulic fracturing — more than double what it had originally planned to spend on fracking, Business Insider reported.
It seems that the Gulf kingdom is gearing up to exploit its potentially massive shale oil reserves — and taking a page out of the American playbook.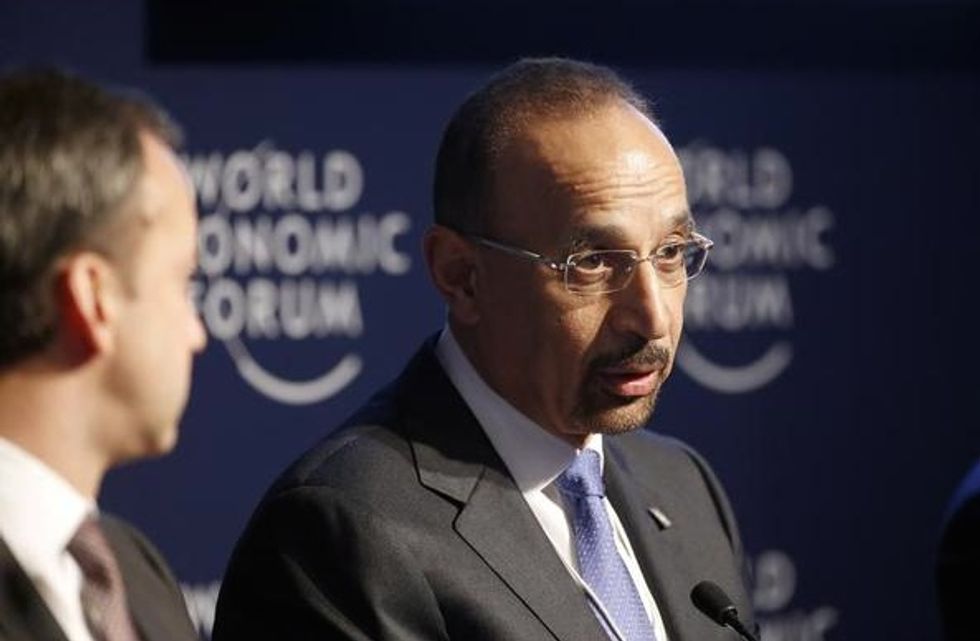 Khalid Al-Falih, chief executive officer of Saudi Arabian Oil Co., speaks during a session on the opening day of the World Economic Forum in Davos, Switzerland, Jan. 21, 2015. (Bloomberg/Bloomberg via Getty Images)
Fracking is the technique that American drillers are employing in the giant U.S. shale plays across Texas, North Dakota and other states, forcing water into shale rock to drive out long-buried oil deposits, and the spread of fracking is responsible for boosting U.S. oil production, making the U.S. the world's top oil producer in 2014.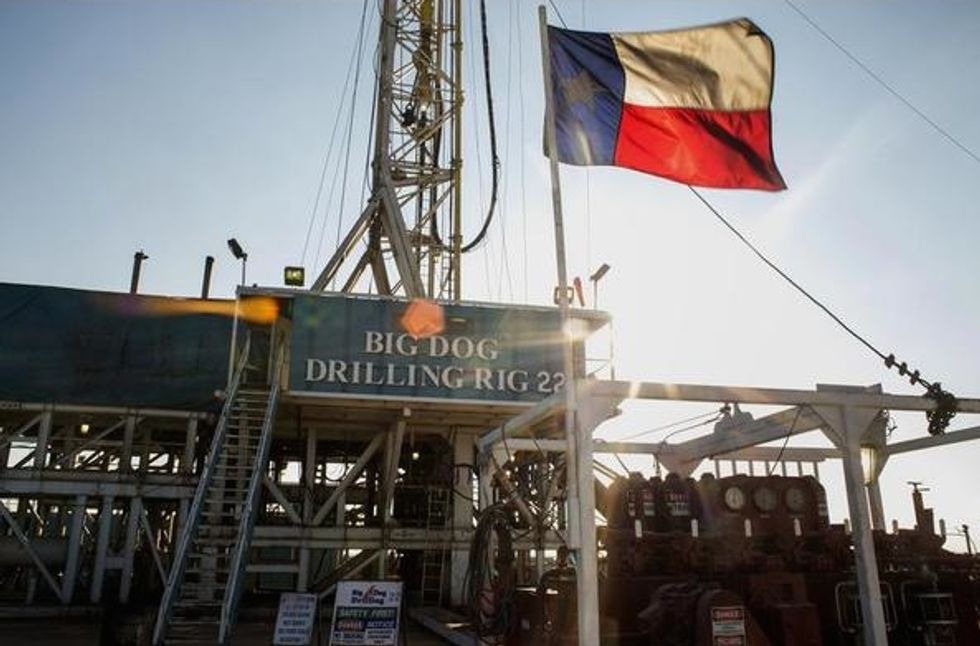 The Texas flag flies at Endeavor Energy Resources LP's Big Dog Drilling Rig 22 in the Permian basin outside of Midland, Texas, Dec. 12, 2014. (Bloomberg/Bloomberg via Getty Images)
The uptick in American production has helped drive down oil prices worldwide, hurting oil-exporting nations such as Russia, Venezuela and Saudi Arabia.
But unlike many other oil-exporters, the Saudis have accepted the oil price tumble without much fuss.
"I would not venture to guess where the [fair oil] price will be but it will be the price that ultimately balances supply and demand, and I don't think that anybody, no single person can dictate what that price is," Aramco CEO Khalid al-Falih said at a Tuesday press conference. "I will be foolish if I did that."
Experts have speculated that Saudi Arabia is waiting for low prices to drive competitors out of business before swooping in to claim more global market share.
Bloomberg estimated that Saudi Arabia could have the world's fifth-largest deposits of shale gas, meaning the kingdom has tremendous reserves to pump out as the rest of the world dries up.
But while the Saudis may be swimming in oil, their desert kingdom lacks precisely what made fracking possible on a wide scale in the U.S.: water.
Bloomberg reported in 2013 that it could take the Saudis close to a decade to get a fracking industry running full-scale due to limited water supplies.
—
Follow Zach Noble (@thezachnoble) on Twitter