Rep. Trey Gowdy (R-S.C.) on Monday defended the right of Republicans to hear testimony from people with knowledge of the 2012 attack in Benghazi, Libya, without any Democrats present.
Democrats have been complaining since last year that Republicans on Gowdy's Select Committee on Benghazi are holding meetings without any Democrats present, and say those meetings show the committee is tilted unfairly against Democrats. Rep. Elijah Cummings (D-Md.), the top Democrat on the committee, wrote to Gowdy last week to complain again.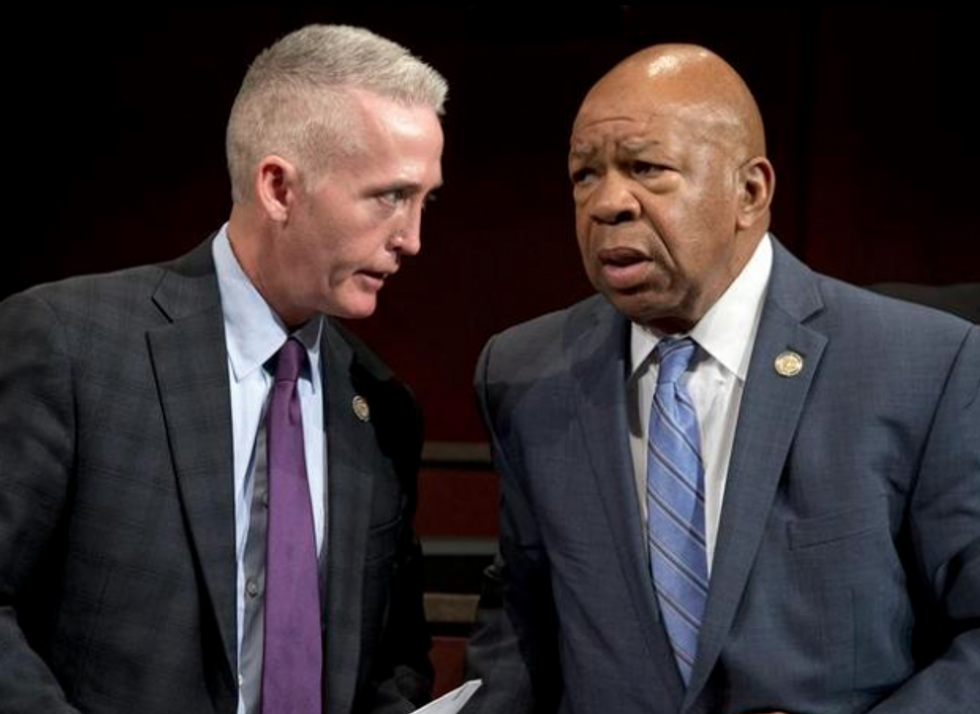 Rep. Trey Gowdy (R-S.C.), left, is defending himself from charges leveled by Rep. Elijah Cummings (D-Md.), right, that the Benghazi Committee is operating without enough regard for Democrats. Image: AP Photo/Carolyn Kaster
Some of those complaints seemed likely to spill into a Tuesday morning hearing at the committee.
But in a Monday letter, Gowdy implied that Republicans need to meet with witnesses on their own in some cases, because some of these witnesses may not be as open with Democrats present. He said broad Democratic opposition to the very existence of the committee is a factor that could make it harder to investigate Benghazi with Democrats present, since some witnesses are still officials in the Obama administration.
Gowdy charged Democrats with arguing that Republicans are politicizing the Benghazi investigation, but suggested that Cummings' letters themselves could create more reason for some witnesses to withhold testimony.
"We rely on individuals to speak with us candidly, and privately, about their actions and observations regarding Benghazi; and this committee has endeavored to create a safe environment where individuals can approach us anonymously without fear of retribution from their employer," Gowdy wrote. "However, most witnesses with directly knowledge of the events in Benghazi are currently still employed in the executive branch…"
Gowdy also said there's a possibility that some witnesses will see Democratic opposition to the investigation as a sign that Democrats might leak some information out, which could make witnesses hesitant to testify.
"They may view these actions as an inability to safeguard information they share with the committee, and therefore may not come forward in the future to speak with the committee," he wrote.
Jamal Ware, communications director for the committee, said directly on Monday that Gowdy would continue to allow GOP-only meetings with witnesses, since Democrats are allowed to do the same, and no select committee has ever prevented single-party meetings.
"Chairman Gowdy will talk to Benghazi sources with or without the Democrats present just as they are welcome to talk to sources with or without Republicans present," he said. "As CRS has noted, no congressional select committee has ever had a requirement that sources meet with both sides at the same time, and the Benghazi Committee is no exception."
Gowdy also proposed a set of rules for the committee, which includes the promise of efforts to ensure Republicans and Democrats are present for witness testimony "to the extent practicable." Gowdy said his proposed rules are "far more generous" that rules found in other committees.
Last Friday, Cummings sent Gowdy a letter that charged Republicans with repeatedly refusing to allow Democrats into meetings with witnesses. Cummings said that goes against pledges that Gowdy made to be more bipartisan.
"You have had different standards for Republicans and Democrats participating in the investigation, secret meetings with witnesses, and — perhaps most importantly — withheld or downplayed information when it undermines the allegations we are investigating," Cummings said.
Read Gowdy's letter below, and below that, Cummings' letter to Gowdy from last week: