U.S. Coast Guard video captured the traumatic moments during which a single engine Cirrus SR-22 aircraft, traveling from Tracy, California, to Mahului, Hawaii, ran out of fuel while in mid-air.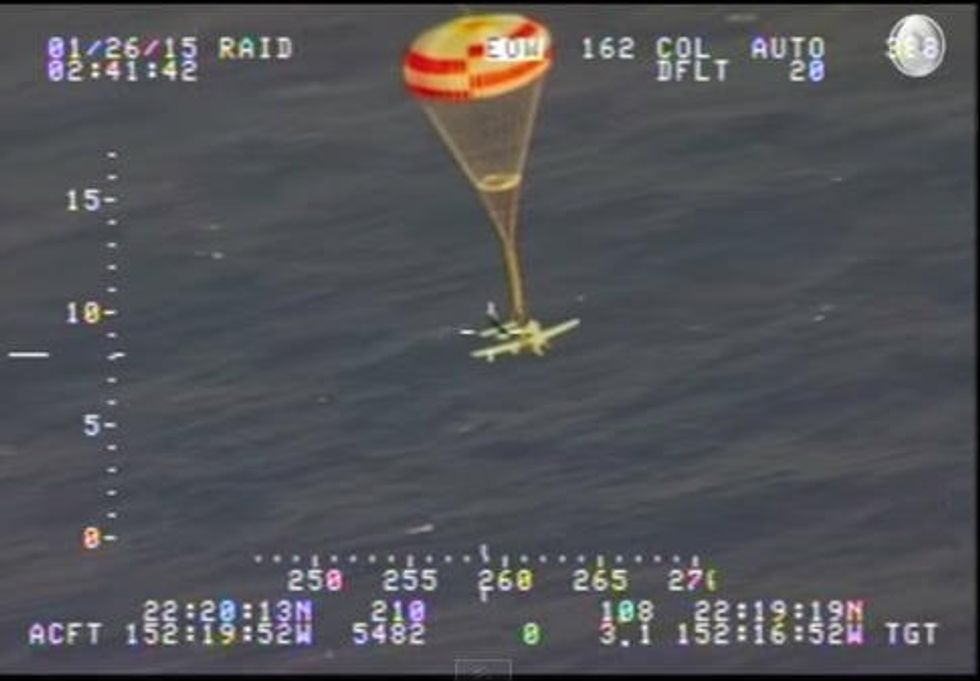 Single engine aircraft glides toward the surface of the Pacific Ocean after running out of fuel. (Image source: YouTube)
Just before 5 p.m. Sunday, the pilot of a plane about 253 miles off the coast of Maui, Hawaii, activated the emergency parachute in an effort to ditch the aircraft. He realized at around 12:30 p.m. that he only had three hours of fuel left. He got in contact with a Coast Guard plane who stayed in communication with him until just before 5 p.m.
As the plane went down, the pilot maintained communication with the crew onboard the Coast Guard HC-130 Hercules aircraft. Right after the impact, he managed to escape from the doomed aircraft and latch onto a flotation device.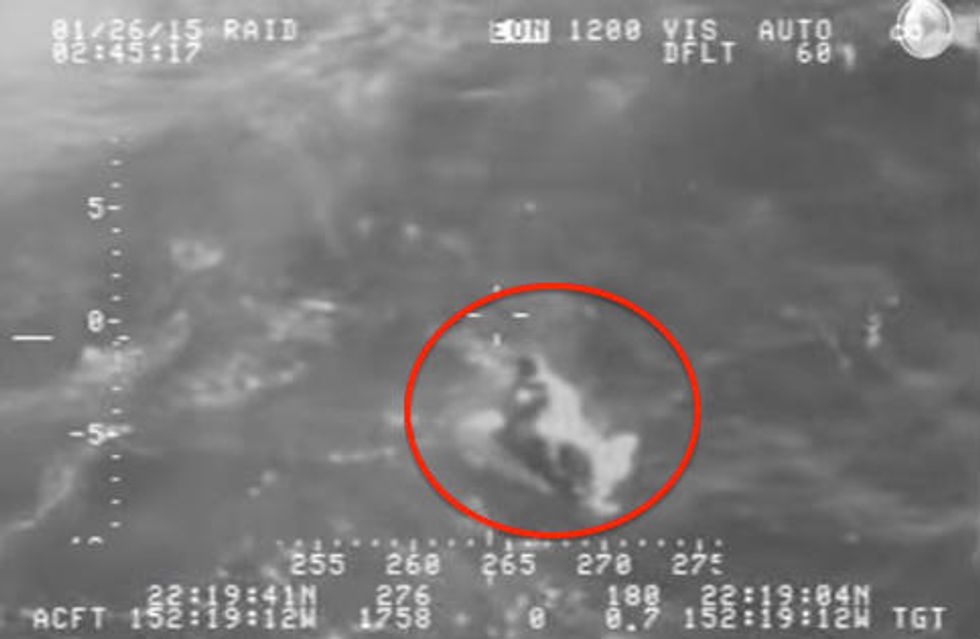 A pilot of a doomed aircraft latches onto a flotation device after ditching his plane. (Image source: YouTube)
As it turned out, the pilot's determination to survive paid off. Moments later, members of the crew onboard the cruise ship Veendam spotted the stranded pilot and prepared a rescue mission. The Hercules crew didn't cut off communication lines until the pilot was safely on the deck of the cruise ship.
The pilot was in good condition afterward, despite the plane being partially submerged under water, according to a statement from the U.S. Coast Guard.
Watch the incredible footage showing the pilot ditching the aircraft and later reemerging from the water to be rescued:
If you're wondering about the parachute apparatus that saved the pilot's life, the BBC explains how it works:
On small planes like those manufactured by Cessna or Cirrus, the parachute is stored in the fuselage, either behind the back seat or in the centre section of the wing, above the cockpit. In an emergency the pilot has to pull a handle in the ceiling of the plane. Once the large chute deploys, the descent rate is about 1,700ft per minute (518m) – so the impact you'd expect on the ground is equivalent to "jumping from a 4m tall ledge," says Travis Klumb, Cessna's director of flight operations. Planes are also equipped with other features that help cushion the drop, such as crushable aluminium inside the seats and landing gear designed for a controlled collapse during a crash-landing.
According to the outlet, about 10 percent of light aircraft are equipped with such devices.
Editor's note: This post has been updated. 
–
Follow Jon Street (@JonStreet) on Twitter