Take a look at her dress.
It's the same dress Lone Peak High School student Gabi Finlayson was wearing when she was told to cover up at the Preference Dance last Saturday.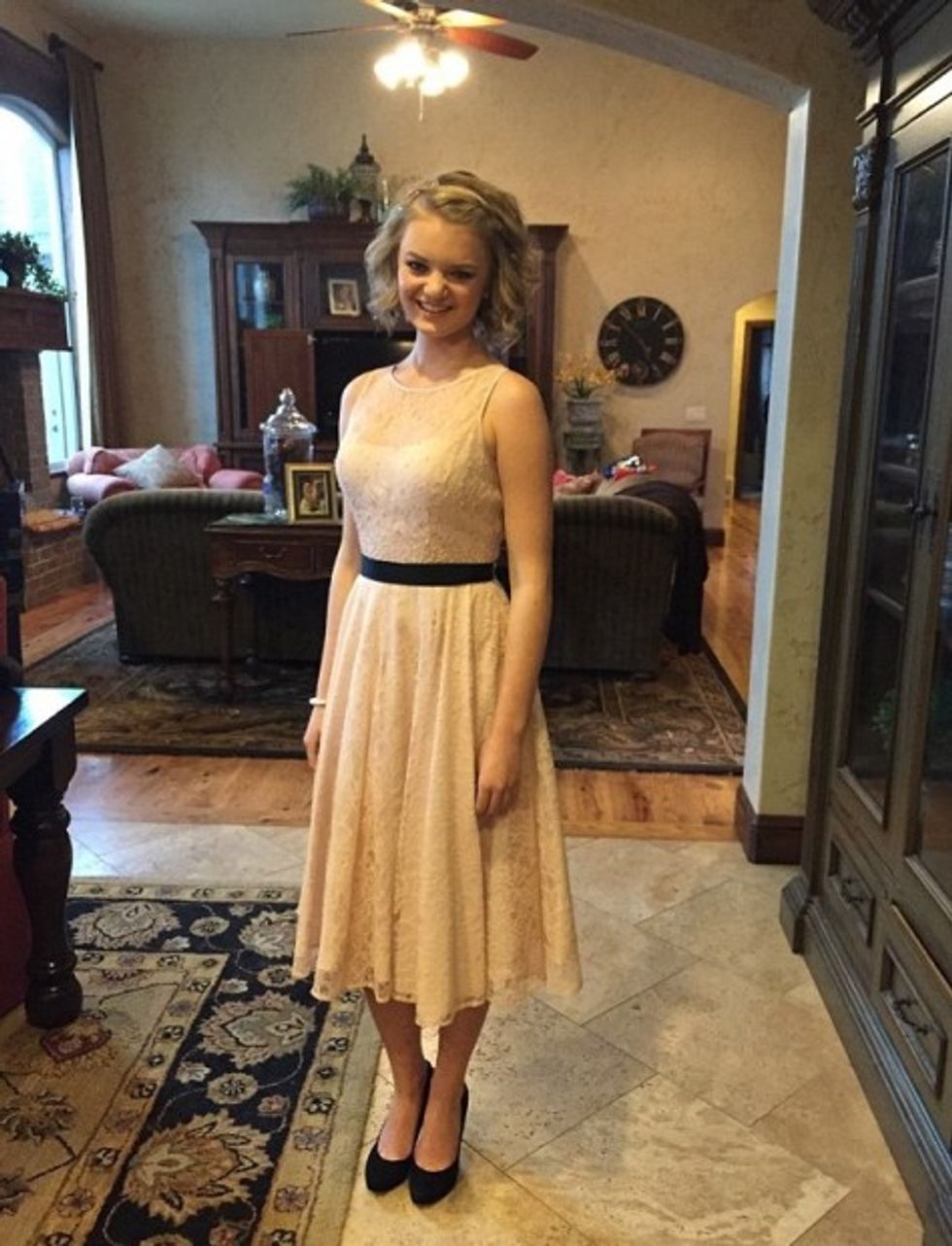 Lone Peak High School student Gabi Finlayson was told she needed to wear a jacket to cover up her exposed shoulders while at a school dance Saturday. (Image source: Facebook via Mail Online)
Why? According to KUTV, a school representative told her that she needed to cover her shoulders because they were left exposed by her dress.
"She said, 'Would you mind putting on a shawl?' I didn't want to make a big scene so I said, yes. I had a coat in the car so I had to go back and get it," Finlayson told the local outlet.
However, now the high schooler is speaking out — and she's upset that she was forced to wear her winter coat throughout the entire dance.
"Somehow my shoulders are sexualized," Finlayson told KUTV. "Like it's my responsibility to make sure the boys' thoughts are not unclean."
School principal Rhonda Bromley defended the school representative's actions, contending students were made aware of the formal dress code.
Those rules include this section:
Formals, backless dresses and/or tops may not extend beyond the bottom of the shoulder blades. Girls' dresses and tops must have a 2″ minimum strap on each shoulder. Shawls, boleros and other shrugs are acceptable if worn over the dress at all times. Cleavage covered.
Finlayson still argued that her dress, which was purchased in Paris, was modest in comparison to what other girls were wearing.
"There were a lot of dresses that were very short, very tight, a lot more exposing or revealing than mine," she told KUTV.
Her mother firmly agreed.
"How have we gotten to the point that we look at shoulders as if they're somehow pornographic? As if they are this shameful thing," she said.
—
Follow Oliver Darcy (@oliverdarcy) on Twitter