In a fiery sermon delivered at a Brooklyn mosque, an Islamic preacher assailed hardline Muslim religious leaders who instill hateful ideas into the minds of impressionable Muslim youths, calling it a "cancer." Instead, he called on worshipers to show kindness and love to others.
Speaking at the Oulel-Albab Mosque, Imam Tareq Yousef Al-Masri raised the Boston Marathon bombing and the recent Paris attacks, asking, "What's the story with that all-destructive ideology?" according to a translation by the Middle East Media Research Institute.
Al-Masri said Muslims have to be honest with themselves about the problem emerging from hardline ideology, like that of Wahhabi and Salafist Islam.
"Let us admit, without lying to ourselves, that we, the Muslims, are time bombs. When I say 'we, the Muslims,' I do not mean every single Muslim, but Muslims of the religious sector are time bombs. When a sinner repents, the first thing he does is make a bomb. He blows it up and kills people," Al-Masri said.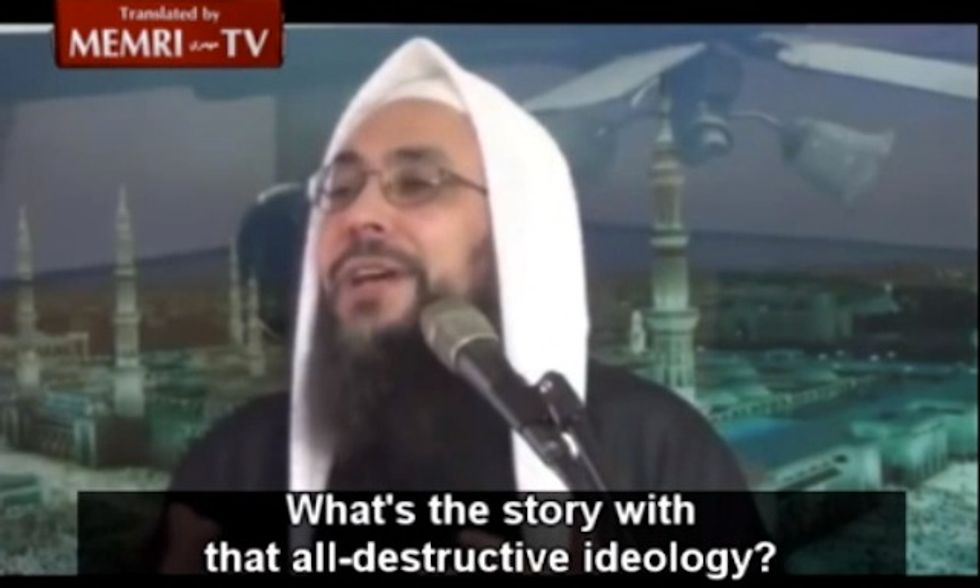 Imam Tareq Yousef Al-Masri called on Muslims to love others and admit there is a "cancer" in their faith. (Image source: MEMRI)
"We must admit this. We cannot become immune if we do not admit this," he said. "If you have cancer, it won't help you if I tell you that you have the flu. I must tell you that you clearly have cancer."
Al-Masri criticized radical Islamists who preach hatred of Christians.
"Let us admit something else. The majority of us Muslims hate the Christians – true or false? Yes, that is the truth," Al-Masri said. "When you see how many people oppose [congratulating Christians on their holidays], you have to admit that deep-rooted hatred dwells in the hearts of Muslims."
"When we tell people that it is forbidden to wish a Christian 'Merry Christmas,' does this not lay the foundation for terrorism? This is how you condition yourself to feel hatred," he said.
Al-Masri asserted that the Koran has been "distorted by scholars who corrupt the youth" who in turn "believe that they are worshipping Allah by killing people."
"[These scholars consider] any Koranic verse of moral value to have been abrogated. They consider any verse that calls to treat people with kindness to have been abrogated. All that remains valid is: Kill! Slaughter! Is that the only thing that God tells us?" he said.
Al-Masri called on Muslims to love others.
"I am ashamed of the rotten and despicable conduct of the Muslims. Today, the Muslims stand up in mosques and wash their hands of these two brothers [the Charlie Hebdo massacre perpetrators] – or of the two brothers from the Boston bombings – but is this enough? No. Oh servants of Allah, do not hate people! Love people. Get closer to them. Do you want to invite other people to join Islam, while you hate them and curse them day and night?!" he said.
Here is a translated part of the sermon from MEMRI: