Senate Republicans indicated Wednesday that they might be willing to accept President Barack Obama's nominee to be the next attorney general, in large part because the nominee isn't Eric Holder.
Obama nominated U.S. Attorney Loretta Lynch to replace Holder, and on Wednesday, GOP senators seemed to appreciate her competence and her earlier visits with then to discuss how she might do the job. But it also seemed clear that part of her smooth nomination hearing had a lot to do with who she wasn't.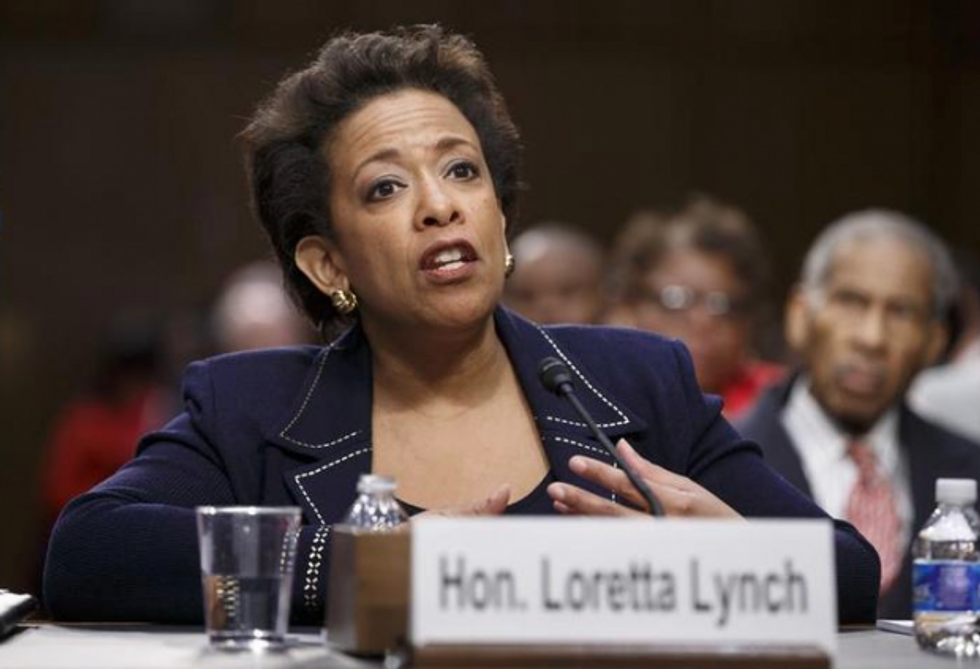 U.S. Attorney Loretta Lynch seemed to impress senators on Wednesday with her thoughtful answers and the fact that she's not Eric Holder. Image: AP Photo/J. Scott Applewhite
"You're not Eric Holder, are you?" asked Sen. John Cornyn (R-Texas).
"No, I'm not, sir," she replied to laughter.
"No one's suggesting that you are, but of course, Attorney General Holder's record is heavy on our minds now," Cornyn said.
Holder has famously clashed with Republicans over the years, and the House ultimately voted to hold him in contempt for failing to provide information about the Fast and Furious gun walking operation overseen by the Justice Department.
On Wednesday, Senate Judiciary Committee Chairman Chuck Grassley (R-Iowa) started the hearing by saying Holder's replacement will have a lot of work to do to depoliticize the Justice Department. He rattled off several possible ways Lynch could improve the department she would inherit from Holder.
"How about restoring faith in the bedrock principles like respect for the rule of law and the fair and even-handed application of those laws?" he asked. "How about restoring the respect for the co-equal branches of government? How about taking care that the law is faithfully executed and not re-written?"
"How about the Department of Justice honoring, once again, its long-standing duty to vigorously defend our nation's laws even when political appointees disagree with the policy?" he added.
Grassley also noted that Holder said in 2013 that he considers himself to be Obama's "wingman," and said that's the wrong approach to the job. "The attorney general's job is to represent the American people, not just the president and not just the executive branch," he said.
Lynch said repeatedly that she understands the job would be to give the White House advice about how the law puts limits on its actions.
"You wouldn't consider yourself to be a political arm of the White House as attorney general, would you?" Cornyn asked.
"No, senator, that would be a totally inappropriate view of the position of attorney general," she said.
Cornyn said he can't think of another attorney general who has "so misevaluated the independent role of the chief law enforcement officer." Cornyn then asked for assurances that Lynch would not follow Holder's lead if she were confirmed.
"If confirmed as attorney general, I will be myself," she said. "I will be Loretta Lynch, and I would refer you to my record as a United States Attorney on two occasions as well as a practicing lawyer to see the independence that I've always brought to every particular matter."