Police may have captured the woman they said stole a police cruiser and led them on an unbelievable high-speed chase outside Pittsburgh two weeks ago, but the mystery remains: How did Roxanne Rimer manage the escapade with her hands cuffed behind her back?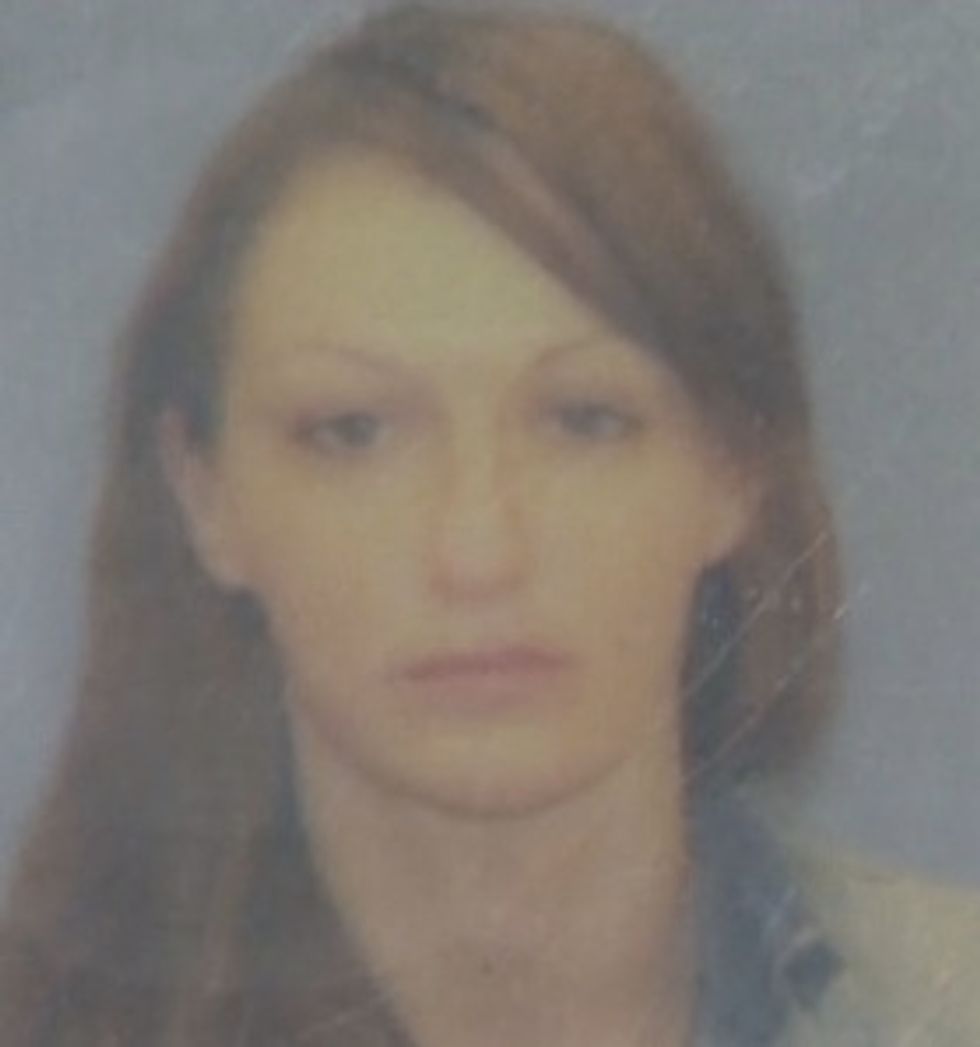 Roxanne Rimmer (Image source: WTAE-TV)
"I don't know but she was manipulating the car reasonably well," Center Township Police Chief Barry Kramer told WTAE-TV in Pittsburgh.
Police stopped a car driven by Rimmer's grandfather in which Rimmer was a passenger, placed Rimmer in handcuffs over suspicion of shoplifting and put her in the back of a police cruiser on the night of Jan. 14.
Then Rimmer went to work.
First, she squeezed through a window between the front and back seats that's a whopping 11.5 inches wide and 12 inches high. "I don't think the average person is physically capable or flexible enough to do what she did," Kramer told WTAE.
Rimmer's mother Malinda Greene — a passenger with her daughter in the pulled-over vehicle — was handcuffed for questioning and taken to a different police car. Greene said Tuesday she saw Rimmer land in the cruiser driver's seat after climbing through that tiny window.
"She's just little," Greene told WTAE. "She wiggled her way through."
But that's not the half of it.
Just-released 9-minute dashcam video from the cruiser may not show what the 27-year-old did inside the vehicle, as it points outward over the hood — but the results of her actions are plain as day.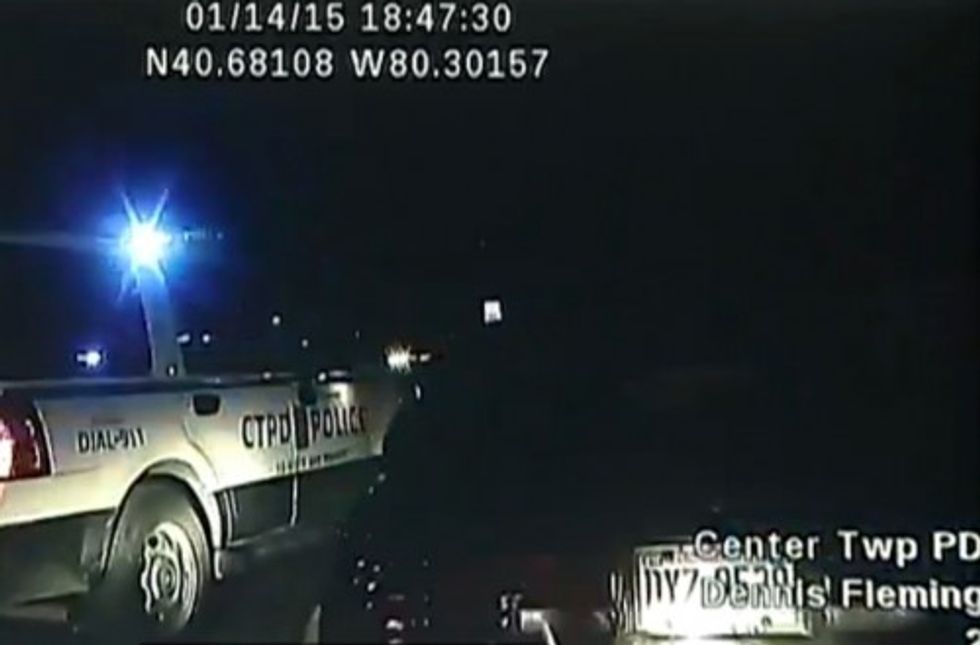 Image source: WPXI-TV
"With her back turned and her hands cuffed behind her back, she manages to put it in gear and drive," Kramer WPXI-TV. "And from what we can gather, she drove at very high speeds with that position somehow manipulating the gears and steering the wheel..."
It's the "somehow" part that seems to be the sticking point, as the dahcam video indeed showed the cruiser driving away from the traffic stop and heading down a highway, weaving around cars, breaking, and accelerating to speeds around 100 m.p.h., police said.
Kramer told WPXI the cruiser's lights and sirens were activated for the entire 10-mile chase, leading drivers ahead of it to pull over and stay out Rimmer's way, which Kramer said likely saved lives.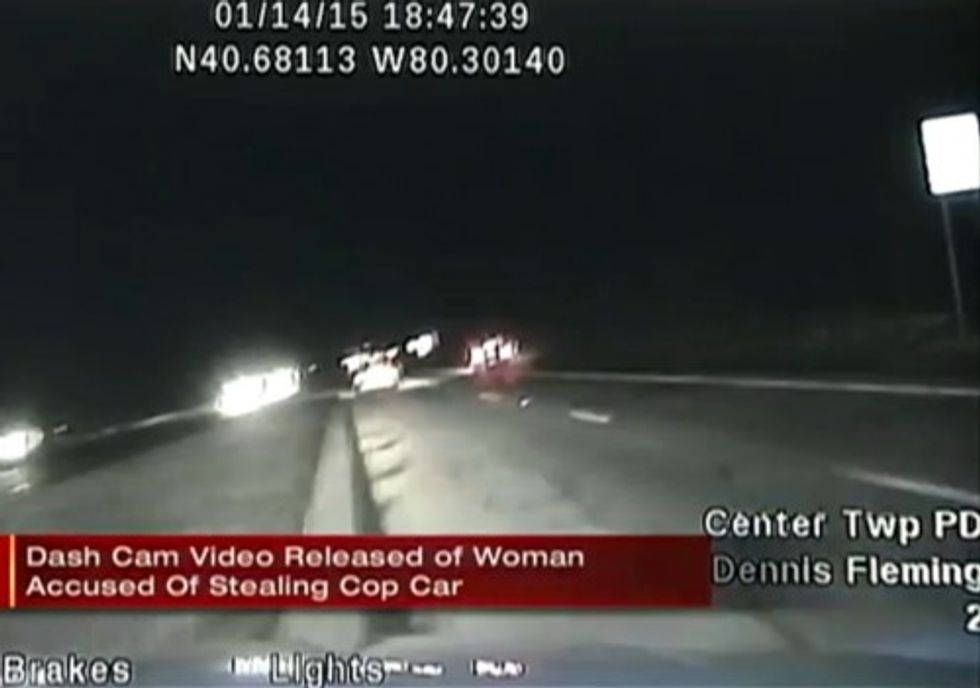 Image source: WPXI-TV
At one point the video showed the cruiser stopping along a road when Rimmer can be heard asking a pedestrian for help driving. Getting no assistance, Rimmer ditched the vehicle and was seen running — hands still cuffed behind her back — in front of the car and into a wooded area.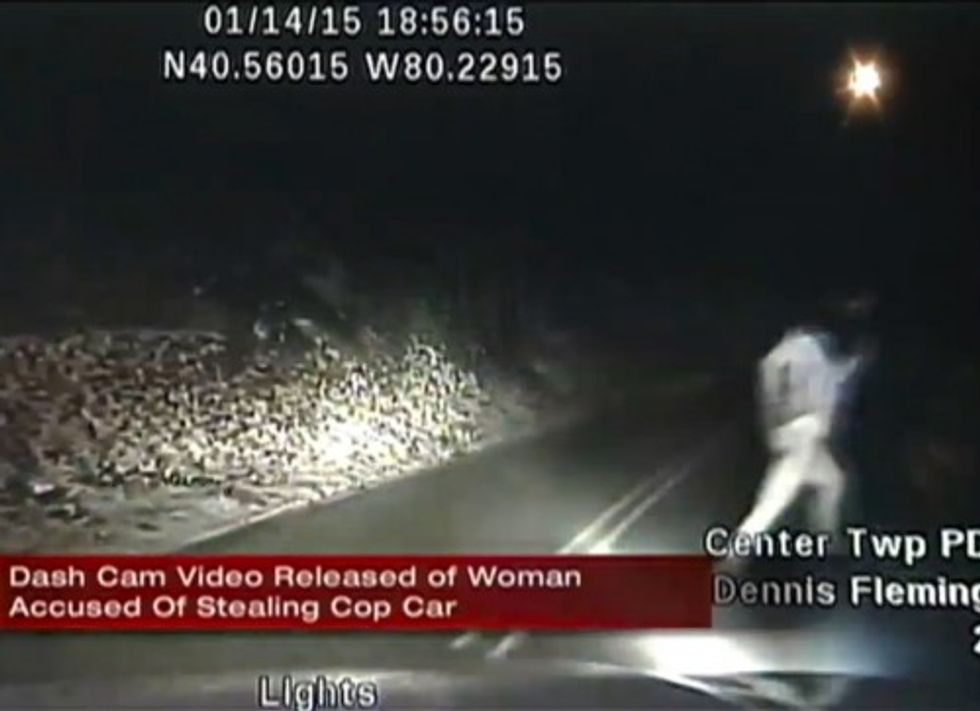 Image source: WPXI-TV
Police believe Rimmer was picked up by another vehicle and then got out of it, handcuffs still on, the Pittsburgh Post-Gazette reported, and was finally picked up by police in Aliquippa, about six miles south of the location of the alleged shoplifting incident.
Rimmer will be charged with aggravated assault, robbery, reckless endangerment, theft of a motor vehicle and possession of drug paraphernalia, the Post-Gazette reported, adding that she also faces several traffic violations.
This story has been updated.
—
Follow Dave Urbanski (@DaveVUrbanski) on Twitter