Israel said it has received a message from Hezbollah that the radical Shiite group is not interested in a conflict escalation with Israel, following Wednesday's attack on Israeli military vehicles that left two soldiers dead.
Israeli Defense Minister Moshe Ya'alon told Israel Radio Thursday that Israel received the message overnight through the United Nations Interim Force in Lebanon, known as UNIFIL.
"UNIFIL sent us a message that as far as [Hezbollah] is concerned the incident is over," Ya'alon said, according to the Times of Israel.
But the defense minister cautioned: "I don't know if the events are behind us."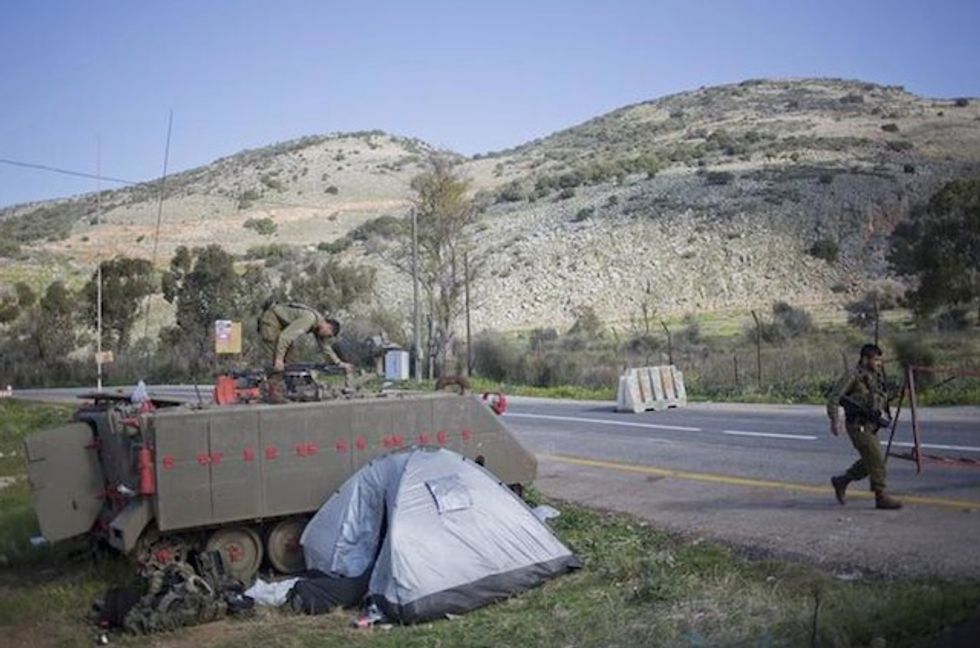 Israeli soldiers, one on top of an APC, guard a road where a missile fired by the Lebanese Hezbollah group struck an Israeli military convoy on Wednesday, killing two soldiers in the Israel-Lebanon Border, Thursday, Jan. 29, 2015. (AP Photo/Ariel Schalit)
"The IDF is ready, deployed for any development. Our long arm knows how to reach wherever is necessary. Anyone who tries to attack us is signing their own death warrant," Ya'alon warned.
Two Israeli soldiers were killed Wednesday when their patrol vehicle was struck by Hezbollah rockets fired from Lebanon into Israel. The IDF responded with artillery fire. A Spanish U.N. peacekeeper was killed in the subsequent Israeli response.
UNIFIL commander Gen. Luciano Portolano conveyed the Hezbollah message to Israel which suggested that its attack on the Israeli positions was an "eye for an eye" response to the airstrike on the Syrian side of the Golan Heights last week in which 12 were killed, including senior Hezbollah commander Jihad Mughniyeh and an Iranian general. That airstrike was widely believed to have been carried out by Israel, though Israel will not say if it was behind the action.
The Times of Israel reported that as a result of an IDF assessment that Wednesday's attack was self-contained and not intended to escalate more widely, Israeli officials told residents of northern Israel they could return to their daily routines. On Wednesday they had been told to remain indoors.
Israel continues to be on high alert in the north, given the heightened tensions both over the Lebanese border and recent Hezbollah activities on the Syrian side of the Golan Heights.
Israeli forces are currently digging along the Lebanon border due to concern Hezbollah may have dug tunnels under the border, similar to the vast network of attack tunnels that Hamas was discovered to have dug along the Gaza border with Israel this past summer.