Two Israeli soldiers were killed and others injured in a Hezbollah attack on an Israeli military convoy near the Lebanon border Wednesday.
The Times of Israel reported that an Israel Defense Forces vehicle was targeted by an anti-tank missile along the border as IDF positions along the border and on Mount Hermon were struck by mortar shells. Israeli officials ordered residents along the border to remain indoors.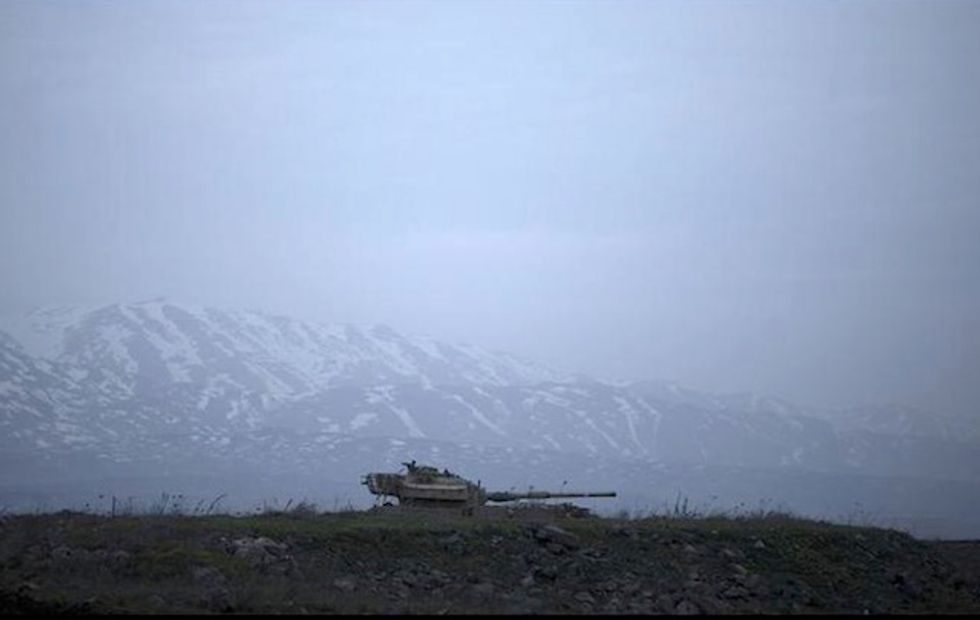 An old Israeli tank sits in a position in the Israeli-controlled Golan Heights near the border with Syria, Tuesday, Jan. 27, 2015. At least two rockets launched from Syria struck the Israeli-controlled Golan Heights on Tuesday and Israel responded with artillery fire, the Israeli military said. The fire comes after an airstrike last week in Syria attributed to Israel that killed six members of the Lebanese militant group Hezbollah and an Iranian general. (AP Photo/Ariel Schalit)
An unnamed security source told Lebanon's Daily Star that the attack was a clear response to presumed Israeli airstrike on the Syrian side of the Golan Heights last week that killed six Hezbollah operatives and six Iranians, including senior Hezbollah commander Jihad Mughniyeh and Iranian Gen. Mohammad Ali Allahdadi.
Israel responded to Wednesday's attack by firing 25 artillery shells into Lebanon, the Associated Press reported. The attack occurred near Mount Dov and Shebaa Farms.
Hezbollah-affiliated media in Lebanon reported that the radical Shiite group claimed responsibility for the attack.
Israeli Prime Minister Benjamin Netanyahu said in response: "Anyone who tries to challenge us in the north should look at Hamas that was dealt the hardest blow it has received since its creation," Israel's Arutz Sheva reported.
A spokesman for the U.N. peacekeeping force in southern Lebanon said a peacekeeper was killed on Wednesday but did not give further details. Lebanese media reports said he was a Spanish national.
Andrea Tenenti, spokesman for the United Nations Interim Force in Lebanon said, "We are looking into the circumstances of the unfortunate death," and said the U.N. was urging restraint on both sides.
On Tuesday, two rockets landed on the Israeli side of the Golan Heights after being fired from Syria. Israel responded by shelling Syrian Army positions.
Israeli Defense Minister Moshe Ya'alon issued a warning to President Bashar Assad, who is allied with Hezbollah: "The Assad regime is responsible for the fire into Israel, and we will exact a heavy price from any government or organization that violates our borders."
Lebanese officials told the Associated Press that the Israeli shelling targeted the border villages of Majidiyeh, Abbasiyeh and Kfar Chouba near the Shebaa Farms area. No casualties from the shelling were initially reported.