Finding a plethora of quality, family friendly reality TV programs might not be the easiest feat in today's oft-times edgy entertainment landscape, but positive, uplifting and faith-themed reality shows aren't entirely non-existent.
Consider the popularity of programs like "Duck Dynasty" and "Bringing Up the Bates," among others. While these shows might be a bit of a rarer phenomenon, Jessica Robertson, who stars on the former, recently said that she'd like to see more Christians represented on the small screen.
"The more Christian shows out there, the more good influence we have, the better," she told Christianity Today in a recent interview.
Robertson made these comments while speaking about Jen Hatmaker, a Christian whose reality show titled, "My Big Family Renovation," aired last year on HGTV, and the positive impact that she believes people like Hatmaker can have.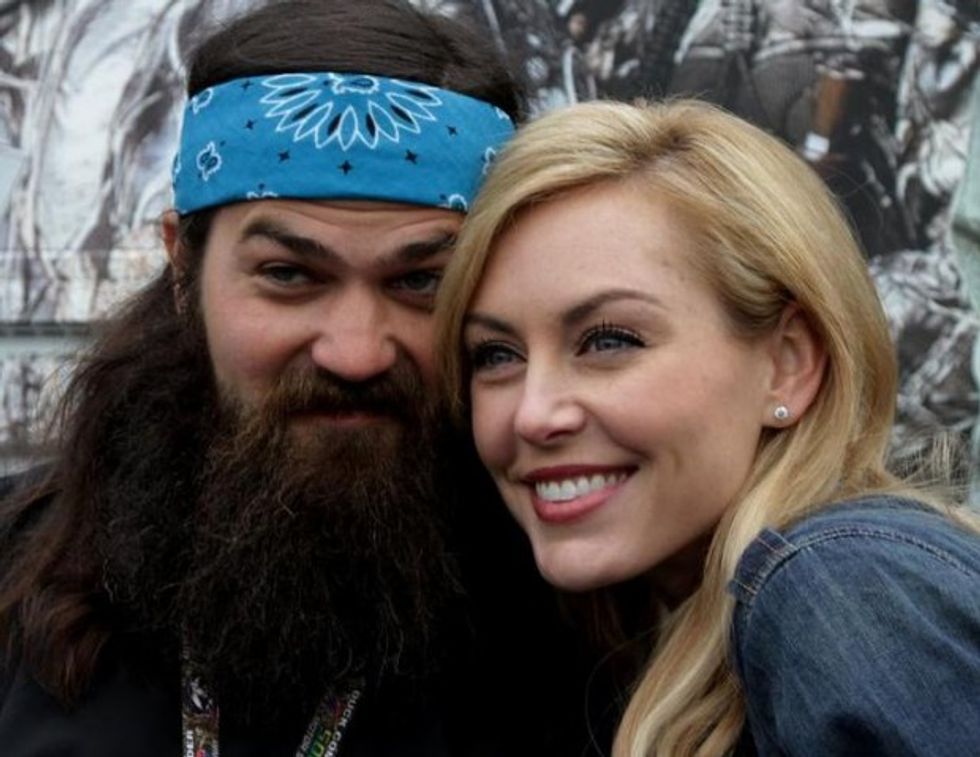 Reality TV personalities Jep Robertson and Jessica Robertson greet fans in the Duck Commander Compound at Texas Motor Speedway on April 5, 2014 in Fort Worth, Texas. (Jerry Markland/Getty Images for Texas Motor Speedway)
"Jesus is doing so much in their lives, and for them to do that — it's not an easy thing to do. You're giving away a huge portion of your time and your life," she said. "You have to know it's not just a 9-to-5 job. It is somewhat of a sacrifice, but God has a plan and he has something bigger."
Her comments about reality TV come at a time when shows like the one she appears on and UPTV's "Bringing Up the Bates," a program about a family comprised of 19 children and two faithful parents, are taking Christian themes and culture to the small screen.
Of course, appearing on reality TV puts a plethora of attention on families and can lead to certain pressures that can be tough to navigate, specially keeping faith at the center of reality stars' lives.
Speaking about her own family dynamic, Robertson said that she and her husband Jep work hard to ensure that their children are staying in touch with the Christian scriptures, despite their insane schedules.
In addition to putting their kids "around other Christian people," the "Duck Dynasty" star said that she intentionally injects Bible verses into her children's daily lives.
"We have scriptures up all over the house. The fruit of the Spirit is up in our living room, and we try to talk about that almost daily. We'll draw names and that week we'll work on one fruit of the Spirit," she said. "The little ones, if they catch their sister acting not kind or going against what they're supposed to be working on, they'll call them out. It's pretty funny, they'll be like, "Uh, you're being ugly! You've gotta be kind!" or "You've gotta be joyous! Stop being negative!"
Read more about Robertson's take on fame and reality TV here.
(H/T: Christianity Today)