Trail Life USA, the faith-based organization founded as an alternative to the Boy Scouts of America following the Scouts' 2013 decision to adopt a new policy allowing openly gay youths to join, has experienced monumental growth over the past year.
The new organization, which has already attracted 20,000 members in its short 12-month lifespan, describes itself as an "adventure, character, and leadership movement for young men" — one that aligns itself with traditional Christian and conservative values.
And Trail Life USA CEO Mark Hancock revealed to TheBlaze last week what he believes has been his organization's secret to success: refusing to value "popularity over principle."
"The seeds of [Trail Life USA] were planted over a number of years as there was a general sense that BSA was abandoning its traditional values," Hancock said. "The May 2013 decision to allow open and avowed homosexual youth against the wishes of a majority of members could be seen as the catalyst that caused hundreds of volunteers to get serious about creating an alternative."
So, Hancock and others came together to create Trail Life USA, a "truly grassroots effort" involving 1,200 men and women from 44 states who participated in its launch.
With scores of young members who now make up 538 troops in 48 states — and nearly 300 additional troops on a waiting list — Hancock said that the growth has come only from word-of-mouth advertising, noting that Trail Life USA "had no solid number projections" at its inception and could only guess about how much it would grow without waging a massive and strategic marketing campaign.
"We simply set ourselves toward creating the best program and character, leadership and development program we could with the resources we had, the lions-share of those being hundreds of volunteers," he said. "We had a deep-gut sense, though, that there was a hunger for what we would be offering."
Troops generally join Trail Life USA by being chartered through non-profit organizations — typically churches —that have statements of faith that align with the scouting organization's mission.
While some might expect Hancock and Trail Life USA to be aggressively anti-Boy Scout, the CEO told TheBlaze that he actually honors the organization's legacy.
"We can only hope to have such an impact on the future of our country," he said. "But we don't expect to get there by lowering our expectations or by valuing popularity over principle. I believe we would encourage them to stand strong on the principles that made them exceptional."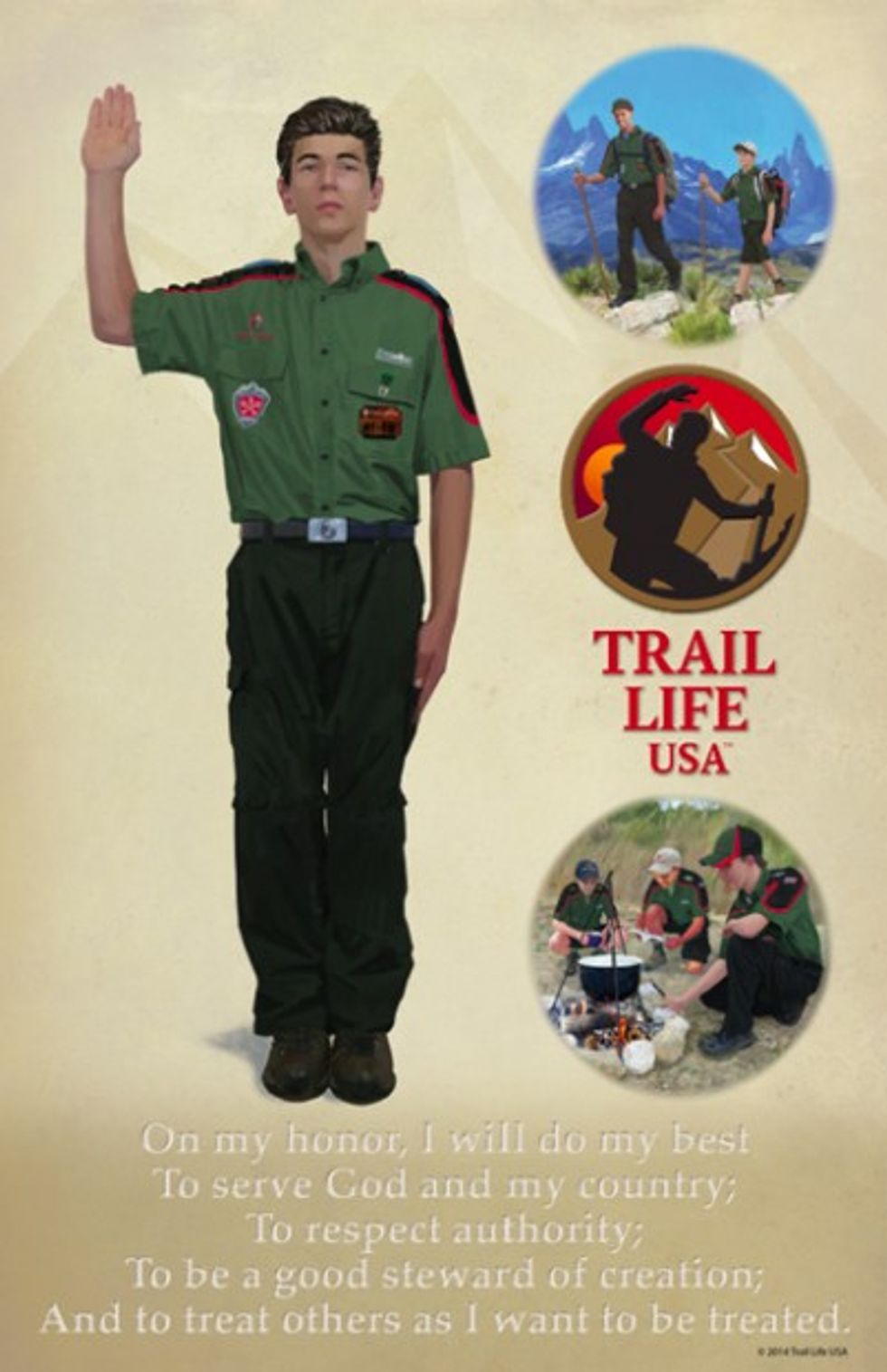 Trail Life USA/Facebook
Hancock added that the Boy Scouts have lost members over the past year, with recent reports corroborating that the group has experienced a youth decline of 7.4 percent. That said, the Boy Scouts' official membership was still 2.4 million boys in 2014 (down from 2.6 million in 2013), which is obviously substantially higher than Trail Life USA's current 20,000 — but Hancock said that he sees a pattern emerging.
"I suppose one could conclude that our growth, though small in comparison to the huge numbers of BSA members, is significant when placed alongside their loss of membership in the same year," he said. "You can't blame their loss on boys losing an interest in the outdoors or parents losing interest in pursuing excellence for their sons, because we are growing on those emphases."
He added, "There are many differences in our programs, but the most significant is our commitment to traditional conservative values while they appear to be abandoning theirs. Maybe there is a message there."
While 50 percent of Trail Life USA's members are former Boy Scouts members, many are new to the scouting world, as Hancock said that the group's emergence energized churches that had never been a part of scouting to suddenly charter a group and join in.
"It's entirely possible that it wasn't outdoor adventure that was causing the [Boy Scouts'] decades-long decline, it was their departure from the values that had made them exceptional," Hancock said.
One of the more recent developments was the donation by the Boys Home of the South of a 127-acre camp in Greenville, South Carolina, as well as a seven-figure endowment to manage the property — land that the organization can use as it grows in its size and scope.
Hancock said that year two will involve growing and developing program offerings, training volunteers and expanding relationships with charter organizations. Find out more about Trail Life USA here.