Congressional Republicans on Monday blasted President Barack Obama for proposing a 10-year budget plan that never eliminates the budget deficit, and said Republicans would pass a budget that balances.
"Like the president's previous budgets, this plan never balances – ever," said House Speaker John Boehner (R-Ohio). "It contains no solutions to address the drivers of our debt, and no plan to fix our entire tax code to help foster growth and create jobs."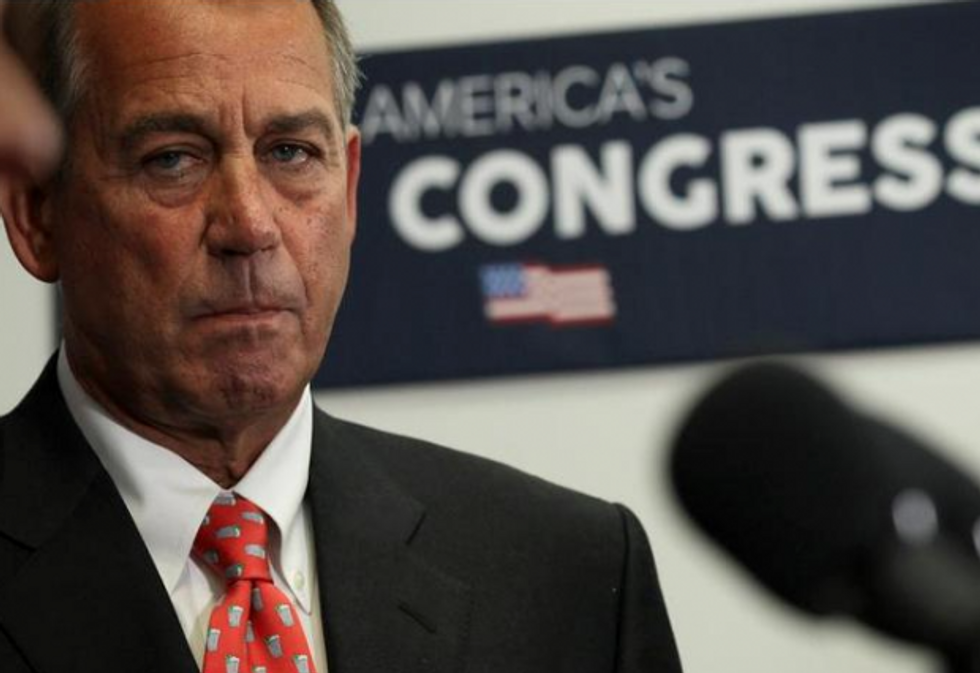 House Speaker John Boehner (R-Ohio) criticized President Obama's budget plan as one that never balances. Image: Alex Wong/Getty Images
"Worse yet, President Obama would impose new taxes and more spending without a responsible plan to honestly address the big challenges facing our country," he added.
Senate Majority Leader Mitch McConnell (R-Ky.) also noted the budget would never balance under Obama, and said it's filled with proposals that the GOP clearly opposes.
"President Obama promised in the State of the Union to deliver a budget filled with 'ideas that are practical, not partisan,' " McConnell said. "Unfortunately, what we saw this morning was another top-down, backward-looking document that caters to powerful political bosses on the Left and never balances — ever."
Obama's budget plan envisions a federal government that spends more than $5 trillion a year by 2021, and more than $6 trillion per year by 2025. But that budget is not all that different from what is already foreseen under current law.
For example, the Congressional Budget Office says the federal government will spend $49.3 trillion in the next ten years, while the White House says it should spend $50.3 trillion — just $1 trillion more, or $100 billion more per year over ten years.
Where the White House budget differs radically from CBO, however, is in its estimate of federal tax revenues over the next decade. Obama anticipates a total of $44.6 trillion being raised in that period of time, about $3 trillion more than CBO's estimate, a combination of taxes and more optimistic tax collections.
Obama would plan to raise those funds by raising taxes on companies and individuals, and wants to use some of those revenues to fund a new infrastructure program.
But the higher taxes — which won't become law at all under the GOP Congress — are also used by the White House to create the impression of a more moderate budget deficit. Under Obama's calculations, the deficit would rise slightly to $687 billion by 2025, instead of hitting $1 trillion or more in 2025 as estimated by CBO.
House Majority Leader Kevin McCarthy (R-Calif.) said these numbers show Obama's plan "simply isn't a serious proposal."
"While Washington is still racking up debt, this budget doesn't even try to balance the books," McCarthy said. "In fact, despite the best efforts of Republicans over the past four years to rein in spending and cut the deficit, this budget would erase all those gains over the ten year budget horizon by increasing the deficit and adding even more to the debt."
Boehner similarly argued that Obama's budget is "about the past," while the GOP plan would help protect future generations from crushing debt.
"We will address our government's spending problem and protect our national security," he said. "Our budget will balance, and it will help promote job creation and higher wages, not more government bureaucracy."
— This story was corrected to reflect that Obama's budget plan sees $3 trillion more in tax revenues over 10 years, not $7.2 trillion.