Nicki Gazlay was traveling with her 5-month-old son when she says she was kicked off a Frontier Airlines flight for questioning why she wasn't able to keep her baby in his Ergo Baby carrier.
Gazlay was boarding a connecting flight from Denver to Memphis when she says a rude and disrespectful flight attendant ordered her to remove her baby from his carrier, which typically allows parents to carry their young children against their chest or back while keeping their hands free.
Gazlay told the attendant she had just disembarked another Frontier Airlines flight where she had been allowed to keep her child strapped in, but she agreed to comply nonetheless. But she also added a snide remark that seemingly got her kicked off the plane.
"Of course I am going to comply," Gazlay said. "I'm going to do whatever you say because you are the queen of this airplane."
That's when the flight attendant said "get off," forcing the new mother off the aircraft. Gazlay ended up having to buy a ticket from another airline to get to Memphis.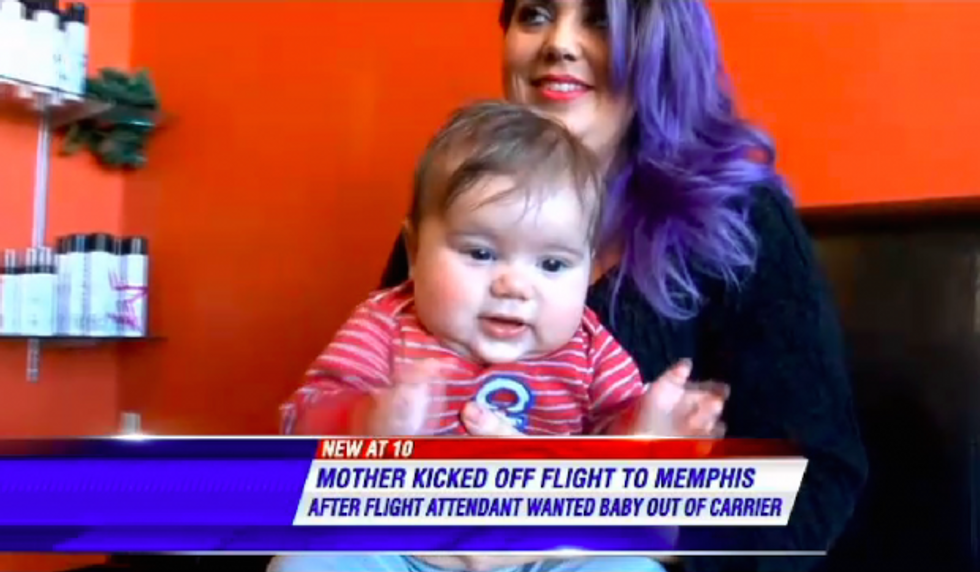 Nicki Gazlay says she was forced off a Frontier Airlines flight from Denver to Memphis for questioning why her baby had to be removed from his holder. (Image credit: WZN-TV)
Airline officials told WMC-TV that baby carriers aren't approved for take-off and landing, and Frontier Airlines has not yet responded to the network's request for more information about Gazlay's case.
Gazlay and others are asking that regulations be more clear for traveling parents, with some complaining to Frontier Airlines about its staff. But others are questioning whether Gazlay has shared the complete story.
One WMC-TV commenter claims to have been on the flight where the incident occurred, and wrote that "the flight attendant asked her nicely several times after boarding to remove the baby from the carrier for takeoff and landing, but the young lady chose to ignore her requests."
"Instead of just complying on the last request, [Gazlay] became argumentative and combative about why she didn't feel it was necessary since she was not asked to comply on her previous flight," commenter Mark Nelson continued. "After a few minutes ... a different member of the flight staff approached the passenger and gave her another chance to comply and to allow her to stay on the flight. She was once again loud and argumentative at which point she was escorted from the flight. She had multiple chances to stay on this flight. ... The general consensus with the passengers around me was that she brought this upon herself."
WMC-TV has the complete story, below: