One man's plan to shoot a 9 mm gun in his own backyard began is now backfiring as neighbors claimed it's not safe given how many children live nearby. But police say they can't do anything to stop it because the man is merely exercising his Second Amendment right.
Joseph Carannate, 21, of St. Petersburg, Florida, built a gun range in his backyard merely for sport, but says had he known what a controversy it would cause, he would have never done it, WFLA-TV reported Sunday.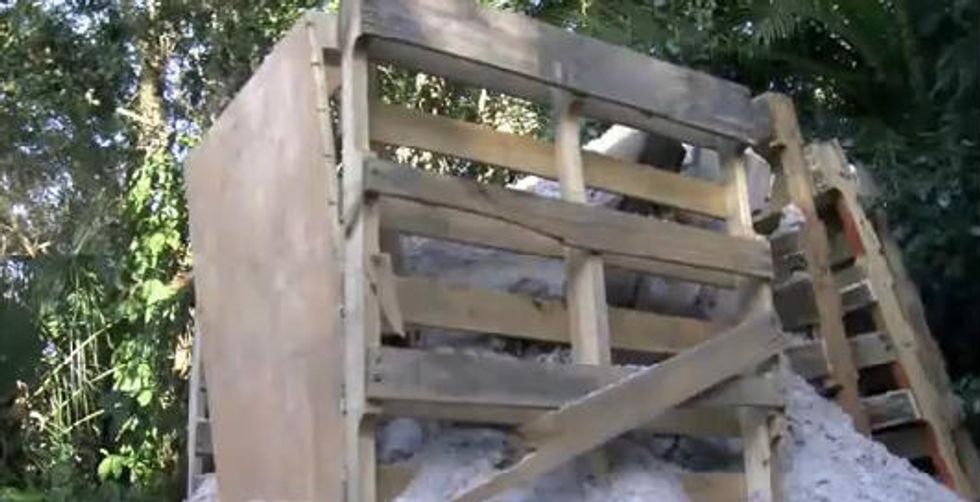 Image source: WFLA-TV
"I don't want to hurt myself or any neighbors. I don't want to hurt anybody. I just want to use this as my enjoyment," Carannate told WFLA-TV.
But for his neighbors, Carannate's word just isn't good enough.
"I don't know if this idiot is going to start popping off rounds," said resident Patrick Leary.
Carannate has assured his neighbors that whenever he chooses to fire the gun he'll notify them first, but even that isn't sitting well with some.
"You heard him say, I'll tell the neighbors when I'm getting ready to fire. What, do we gather our children and hide? Ridiculous. C'mon," Leary said.
Kendra O'Connor, another parent, echoed Leary's concerns.
"I don't consider it responsible, I don't consider it reasonable. He's asking me to go inside my house, go to the other side of the house, as he's informing me he'll fire his weapon," O'Connor told WFLA.
But as St. Petersburg Police Department spokesman Mike Puetz told TheBlaze on Monday, Carannate isn't breaking any laws and doesn't appear to have any criminal history, at least not locally. Puetz said the police are aware of the situation and is monitoring it closely, but that there is no expanded police presence near the home.
But residents who want the gun range gone still aren't backing down. They've acquired the help of Pinellas County Commissioner Ken Welch, who agrees that Carannate's gun range puts the neighborhood at risk.
"Even to the most pro-gun person, to have a gun range in the middle of a residential neighborhood doesn't make any sense at all. I'm hoping we can get to some common ground and common sense," Welch said.
Take our poll and weigh in:
(H/T: WFLA-TV)
–
Follow Jon Street (@JonStreet) on Twitter