Playing Chris Kyle in "American Sniper," the blockbuster film based on the legendary Navy SEAL's life, changed actor Bradley Cooper's life so profoundly that he said he probably won't fully realize its full impact until later in his life.
While attending the annual Oscar Nominees Luncheon in Beverly Hills, Cooper was asked by reporters if he was surprised by the contentious debate that the movie has stirred about war and the military across America. Cooper avoided getting political on the subject, instead taking about how the role ended up being completely life-changing.
"The responsibility to play a human being when his family is still alive and it's still fresh was a huge endeavor and something that I knew was going to be important. I treated it in way I hadn't before," Cooper said, according to The Huffington Post.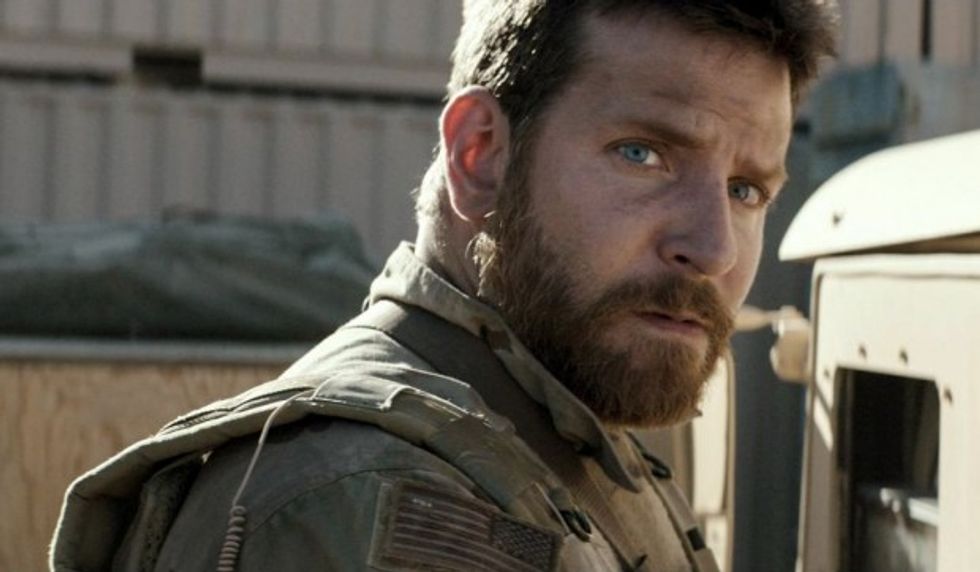 In this image released by Warner Bros. Pictures, Bradley Cooper appears in a scene from "American Sniper." The film was nominated for an Oscar Award for best feature on Thursday, Jan. 15, 2015. The 87th Annual Academy Awards will take place on Sunday, Feb. 22, 2015 at the Dolby Theatre in Los Angeles. (AP Photo/Warner Bros. Pictures)
"Kyle was murdered two years to the day today, on Feb. 2, 2013," he added.
Learning how to play Kyle was "completely different" than other roles as he said the slain SEALs widow, Taya, gave him "everything" he needed to get to know him, including "thousands of hours of footage."
"So it was a completely different thing of allowing him to come inside me, basically," Cooper said.
Christopher Kyle's wife, Taya, is escorted to her seat after memorializing her husband during a memorial service at Cowboys Stadium, Monday, Feb. 11, 2013, in Arlington, Texas. Thousands attended the public memorial service for Kyle, the former Navy SEAL sniper who was shot to death at a Texas shooting range.(AP/Brandon Wade)
When Kyle was murdered, Cooper said "American Sniper" became a "different movie" and became more about the "plight of the soldier and his family."
"I don't think I'll realize it fully until maybe later in my life. It was life changing. Completely," the actor said.
---