"NBC Nightly News" anchor Brian Williams has recanted his longstanding claim that he was onboard a helicopter that was forced down by RPG fire during the Iraq War in 2003, Stars and Stripes reported on Wednesday.
Williams actually just repeated the claim on Friday while setting up NBC's coverage of a public tribute to a solider at a New York Rangers hockey game.
"The story actually started with a terrible moment a dozen years back during the invasion of Iraq when the helicopter we were traveling in was forced down after being hit by an RPG. Our traveling NBC News team was rescued, surrounded and kept alive by an armor mechanized platoon from the U.S. Army 3rd Infantry," Williams said during the program.
Watch the segment via NBC:
However, crew members who were actually onboard the 159th Aviation Regiment's Chinook that came under small arms and RPG fire reportedly told Stars and Stripes that Williams and his NBC crew arrived safely on a different helicopter roughly an hour after they made an emergency landing.
Sgt. 1st Class Joseph Miller, who is said to the be flight engineer on the Chinook that transported Williams and his crew, also confirmed their aircraft took no fire.
The story first started gaining traction after Williams was called out over the false claim on Facebook. In response, Williams provided a lengthy apology on Wednesday. The apology comes after the claim, as Stars and Stripes notes, has been "repeated by the network for years."
"Sorry dude, I don't remember you being on my aircraft," a military veteran commented on a video post made on NBC's Facebook page. Read the full exchange, including Williams' apology, below: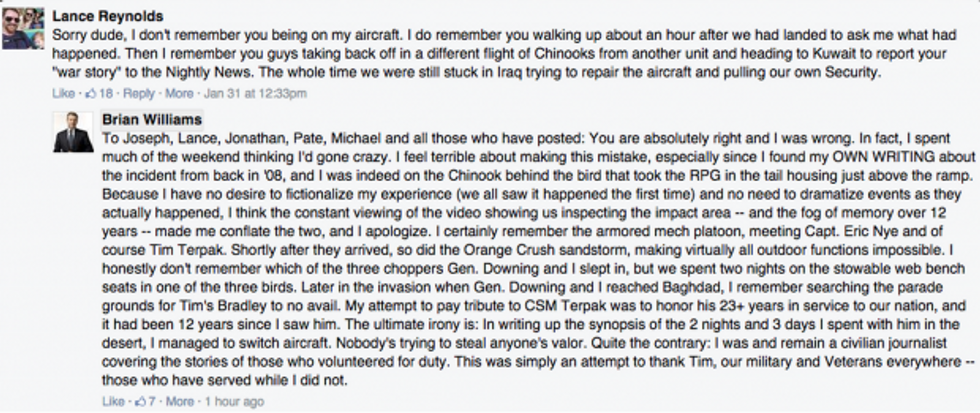 (Facebook)
Williams later apologized on the air Wednesday night as well:
Read Stars and Stripes' entire exclusive report here.