Senate Republicans are hoping that repeated attempts to pass a Department of Homeland Security spending bill will eventually wear Democrats down, even though Democrats united against the bill on Tuesday because of language defunding President Barack Obama's executive action on immigration.
The Senate was always going to be tricky for Republicans, since 60 votes are need to advance legislation, and that means at least six Democrats are needed.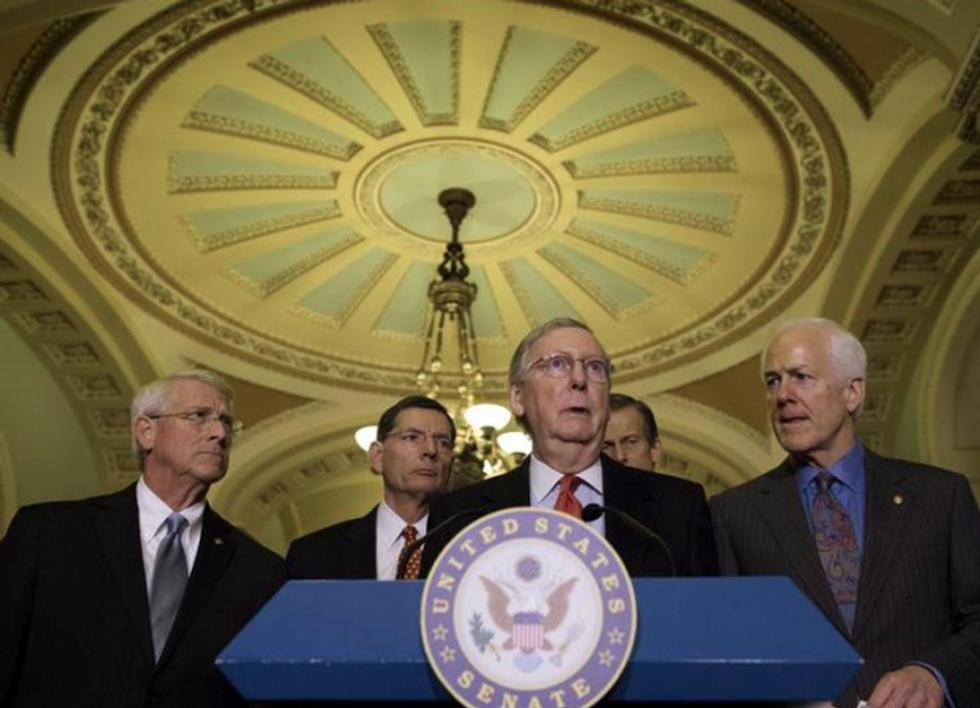 Senate Majority Leader Mitch McConnell (R-Ky.) addresses the media with, from left, Sens. Roger Wicker (R-Miss.), John Barrasso (R-Wyo.), John Thune (R-S.D.), and Senate Majority Whip John Cornyn (R-Texas). GOP leaders are scrambling for a way to pass a DHS spending bill that also defunds the White House's immigration plans. Image: AP Photo/Molly Riley
On Tuesday, Republicans saw every Democrat vote against the DHS bill, prompting the bill to stall in a 51-48 vote. Two Republicans voted against it as well, including Sen. Dean Heller (R-Nev.).
The other GOP senator to vote against it was Majority Leader Mitch McConnell (R-Ky.), but he did that for technical reasons — his "no" vote will allow him to call it up again. And for now, that appears to be the GOP plan — call up the bill again and again to make the political point that Democrats are blocking a DHS funding bill.
McConnell on Wednesday morning blamed Democrats for failing to vote even for just a debate on the DHS bill, and said Democrats need to lift their objections to allow the Senate to do its work.
"The Democrats' Homeland Security filibuster needs to end now," he said on the Senate floor.
"Perhaps today's Democrat Party is so devoted to the right of politicians to engage in action that would, as the president once seemed to imply, violate the law, that it cannot tolerate dissent," McConnell added. "But this is no reason to shut down the Department of Homeland Security. This is no reason to prevent the Senate from even debating whether or not to fund the department."
But it wasn't immediately clear that the GOP plan would work. Senate Minority Whip Dick Durbin (D-Ill.) spoke immediately after McConnell, and blamed Republicans for putting U.S. national security at risk. He said the GOP's plan to include language defunding Obama's immigration plan shows Republicans are putting immigration higher on the list of priorities than defending the country.
"The Republicans in Congress are more fearful of a group known as the DREAMers, than they obviously are of the threat of terrorism from these extreme groups," Durbin said. With those comments, the Democratic strategy is clear — try to embarrass Republicans into dropping the immigration language from the bill.
Funding for DHS runs out in late February, and it's unclear whether either side will back down in the fight, or whether lack of any agreement will lead to a partial shutdown of DHS. However, there is open talk among Senate Republicans of moderating the bill somewhat, so that it only defunds Obama's most recent immigration action.
That course of action would spare Obama's 2012 decision to create the Deferred Action for Childhood Arrivals program. But it's not clear if even that change would convince enough Democrats to allow the bill to advance.