A 6-year-old boy in Troy, Missouri, was surely terrified after a stranger lured him into his pickup truck and then drove away. The man, who he had never seen before, allegedly told the young boy he would never seen his mother again and he would be "nailed to the wall of a shed," according to KTVI-TV.
When the boy started crying, the man allegedly brandished a handgun and threatened to hurt him if he didn't be quiet.
Police later discovered that the kidnapping was allegedly staged by the boy's own family in an elaborate and misguided attempt to teach him not to be so trusting of strangers.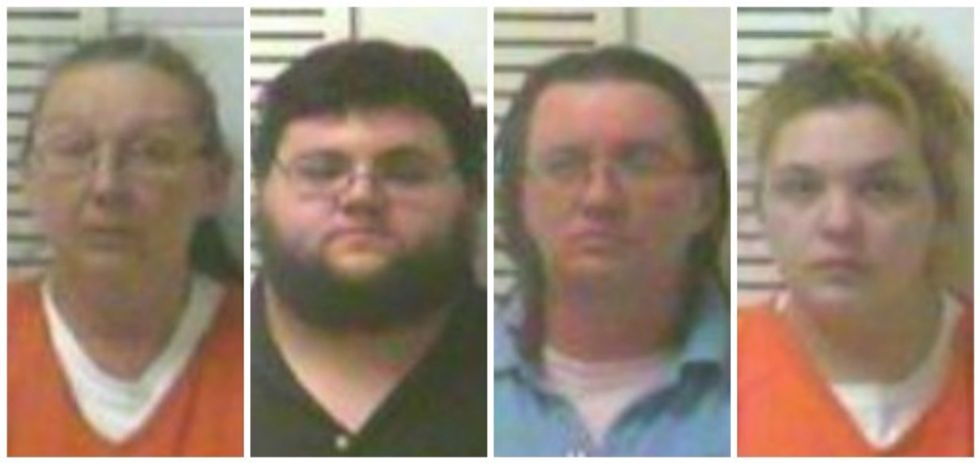 Source: KTVI-TV
The Lincoln County Sheriff's Office told news outlets on Thursday that the boy's aunt, 28-year-old Denise Kroutil; mother, 25-year-old Elizabeth Hupp; and grandmother, 58-year-old Rose Brewer were all in on the plot. A fourth suspect, 23-year-old Nathan Firoved, was reportedly approached by Kroutil, a co-worker of his, to help.
Firoved is the man police say actually "kidnapped" the child.
The staged kidnapping was brutal, according to police. The boy's hands and feet were reportedly bound with plastic bags and his face was covered with a jacket. Firoved is said to have taken the boy back to his own home where he unloaded him in the basement.
The boy's aunt, Kroutil, then allegedly pulled down her nephew's pants and shouted that he might be sold into sex slavery.
The 6-year-old was left in the basement for an undisclosed time before he was finally untied and permitted to leave the basement. When he got upstairs, his family members lectured him about "stranger danger," KTVI-TV reports.
The entire incident is said to have lasted roughly 4 hours.
On Wednesday, the child reportedly told school officials what happened and the Missouri Division of Family Services was immediately contacted. The sheriff's office also moved quick to remove the boy from the home and get him into protective custody.
Firoved, Brewer, and Kroutil were arrested and charged with kidnapping, felonious restraint, and abuse/neglect of a child. Hupp, the mother, was arrested and charged with kidnapping and abuse/neglect of a child.
All four suspects were still in jail on Thursday on a $250,000 cash-only bond. They reportedly told police they were only trying to teach the boy a lesson because he was "too nice" to strangers and felt they did nothing wrong.
---