The White House will release the names of all 15 people the White House characterized as "American Muslim leaders," who met with President Barack Obama Wednesday, White House press secretary Josh Earnest said Thursday.
But he was vague as to whether the release could be as early as Thursday or sometime well in to the future when visitor logs are released.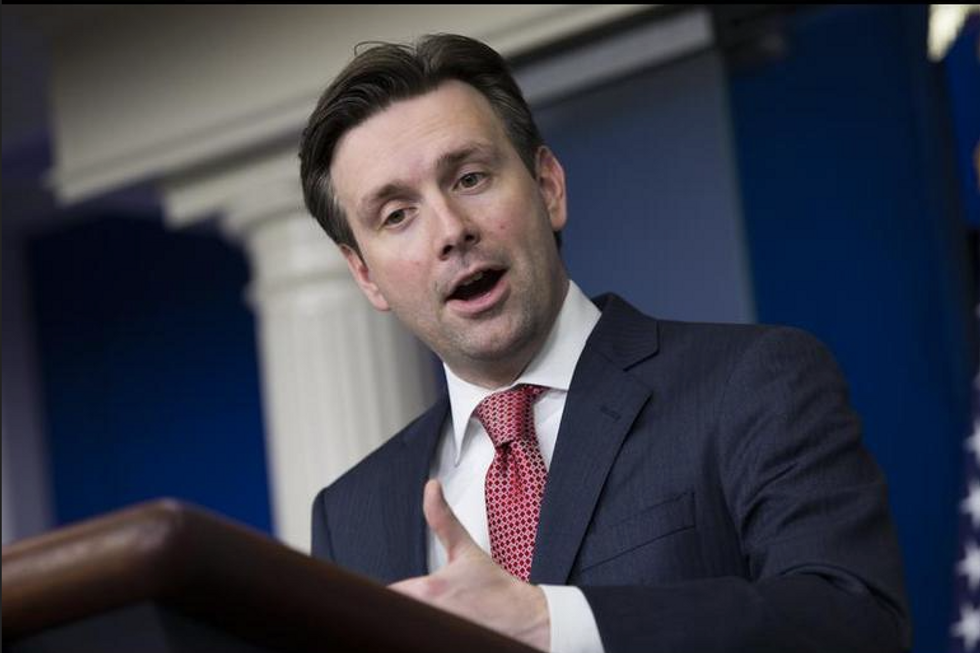 White House press secretary Josh Earnest  (AP Photo/Evan Vucci)
At least two individuals have spoken publicly about the meeting. Comedian and talk radio host Dean Obeidallah, wrote about it for the Daily Beast. Dearborn, Michigan, resident Farhana Khera, executive director of Muslim Advocates, did an interview with the Detroit Free Press.
ABC News reporter Jonathan Karl asked Earnest, "Why was the decision made not to allow any press coverage of this?"
Earnest said the White House was transparent by letting the press know the meeting occurred.
"The president has many meetings at the White House. Certainly not all of them have press coverage," Earnest said. "We did however want to make sure we were as transparent as we could be that the meeting was taking place. I understand there was a blog post put up that characterized the discussion that occurred."
The White House did issue a news release Wednesday night providing some information about the late afternoon meeting.
Pressed later by Fox News reporter Ed Henry, Earnest said the names would be available in the White House visitor logs.
"The White House told the press on Wednesday it would not release of the names of the American Muslim leaders that Obama met with because they were private individuals. You suggested you might get the names," Henry said.
"Yeah. I'll see if I can do that for you," Earnest said. "What we do know is that the names will be included in the waves records that are released."
Henry countered, "That may be months down the road."
Earnest said, "At some point, they will be released. I'll see if I can release them sooner. I know at least a couple of the individuals who participated in that meeting have spoken publicly about their participation."
Since some have come forward, Henry said, "Just put the list out, right?"
Among administration officials who also met with Obama were White House senior adviser Valerie Jarrett, National Security Adviser Susan Rice and Deputy National Security Adviser Ben Rhodes.
The White House news release said that Obama and the other individuals talked about numerous issues including fighting the Islamic State abroad, battling anti-Muslim discrimination inside the country and signing up Muslims for Obamcare.
---