House Democrats on Thursday complained that the House Select Committee on Benghazi is spending too much money — the latest sign that Democrats seem intent on investigating the committee itself, and not the attack in Libya that left four Americans dead.
Democrats resisted the creation of the committee last year, and many charged that Republicans wanted to use it to create a stream of press stories about the Obama administration's failure to protect Americans.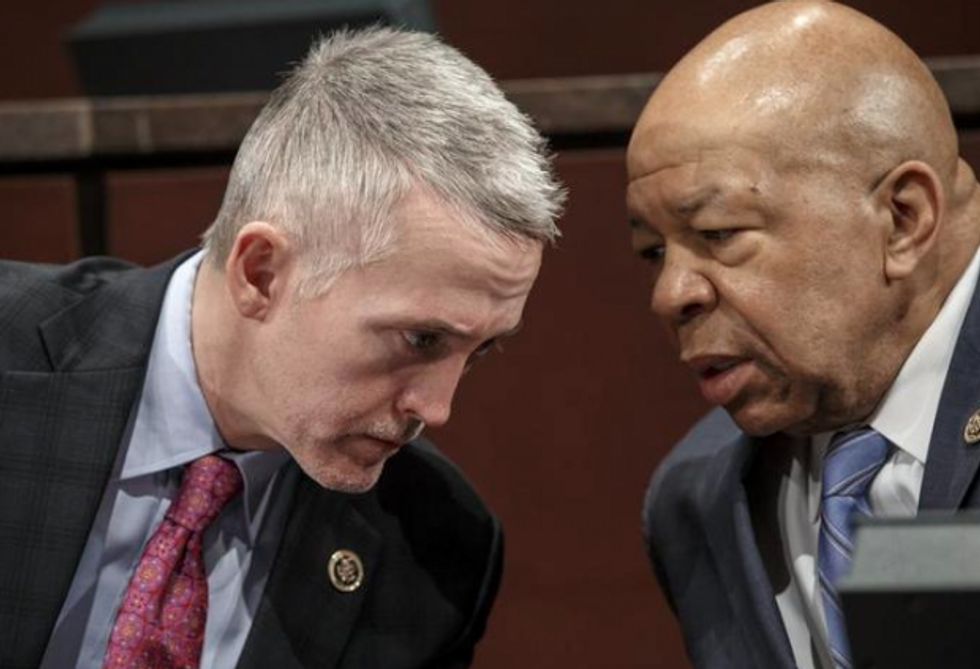 Rep. Trey Gowdy (R-S.C.) confers with Rep. Elijah Cummings (D-Md.) on the Benghazi committee. Democrats appear to have focused more on the structure of the committee itself this year than on the 2012 attack. Image: AP Photo/J. Scott Applewhite
There was some talk last year that Democrats might boycott the committee completely when it was formed. Democrats ultimately decided to participate, but so far this year, their participation has mostly focused on the structure of the committee, and its costs.
That led to GOP complaints at a hearing late last month that Democrats don't seem all that interested to explore the circumstances surrounding the attack. In that hearing, Rep. Mike Pompeo (R-Kan.) asked witnesses from the CIA and the State Department whether Rep. Elijah Cummings (D-Md.) or any other Democrat on the committee has asked for any documents at all related to Benghazi — both replied "no."
"Mr. Cummings says, 'I want to make sure we complete a fact-finding investigation,' " Pompeo replied. "He hasn't asked for a single fact, not one."
On Thursday, Cummings and other Democrats continued to probe the committee itself, by asking the House Administration Committee to examine the costs the committee is running up.
"In 2014, the Select Committee spent nearly $1.8 million, even though the committee was only operational for part of the year," they wrote. "During that time, the committee did not adopt any committee rules, did not conduct one single bipartisan interview of a witness, and did not adopt an investigative plan."
The letter argued that the committee will cost about $3 million in 2015 if spending continues at its current rate, and said Congress needs to look into this spending.
On the same day, the Administration Committee wrote back to say Democrats missed their chance to talk about the details of the committee when the House reauthorized it on the first day of the new session in January.
"If the minority had concerns about the Select Committee on Benghazi, it should have offered an amendment when the Select Committee was authorized again for this Congress," the committee wrote.
Another example of this pattern surfaced in late January, when Democrats complained to chairman Trey Gowdy (R-S.C.) that Republicans were meeting with Benghazi witnesses without any Democrats present. Democrats also complained that Democrats don't have the power to subpoena witnesses.
But Gowdy replied that his committee is operating under rules that have been used in past Democratic Congresses. He also said he has no interest in giving more power to Democrats when they've shown a lack of interest in asking more questions about the attack.
"The minority has repeatedly indicated it is unwilling to issue any subpoenas," he said. "If subpoenas are necessary for the committee to talk to relevant witnesses or access relevant documents, they will be issued."
Gowdy threatened to issue subpoenas to compel testimony from several State Department witnesses. That threat led Democrats to complain again that Gowdy was acting unilaterally, but Gowdy later corrected Democrats by saying none were issued, and that State had agreed to make officials available.
Read the latest exchange of letters below: