A pilot interviewed by two CNN hosts Thursday had his account challenged later that night by a retired U.S. Army officer who claimed he was in fact the pilot in command of Brian Williams' helicopter during a 2003 Iraq trip.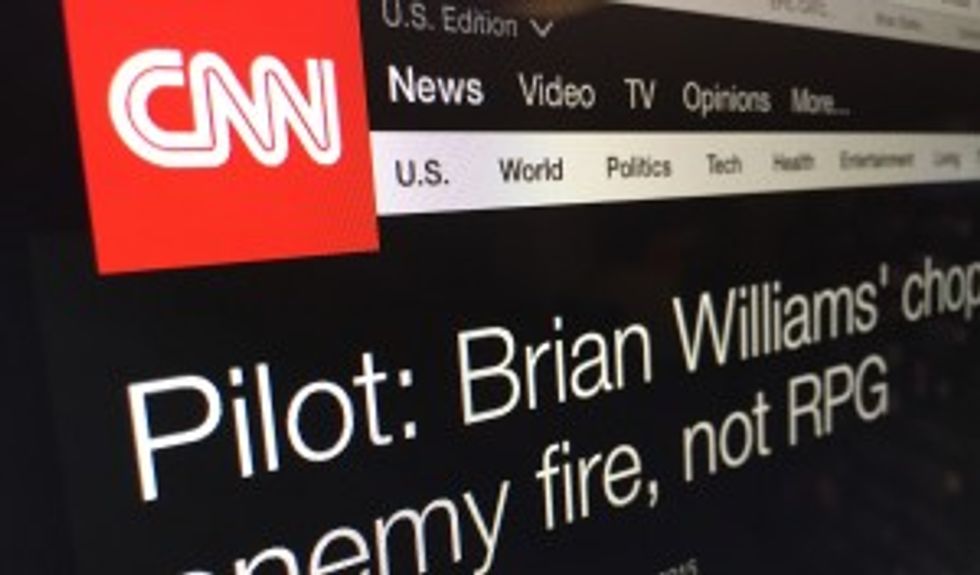 Image source: TheBlaze / Oliver Darcy
CNN hosts Jake Tapper and Brian Stelter interviewed former Army pilot Rich Krell who told the cable news network that he piloted Williams' helicopter in Iraq. According to Krell, Williams' aircraft was not hit by an RPG, but did take small arms fire.
But, hours later, former Army pilot Chris Simeone challenged that claim in the New York Post, contending he was in fact the "pilot in command of the flight that carried Brian Williams into Iraq in March 2003." However, according to Simeone, "All that hit us was dust."
Krell's account was further called into question by a report in the New York Times. The newspaper identified one of Williams' pilots as Simeone and reporter Ravi Somaiya later tweeted that four soldiers "completely dispute" Krell's claim he was the pilot.
Four of those soldiers completely dispute the account Rich Krell gave CNN. He was not flying Williams, and did not get shot at, they say.

— Ravi Somaiya (@ravisomaiya) February 6, 2015
On Twitter, CNN host Jake Tapper called the discrepancies "very odd" and vowed to "get to the bottom" of it.
"Confusing and strange," he added.
It was not clear how much Krell was vetted by CNN, but it appears he first made contact with the network in a tweet sent to Stelter Thursday morning.
"[S]aw your interview on CNN this AM. Your facts are wrong," Krell tweeted to Stelter. "I was the Pilot in Command of the CH-47 that Brian Williams was on."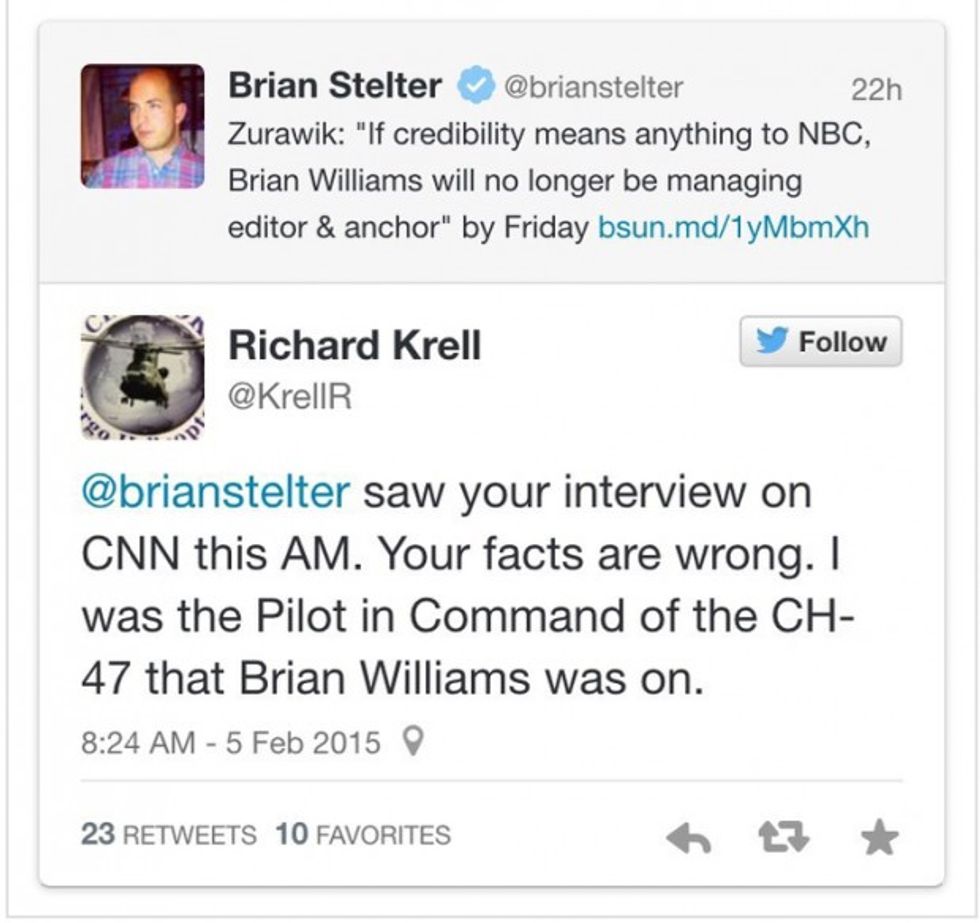 (Source: Twitter screen shot)
TheBlaze has reached out to CNN for comment and will update this story with new information as it becomes available.
Williams has been the subject of controversy this week after he was forced to recant a 2003 Iraq war story in which he claimed a helicopter he was flying on was struck by RPG fire.
UPDATE:
Man who contact CNN's @brianstelter claiming to be pilot of Brian Williams' flight has deactivated Twitter account pic.twitter.com/ozMoTi3NXD

— Oliver Darcy (@oliverdarcy) February 6, 2015
—
Follow Oliver Darcy (@oliverdarcy) on Twitter