On a recent episode of MSNBC's "The Last Word with Lawrence O'Donnell," the host had been talking about the the 2016 presidential campaign and the topic of drugs -- specifically marijuana.
During O'Donnell's "Rewrite" segment, the host talked about the question of drug use that will ultimately face anyone running for president. He mocked Bill Clinton's famous "I did not inhale" statement made during his first campaign and also made fun of George W. Bush's response to questions about his drug use as a youth.
However, O'Donnell then heaped glowing praise on President Obama for admitting he smoked pot as a youth. Of course, Obama's admission happened long before he was a candidate for the White House. This specific disclosure is found in Obama's 1995 book, "Dreams from My Father."
O'Donnell gushed, "Long before we ever saw Barack Obama give a speech; long before he was running for president. He had written the answer in a book called 'Dreams From My Father.' It stands today as the finest literary work ever authored by a president of the United States."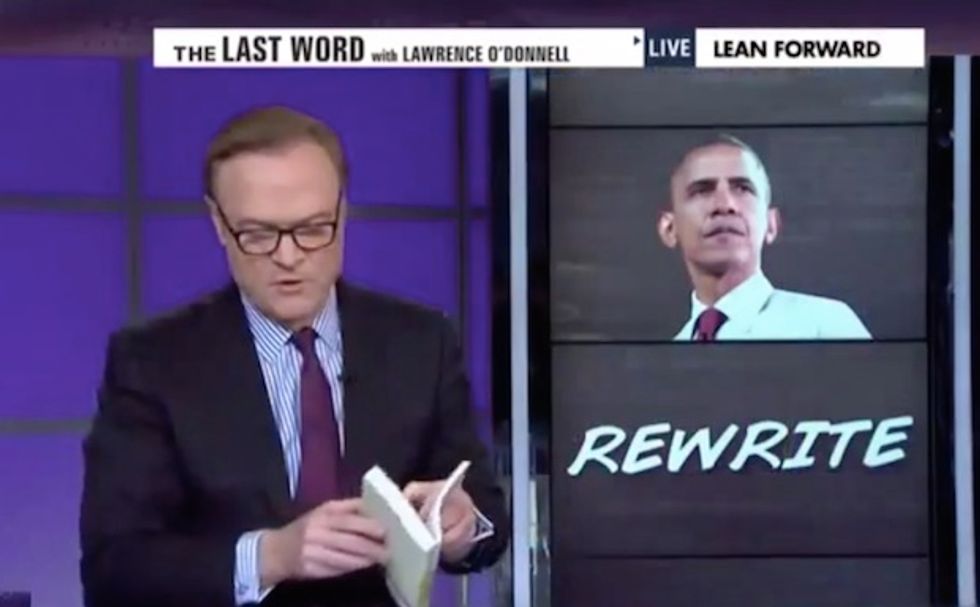 Image: YouTube
At one point, O'Donnell shared a lengthy dramatic reading from the president's book.
Starting at the 4:54 mark of the video embedded below, and continuing for almost three full minutes, O'Donnell read the section of Obama's book talking about his use of alcohol, marijuana and cocaine.
The reading ended with O'Donnell quoting, "Everybody was welcome into the club of disaffection." Adding, "And if the high didn't solve whatever it was that was getting you down, it could at least help you laugh at the world's ongoing folly and see through all the hypocrisy and bull and cheap moralism."
O'Donnell finished the reading with a hyperbolical declaration: "No one running for president on the Democrat or Republican side this time has ever, or will ever, write or say anything that honest."
Watch the clip from Thursday night's episode of "The Last Word With Lawrence O'Donnell":
Watch the entire segment about possible 2016 presidential candidates and marijuana use.
H/T - Newsbusters
__
Follow Mike Opelka (@Stuntbrain) on Twitter.