There's been no shortage of controversy over "Fifty Shades of Grey," the film based on a popular erotic and explicit book by the same name, with many Christians and conservatives speaking out against its themes.
But as critiques and protests continue to emerge prior to the movie's release next week, Fandango, a website where moviegoers can purchase feature film tickets, claims to have found something surprising in its analysis of advance ticket sales.
The states where sales were much larger than expected are, in order: Mississippi, Arkansas, West Virginia, Kentucky, Alabama and Louisiana, with other southern states making their way into the top 10.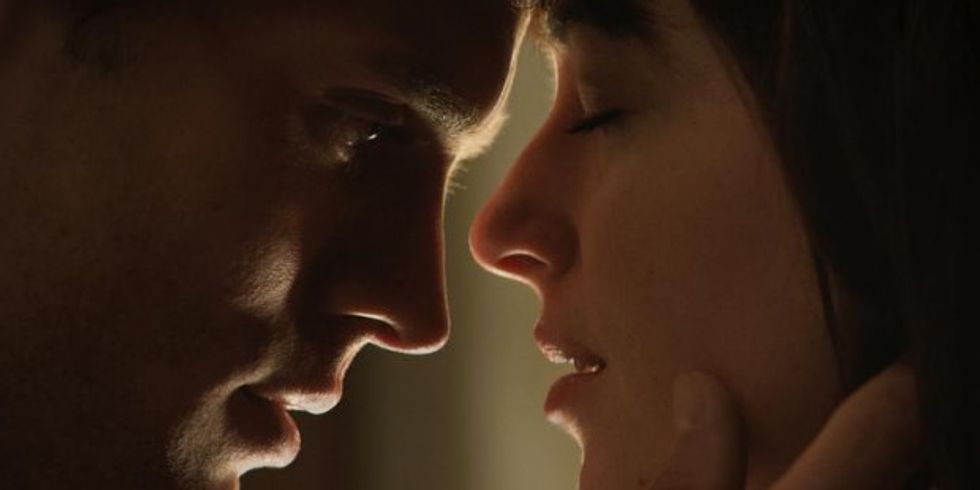 In this image released by Universal Pictures and Focus Features, Jamie Dornan, left, and Dakota Johnson appear in a scene from "Fifty Shades of Grey." (AP Photo/Universal Pictures and Focus Features)
Pre-sales in these states were particularly shocking, as Bloomberg's Zara Kessler noted that a 2013 Gallup poll rated Mississippi and Alabama among the most religious and conservative states.
Of course, this indicator is somewhat difficult to pin down, as these are not necessarily the states with the top selling pre-sale tickets overall, though the New York Times added that the sales in these southern states — and North Dakota — are "significantly higher than expected for an R-rated movie."
Deadline provided a bit more background, claiming that Fandango had compared pre-sales of "Fifty Shades of Grey" to the average sales prior to a film's release and found the "surprisingly high numbers" in the aforementioned states.
Regardless of the precise tallies, Fandango said that "Fifty Shades of Grey" is already the fastest selling rated-R film in the website's history — and it hasn't even come out yet.
TheBlaze is awaiting comment from Fandango to better understand how it rated southern states as being "significantly higher than expected" in assessing pre-sales of the film.
Obviously, "Fifty Shades of Grey" isn't for everyone and, as previously reported, there's another movie releasing next week that is set to present a radically different message about life, love and relationships than "Fifty Shades of Grey."
Writer and director Rik Swartzwelder told TheBlaze in an email interview last fall that audiences can find something a bit more wholesome in his movie "Old Fashioned," which releases on Valentine's Day weekend.
"'Old Fashioned' is an atypical story about relationship realities like forgiveness, isolation and community, getting beyond the past, healing — even about law and grace," he said. "At its core it's about respect, honor, and virtue — outdated ideals, maybe — applied to romance in a modern world, which, of course, is hardly 'normal' by today's dating standards."
While he was hesitant to judge "Fifty Shades of Grey" before seeing the final version of the film, based on the books, Swartzwelder said that he was heartbroken to consider that the plot line, which focuses on graphic sexual scenes, might be an "early introduction to intimacy" for young men and women.
"While I don't wish to be prudish or to play bedroom police, I do marvel that the media can give the dom/sub/control stuff a wink and a nod. Compared to what any kid with a computer can access online today, 'Fifty Shades' should be tame in comparison," he said. "Still, the runaway cultural embrace of 'Fifty Shades' and films like it stand to affect young men and women as they begin to sort out love, sex and what life can be. That's where we run into genuine negative ramifications."
(H/T: Bloomberg)